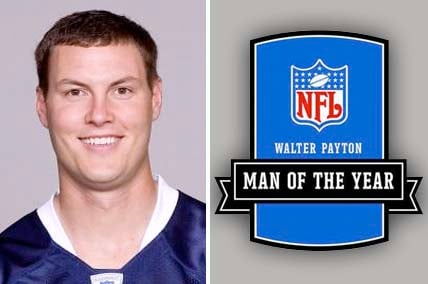 San Diego Chargers Quarterback Philip Rivers is recognized for his contributions and commitment to San Diego's abused, neglected and abandoned children. Through his foundation, Rivers of Hope, and his partnerships with San Diego County Adoptions and the Heart Gallery, Rivers has helped our county's youth find loving homes, hope and their own sense of self-worth. "As players, we make a tremendous commitment to winning and giving everything we have on the field. But it is the work we do off the field and the difference we make in the lives of those we touch that creates our true legacy, said Rivers. "I am very proud of the work my foundation, Rivers of Hope, has done to give hope to foster children in San Diego. It has been a privilege for me to meet many of these kids and work to find them loving homes."
Rivers shares this nomination with Matt Birk of the Baltimore Ravens and Charles Tillman of the Chicago Bears.
The Walter Payton NFL Man of the Year Award is the only league award that recognizes a player's off-the-field community service as well as his playing excellence. The winner of the Walter Payton NFL Man of the Year Award will be announced February 4, 2012.

Rivers of Hope Foundation:
San Diego Chargers Philip Rivers' Adoption and Foster Care Charity