Toys R Us stores are entering their final days and ramping up the deals.
The iconic toy retailer announced a new round of markdowns were taken Monday on its social media accounts. Discounts now range from 50% to 70% with "limited exceptions," according to the Facebook post.
Nearly three months after Toys R Us said it would liquidate all of its U.S. stores, shoppers are finding deep discounts. "Final Days! Amazing Deals!! Time to fill up a cart!!," the Facebook post reads.
Just one problem. Some of the most valued, in-demand merchandise was snapped up weeks ago.
Those looking for Nintendo and PlayStation video game systems may leave disappointed. But kids who appreciate Lego sets, board games, Barbie dolls, Star Wars toys, Nerf guns and more, can still come away winners if they act fast.
Prices on most items are now beating competitors like Amazon, Walmart and Target and rivaling Black Friday doorbuster deals.
"The prices are getting good," said Rita Hasselbach, of Port St. Lucie, Fla., who visited the Toys R Us in Jensen Beach. "I'm looking for games that I can donate to charities and shelters."
For the Jensen Beach store, on Florida's east coast some 100 miles away from Miami, June 28 is slated to be the last day before the doors close forever, said Andrew Wiggins, a supervisor at the store who has been with the company for more than five years.
"That's completely subject to change and it depends on how fast everything sells through," Wiggins said, adding he's heard 98% of stores are expected to close by the end of the month and that all stores will be closed by the end of July.
As inventory sells out, portions of stores and empty aisles are being closed off with yellow caution tape and other barriers and merchandise is being moved to the front.
Inventory, discounts and closing dates can vary by location and a list of closing dates was not available.
"The store closure's timing and discounts will vary, as it depends on how quickly each location sells out of inventory," said Toys R Us spokeswoman Amy von Walter. "I don't have timing on markdowns as the liquidators are leading this process, but I'd guess that would vary as well."
Some stores have closed earlier than expected including the Paramus, N.J. store on Route 4 in the city where the chain's headquarters was situated for years before being moved to Wayne.
With a $1.3 million bid, the Raymour & Flanigan furniture chain won court approval in late May to take over the store's lease.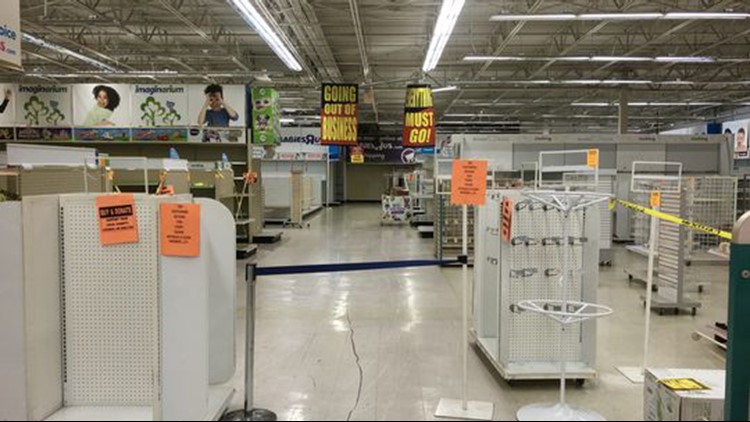 Dedicated shoppers
Candido Herrera, of Port St. Lucie, Fla., has been coming to the Jensen Beach store weekly since the liquidation started in March. Most trips he said he leaves empty-handed.

"Their prices were already too high compared to Walmart and any other stores so when they take off 40%, it's really 20%," Herrera said last week. "It's almost like they're tricking us but since we're already here they figure we're going to take something."
Herrera said he is looking to stock up on gifts for his nieces and nephews and "trying to get ahead" on holiday and birthdays gifts.
"But when you compare some of these prices, I'm only getting ahead by 20%," Herrera said. "This is why they are going out of business."
Some shoppers say dedication pays off.
Brothers Fabio and Alejandro Benichio, also of Port St. Lucie, have been coming to the Jensen Beach store twice a week for the last five weeks looking for birthday and Christmas gifts.
On Monday night, they filled a cart with Barbie dolls and action figures marked down 50%, a large Lego set at 40% and Doctor Dreadful Snot Shot toys at 60% off. The 14 items came to $137.15, a savings of $126.46.
"We're pretty much done — at least for this week," Alejandro Benichio said.
The two became pros when the nearby Babies R Us closed earlier this year as part of the first wave of closings.
"We had three carts full for what we spent today," Fabio Benichio said of shopping during the final days. "At the end Babies R Us was worth it."
Tips to scoring a closeout deal
Compare prices: The easiest way to do this is to scan product barcodes with Amazon, Target and Walmart apps.
Look for special merchandise: It's common for liquidators to bring in special merchandise, often leftovers from other closed retailers. Look for signs at store entrances that explain how to spot this merchandise, which includes women slippers, tote bags and special toys not previously carried at stores.
Check the product thoroughly: Signs at stores say you cannot open the box but ask an employee before checking out that you need to make sure all parts, accessories, instructions, warranty information are included. This is especially important on big ticket items.
All sales are final: If you end up buying something you don't want, try recouping your money by selling it. Also make sure prices ring up at advertised discounts before paying.
Use a credit card: This is a safety net if you experience any problems and may offer away to contest the charge. However, you are shopping at your own risk.
Warranties: Check warranty details and find out where repairs can be made.
Go often: During the final days, markdowns will increase. Tag team with a friend and share your lists with each other.
More info: For questions, visit www.toysrusclosingsale.com or call 1-800-TOYSRUS or 1-800-869-7787 between 8 a.m. and 11 p.m. ET.