TUCSON, Ariz. — You've heard of a toilet snake, right? The plumbing tool that can be easily found in Home Depot.
But what about a literal toilet snake?
Arizona resident Michelle Lespron recently stumbled upon such a creature and sought the help of Rattlesnake Solutions to remove it.
Operating throughout the Grand Canyon State, Rattlesnake Solutions often gets calls to remove venomous snakes coiled up underneath some patio furniture.
So it was considered quite uncommon when they got a call for a snake lurking about in someone's plumbing system.
One of the group's team members was dispatched to Lespron's home in the Catalina Foothills area of Tucson after she found a snake inside her toilet.
After making multiple visits over the course of two days, the professional snake handler was finally able to get ahold of a black and pink coachwhip.
12News spoke to Lespron about the nightmare she encountered upon returning home from a vacation.
Lespron said after her trip to Nashville, she was looking forward to sleeping in her own bed and naturally, using her own bathroom. However, the privacy she thought she'd have, wasn't guaranteed.

"I slammed the lid back down right away when I saw it," Lespron said of the unwelcome visitor.
A video recording of the removal shows the snake not looking very pleased to be taken out of its porcelain oasis.
The coachwhip tends to act aggressively when humans try to handle it and the non-venomous snake is known for being an excellent climber, according to the Tucson Herpetological Society.
Yet it's still rare for a coachwhip to climb its way inside a resident's toilet, Rattlesnake Solutions said.
Lespron praised the Rattlesnake Solutions technician who came to her aid.
"He's my hero, Nick at Rattlesnake Solutions is my absolute hero," she explained.
It took several attempts to retrieve the snake because coachwhip snakes are so stealthy according to Bryan Hughes, the owner of Rattlesnake Solutions.
"A coachwhip, some people call it a red racer but this one isn't red, it is a fast, intelligent snake, it eats rattlesnakes, it climbs trees, it climbs houses, it does what it wants," Hughes said.
Lespron laughed when she told 12News her friend suggested she simply go ahead and burn the house down because of the terrifying incident. While she's not burning the place down, she does admit, she couldn't even bear to use her own bathroom after the incident.
"I couldn't use it for three weeks even after he got it out," she said. "I actually had all my toiletries from the trip I had been on, so I just moved everything to the other bathroom."
Plus, Lespron plans to use her own snake safety methods in the future.
"I kept flushing the toilet before I'd even decide to sit down, I always turn my light on even at night when I'm tired, I always leave my toilet lid closed and my father put screens on the top of any openings on my roof so snakes and other animals can't worm their way through!"
Hughes said any homeowner who's worried about ending up in a similar, slithery situation should check to see if their septic systems are in good condition.
"However, ultimately it's such a rare event that it's not something most people should ever be concerned with," Hughes said in a statement.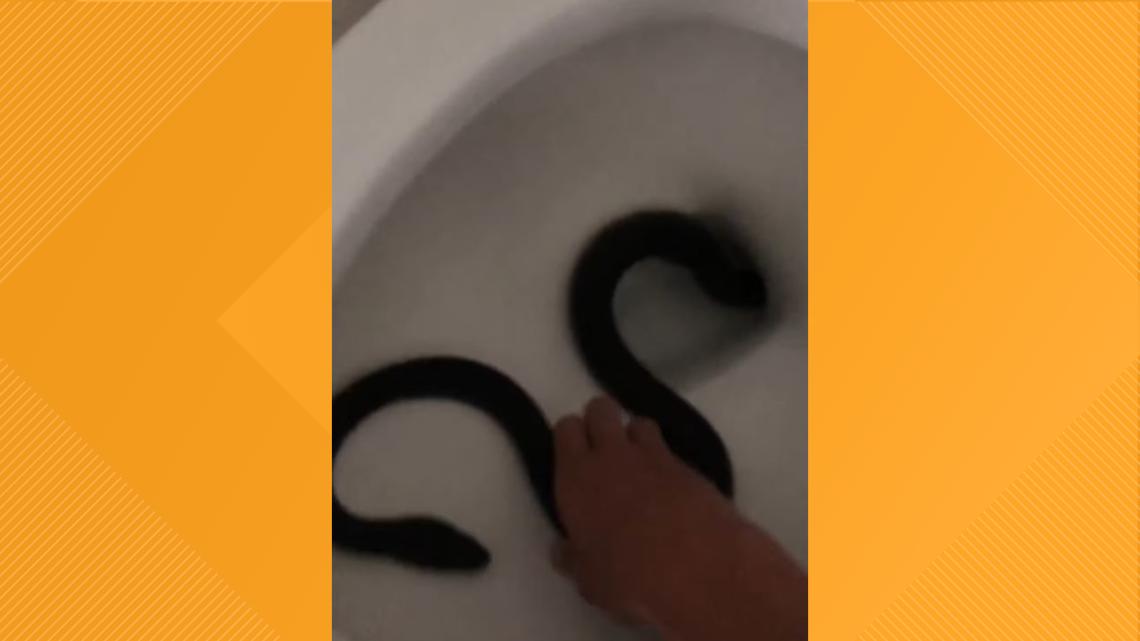 UP TO SPEED