SAN DIEGO (NEWS 8) — If you look out toward the ocean at night, you may be able to catch a glimpse of a rare natural phenomenon.
An algae bloom is literally lighting up the waves that have been crashing on to the San Diego shoreline.
Our county shorelines have been drawing a larger crowd because of the sight and it has been especially popular with photographers.
"It's this bright electrical blue color and it's beautiful," said Jami Leslie Feldman, owner of Underwater Paparazzi.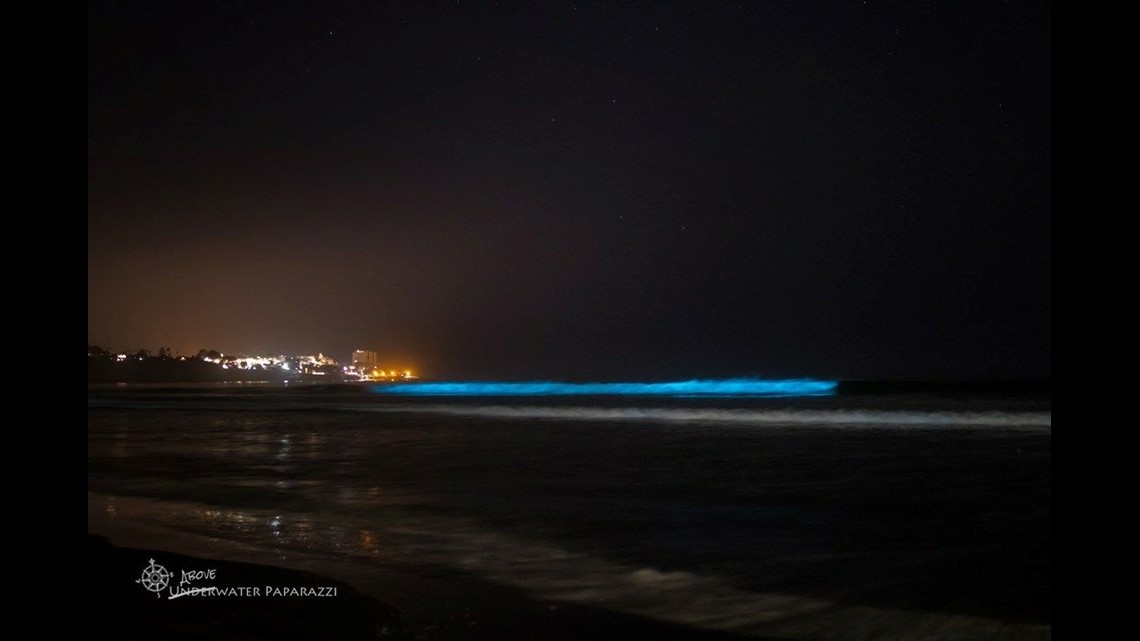 Photo courtesy of Underwater Paparazzi/Jami Leslie Feldman 
Tuesday was the second night of the bioluminescence.
"It's nice to be able to spread the word so everyone can see it," said Feldman.
The rare phenomena on Southern California's West Coast is known as the red tide.
"It kind of looked like the color of a light saber," said Bay. "It really was a bright blue color that was just fantastic to look at."
The last red tide took place in 2013 in San Diego.
This year Bay said he didn't want to miss out. "Once in every five years is not much of an opportunity, so I figured I may as well try," said Bay.
Scripps Oceanography scientist and bioluminescence expert Michael Latz says the "red tide" algae bloom is due to massive numbers of dinoflagellates - each cell of which contains sunscreen - causing the plankton to glow neon blue at night. 
"I was thinking, this is SoCal's equivalent of the Northern Lights," said Bay. "Just having natural phenomena where the lights are glowing and the water is lit up - it's amazing I've never seen anything like it."
The red tides are unpredictable and not all produce a bioluminescence.
Monday's was known to stretch from La Jolla to Encinitas - and it's unknown how long it will last; it could be a week or a month.
As an underwater photographer, Feldman says she's seen the red tide in a dive.
"It's like fairy dust," she said. "Shut your lights off at night and it's sparkling all around you."
While there is no guarantee you'll be able to see it, scientists recommend to trying to take in the magical sight of the bioluminescence at dark about two hours after sunset.
"It's amazing," said Feldman. "It's beautiful and I really recommend it."
Bioluminescence video footage from 2013 used in the above story courtesy of videographer Peter Kragh.