SAN DIEGO (NEWS 8) — A former San Diego media executive is among those charged in the college admissions scandal and appeared in federal court in Boston Friday.
Elisabeth Kimmel, who owned KFMB Stations for decades until it was sold to TEGNA, Inc. in 2018, arrived at federal court with her two Boston-based attorneys and her husband. Kimmel and her husband walked hand-in-hand into the courtroom for her 9:00 a.m. court appearance.
The date of this court appearance was moved several times but was reset for March 29 earlier this week.
Video: Elisabeth Kimmel's arrival at federal court with her three Boston-based attorneys and her husband on March 29.
Kimmel was in court for an initial appearance and no plea was entered. She waived her preliminary hearing. 
The courtroom was packed with five rows dedicated to the media. News 8's Kelly Hessedal was inside the courtroom, sitting across from Kimmel who was sitting next to her husband.
Kimmel was the final defendant to appear before the judge. She demonstrated that she understood the charges. Her travel is restricted to the United States. The judge also read the conditions of release that applied to all defendants in court Friday.
The judge said defendants cannot violate any laws under release, there is no use of marijuana, they must cooperate with a DNA sample and must tell pre-trial services before changing their address or phone number.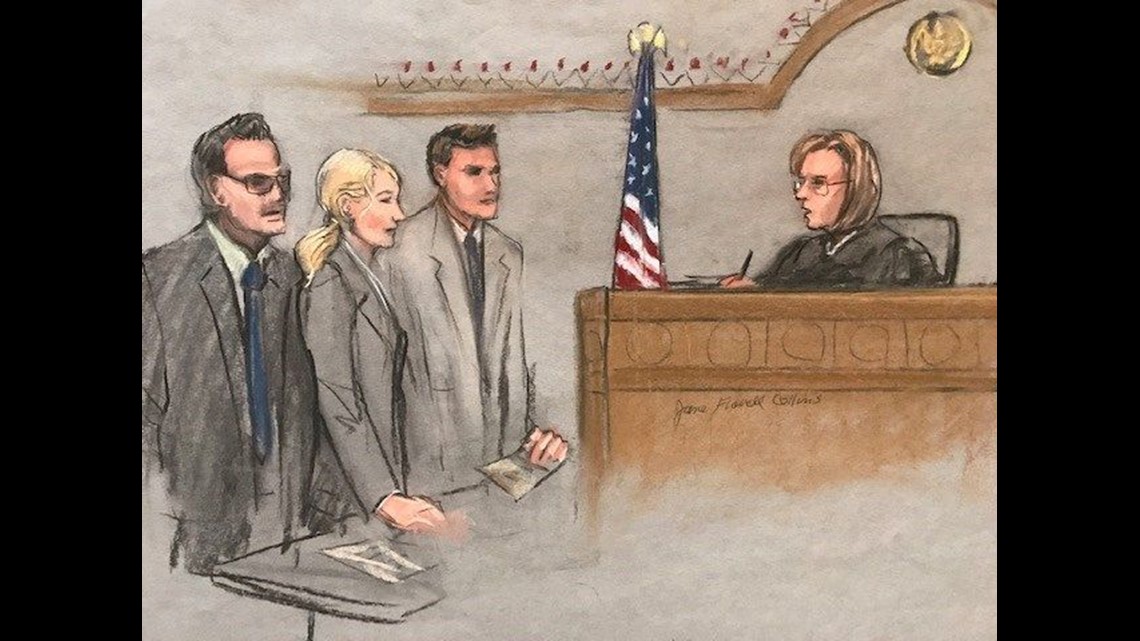 Courtroom sketch of Elisabeth Kimmel appearing in federal court March 29 with two Boston attorneys at her side 
The case is being hear in Boston despite the fact that many of the defendants in this care are from southern California, where the alleged mastermind of the scheme - Rick Singer - also ran his college counseling business.
Massachusetts U.S. Attorney Andrew Lelling explained that the nationwide case also has several connections in the Boston area. 
"Fake test scores were submitted to Boston College, Boston University and Northeastern. Two of the defendants live in this state. A lot of the conspiratorial activity - phone calls, meetings - did happen here. And we frankly had the resources and the sophistication to take down a case of this magnitude," he said.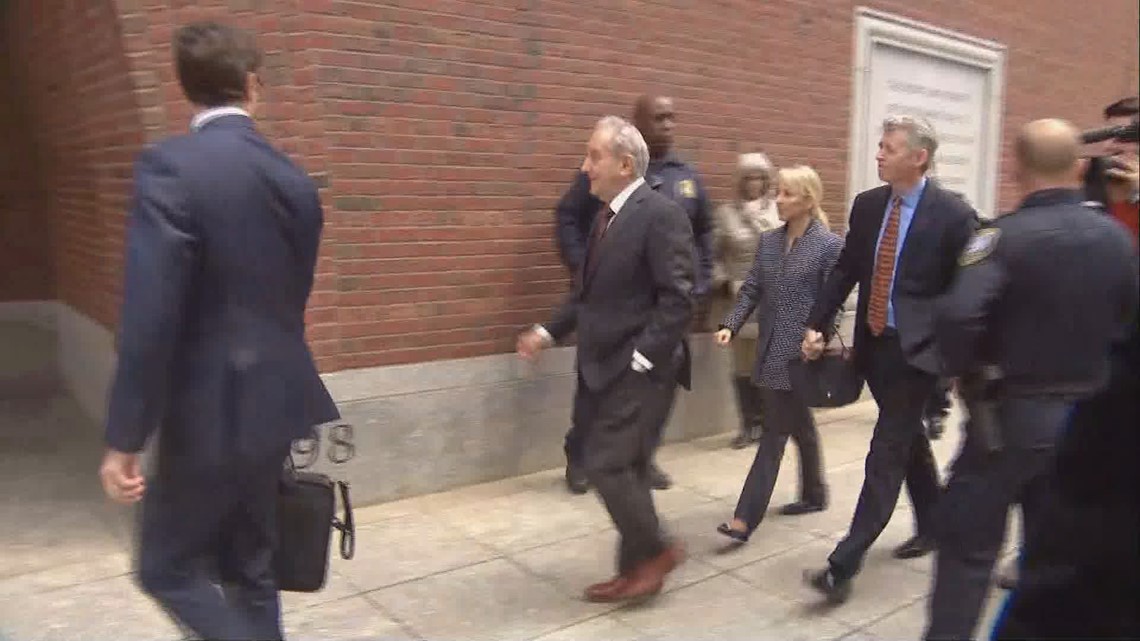 Elisabeth Kimmel entering federal court in Boston Friday, March 29
Hessedal reported that she approached Kimmel once she was outside the courtroom and asked if she had anything to say. Kimmel ignored Hessedal and continued walking with her attorney and husband.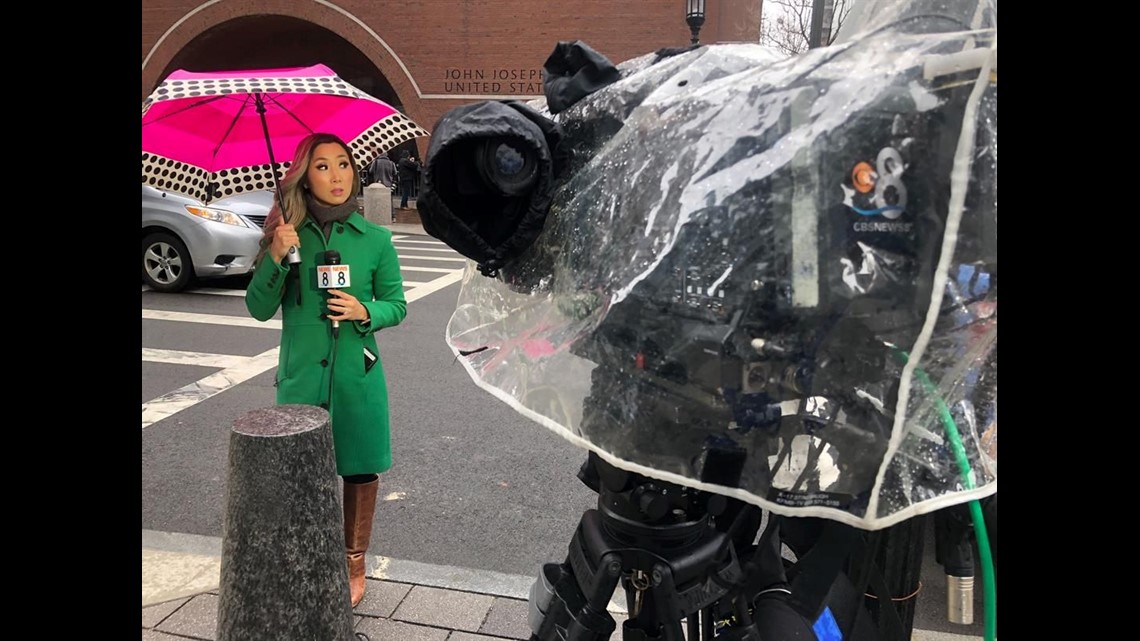 News 8's Kelly Hessedal reporting from Boston Friday, March 29
Kimmel and more than 30 other parents have been charged with conspiracy to commit mail fraud and honest services mail fraud in the nationwide college bribery case. They are facing a maximum of 20 years in federal prison, however a San Diego defense attorney told News 8 earlier this month that he would not be surprised if the defendants end up serving no jail time at all. 
The complaint says Kimmel paid a total of $475,000 to get her daughter into Georgetown University and her son into USC.
According to federal authorities, Kimmel paid a $275,000 bribe through her charity, Meyer Charitable Foundation to get her daughter into Georgetown under a fake tennis profile. Her daughter was never on the team.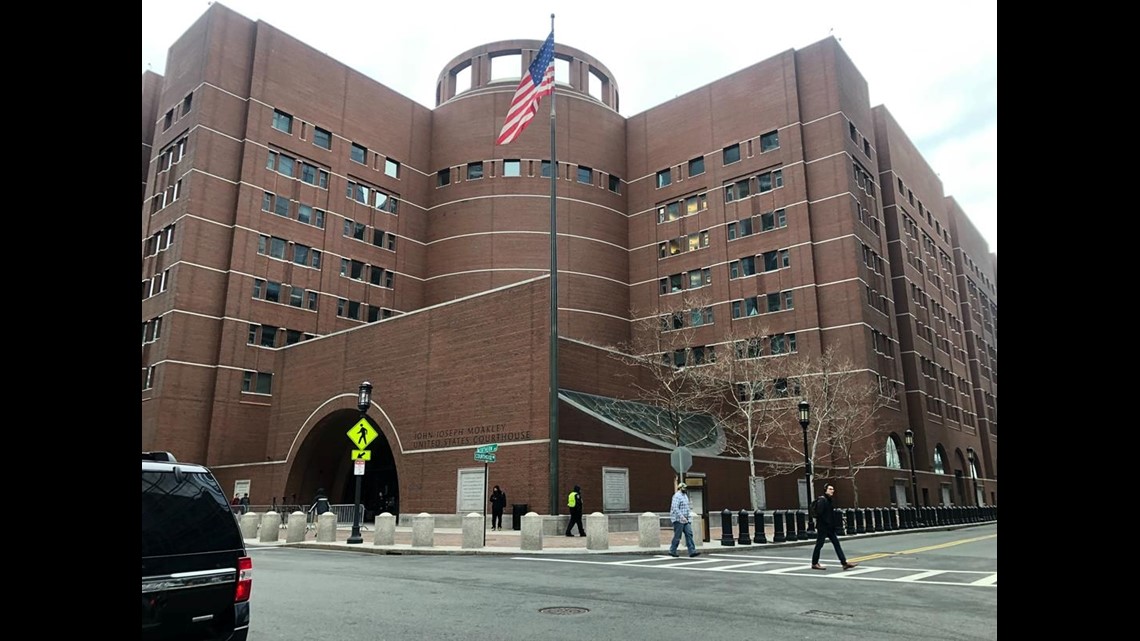 Front entrance to Federal Court Building in Boston
Authorities also say Kimmel paid a $250,000 bribe to get her son into USC and falsely claimed he was a pole vaulter. They say her son's fake profile included an image someone else pole vaulting.
According to court records, Kimmel has hired three Boston attorneys to defend her against the charges. None of her attorneys have offered a comment when contacted by News 8.
San Diego attorney Anthony Colombo is a certified specialist in criminal law. He told News 8 the fact that Singer is now cooperating with the prosecution could provide some of the accused parents with a possible defense strategy. 
"The cooperating witness number one is apparently the architect of the scheme. I think that might be somewhat of an entrapment defense these individuals could pursue," he said.
According to Colombo, a case could possibly be made that some of the parents were goaded into participating in the alleged scheme "where they might not have been predisposed to committing this conduct but for this cooperating witness putting this opportunity in front of them."  
Federal authorities have called the case the biggest college admissions scam ever prosecuted by the U.S. Justice Department, with parents accused of paying an estimated $25 million in bribes.
The portion of the criminal complaint pertaining to Elisabeth Kimmel appears below and outlines payments allegedly made by her and the Meyer Charitable Foundation, a family foundation on which Kimmel and her husband serve as officers.
Editor's note: A previous version of this story stated that Elisabeth Kimmel had allegedly submitted an athletic profile in which her son's picture had been photoshopped with that of a pole vaulter. This story has been corrected to indicate that another person's photo was allegedly used, but there hasn't been any indication it was photoshopped. 
Editor's note: This story has been corrected to stay that Kimmel and her husband appeared in court with two attorneys and not three attorneys as a previous version of this story indicated.