Asian American and Pacific Islander Heritage in San Diego | May 2022
Celebrating the heritage and honoring the culture that makes up San Diego's diverse AAPI community.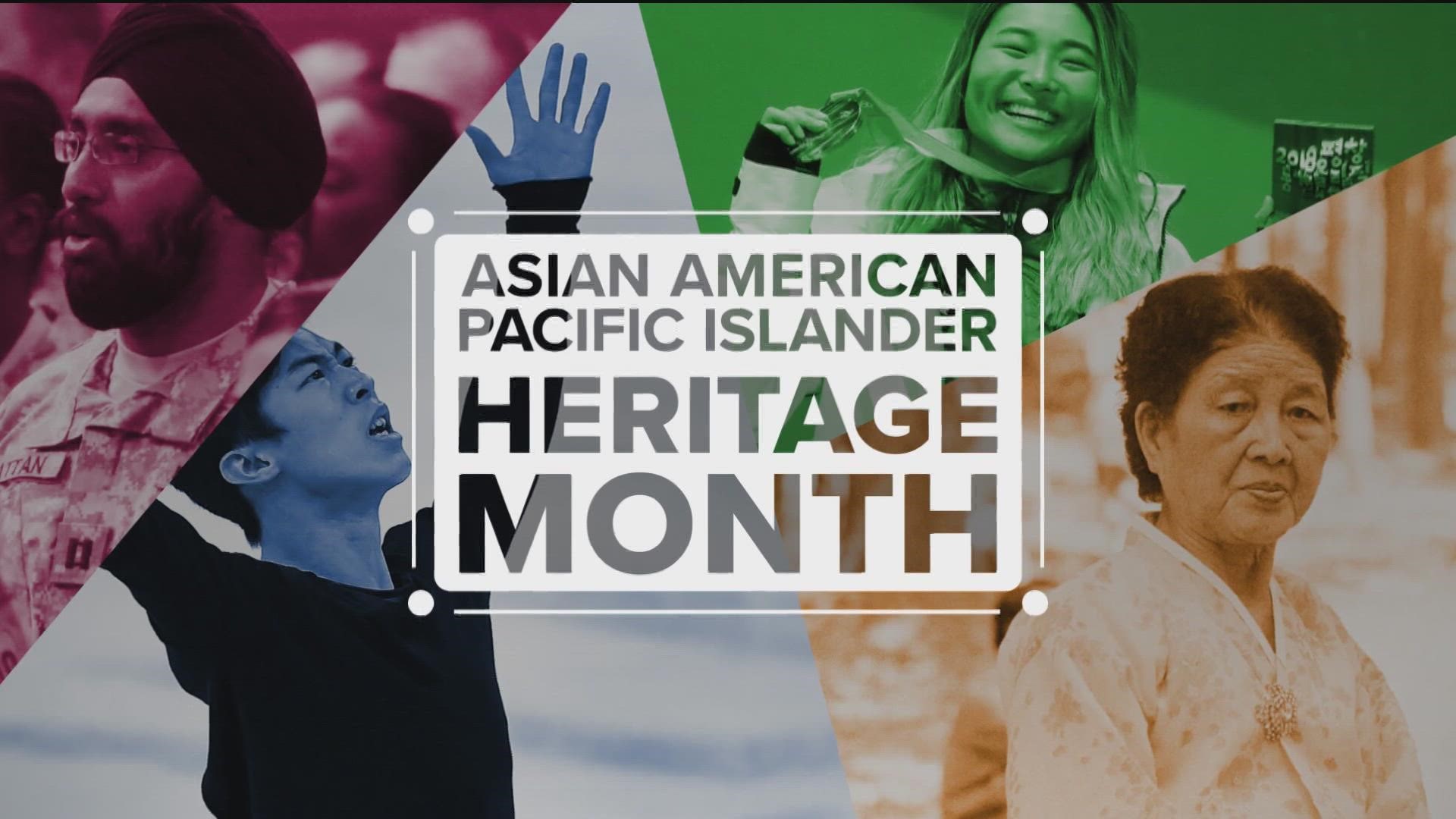 San Diego County has a large AAPI community with more than 425,000 people; the 7th largest in the country. While we are united under the AAPI umbrella, we represent many ethnicities from around the world. Each one is woven into the cultural fabric of San Diego.
WATCH: CBS 8 AAPI SPECIAL:
Learn more about San Diego's diverse AAPI community.
Korean Heritage
:
Flash mob shines spotlight on Korean culture
An all-female dance crew is showing off their hip-hop dance moves across San Diego while also bringing awareness to Korean culture and challenging the way society views middle-aged women.
Ajumma EXP is made up of women over the age of 35. The majority are Korean.
"The word 'ajumma' is intrinsically Korean. It means 'middle-aged woman,'" said Ajumma EXP founder Lee Ann Kim.
"There are a lot of women in San Diego, as we're growing older are so accomplished, we've done so much. We're holding up the household, we're taking care of the kids, we're taking names," she laughed. "And yet as we grow older, I think society allows us to become more marginalized and irrelevant."
Filipino Heritage
:
San Diego Filipino businesses
Fina's passion for fashion is what drove her to start her own alterations and traditional Filipino clothing business.
"It's a dream for me, really, to be in the United States because of opportunities of course. Life in the Philippines is so hard it made me have a dream," said Surdilla.
Her dream began with just one sewing machine, a table and very little cash. Twelve years later, she uses the same sewing machine.
Japanese Heritage
:
How karate came to San Diego from Japan
The Friendship Bell on Shelter Island is a symbol of San Diego's close ties to Japan. Our sister city of Yokohama, Japan gave us the bell in the 1950s. In that same decade, karate was brought straight from Japan to Southern California.
"In Japan, kids train karate all day long, it's part of their school system. For us it's something really special for them to get to share with their friends and family," Ellie Tow, a black belt instructor at Setting Sun Dojo.
U.S. karate wouldn't be where it is today without a man named Tsutomu Ohshima. He learned from Master Gichin Funakoshi known as the founder of modern-day karate. Sensei Oshima took what he learned in Tokyo and brought it to the United States.
"Shotokan Karate was started in Southern California in 1955 by Tsutomu Oshima," said fourth-degree black belt instructor Darren Pike.
Vietnamese Heritage
:
Former Vietnamese refugees share their stories
Overcoming incredible odds, three former Vietnamese refugees who live in San Diego wouldn't let poverty, a communist regime, or lack of education to stop them from achieving the American dream.
"For the Boat People refugees, we all share very similar stories," said Jimmy Thai, an author, speaker and philanthropist.
The Vietnamese American business leaders have found success in San Diego at work and at home, but the long road to get there started in Vietnam, where they were all born in poverty amid political turmoil and were desperate to get out.
"I just tried to escape I was captured and sent to prison twice. I witnessed the harbor police shoot and kill my brother right in front of me," Thai said.
After the Vietnam War, Jimmy Thai was just a teenager when he tried to escape 15 times.
Hawaiian Heritage
:
Hui O Hawaii club keeps Hawaii thriving in San Diego
Perhaps you have taken a 6-hour flight from San Diego to visit one of the Hawaiian islands for a dream vacation -but you can experience Hawaii without traveling. There is a large group that is keeping the Hawaiian heritage alive and thriving in San Diego.
"It's beautiful I love to sing it, and it's nice when you have a beautiful voice to help you sing with you," said Rosamaria Kahiinu Harrelson.
From the sounds of the ukelele to lei making, each task is done with good intentions and careful precision.
"My feelings this morning to making the lei is joy...gratitude for the women that I'm here with today," said Elizabeth Ah-nee.
Elizabeth ah-nee along with many other women are part of the Hui o Hawaii of San Diego, a club that started in 1969 to keep the Hawaiian culture strong in San Diego.
Hmong Heritage
:
In the late 70s, about 5,000 Hmong made their way to San Diego to start a new life
While San Diego County's Hmong community has dwindled in numbers over the past four decades, those who remain are determined to keep their culture alive.
During the late 1970s and early 1980s, about 5,000 Hmong made their way from southeast Asia here to San Diego to start a new life.
It is a vibrant community here in San Diego County, largely kept apart for the past two years by the pandemic: a community that many San Diegans know little about.
Samoan Heritage
:
Oceanside Samoans breaking barriers
Oceanside is home to the second-largest concentration of Samoans in California, only behind the city of Long Beach. Some are business owners, students and others are even athletes, however, most all will say their parents and late football legend Junior Seau paved the way to the opportunities for success.
Benson Mauga, a Samoan pastor, Navy veteran and former football player has been mentoring high school football teams in San Diego for years. While speaking in Samoan to other Samoan families, he says he is thankful for this life.
"Every kid wanted to be number 55. Why? Because it represents who we are, our community, our tiny village. He brought so much to light to who we really are," said Mauga.
Guamanian Heritage
:
San Diego's Chamorro community promotes traditions from Guam
Their traditions are 4,000 years in the making. Chamorros are the indigenous people of the Mariana Islands, with the majority of them living on Guam. "It's a beautiful culture," said Danny Blas, a local leader in the Chamorro community. "It's a beautiful language and it's a beautiful way of living."
Danny grew up on Guam, but then his family moved to Illinois. "Coming to Illinois, the only people I knew that were Chamorro were my brothers and sisters and mom and dad and my cousins that would come to visit," he said. "So, I kind of lost my way.
It's a common story with Chamorros. Through colonization and moves, the traditions started getting lost. But when Danny moved to San Diego for a job in 2002, he realized Southern California had the largest Chamorro population away from Guam, with nearly 20,000 Chamorros currently residing in San Diego County. "I landed in the right place to learn more about my culture."
Chinese Heritage
:
Chinese American business leader shares his success
There are more than 55,000 Chinese Americans here in our community, and many have made significant contributions to San Diego.
Marcella Lee profiles a longtime community leader who has made it his mission to share his culture, while making a difference and living the American dream.
You may be one of the thousands who celebrate Chinese New Year or enjoy delicious dim sum with family and friends at Jasmine Seafood Restaurant. What you may not know, however, are all the ingredients of life that are mixed into the owner's recipe for success.
I asked Dr. Allen Chan what he hopes customers experience when they come into Jasmine Seafood Restaurant.
"We want to give them an experience like dining in a nice Cantonese Chinese restaurant without flying to Hong Kong," said Dr. Chan.
Iranian Heritage
:
We're not "White" or "Asian" so what are we?
Iran is on the Asian continent but no one here would consider themselves Asian. I never did and both my parents are from Iran. So what are we? We went to the Iranian School of San Diego for an answer.
Language keeps people connected.
By learning to read, write, and speak Farsi many of these kids can stay in touch with their relatives in Iran. 8-year-old Ava Pirouzian said, "It's a great language."
Also being together at the Iranian School of San Diego gives them a sense of community. "The fun part is the recess," 7-year-old Armin said.
About 200 students, or as we'd say in Farsi, "donesh amoozha" spend several hours every Sunday morning at Mount Carmel High, many started as early as age 5.
Indian Heritage
:
San Diego's Indian American population shares the beauty of their culture
For many people in the Indian culture, the temple plays a central role in their community. CBS 8 visited the 'Shri Mandir' temple in Mira Mesa as Hindu priest Sudarshan Bhattar stood before the altar chanting and praying to one of their avatars.
"Total surrendering to the God and accepting what he is giving through the water is like a blessing what we are getting into our life," said Priest Bhattar.
The 'Shri Mandir' temple has been in San Diego for 30 years, currently located in an area of Mira Mesa called, 'Little India.' Aggarwal says Hinduism is known for its flexibility.