SAN DIEGO — Tis' the season for giving, and with your help, we were able to make wishes come true for our nation's heroes this holiday season! The 16th annual Warrior Foundation Freedom Station Radiothon, proudly presented by AM 760 KFMB, News 8, and 100.7 San Diego, took place on Friday, December 6, 2019, where we raised over $1,200,000!
Donations are still being accepted online by clicking the button below.
Photos from Warrior Foundation Freedom Station Radiothon 2019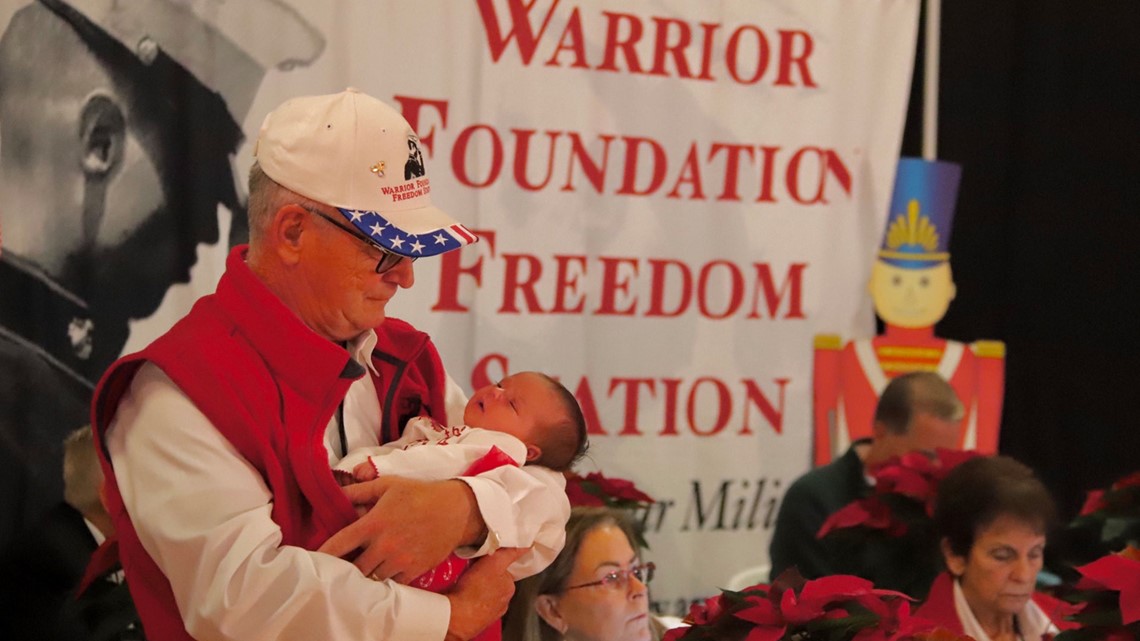 Donations are still being accepted online by clicking the button below.
This fun and festive event raises much-needed funds to fly ill and injured soldiers, sailors and Marines home for the holidays, so they can wake up in their own beds on Christmas morning. Although we cannot erase their wounds and daily struggles, we can give our service members the gift of a joyful reunion with their loved ones.
In 2018, your generosity of over $1,000,000 helped make the flight home possible for hundreds of injured warriors. Please join us again this year as work to ensure that all service members who wore the uniform for their country can call their families and say, "I'll be home for Christmas."
AM 760 KFMB: Giving Back to Our Nation's Heroes
AM 760 KFMB is honored to serve the extraordinary military region of San Diego and make a difference in our community. We are proud of the fact that we have worked shoulder to shoulder with Warrior Foundation Freedom Station since it was founded live on-air on KFMB in 2004. This year, we are once again privileged to lead the effort to help our send our warriors home for the holidays.
Today, Warrior Foundation Freedom Station continues to serve with pride, passion, and patriotism, thanks to the generosity of AM 760 KFMB listeners, sponsors, and the San Diego community. Thank you for your generosity and willingness to make a difference. With your help, we can exceed our fundraising goals this year!
Learn How Your Donation Changes the Lives of Injured Warriors
Click here to hear the riveting personal story of Sergeant Povas Miknaitis, U.S. Marine Corps. (ret.), an injured warrior whose life was forever changed by Warrior Foundation Freedom Station. Povas shares his firsthand experience of a harrowing deployment in Afghanistan, and how living at Freedom Station helped him overcome the battles he faced. Today, Povas continues to be an outspoken champion for injured veterans through his work with Warrior Foundation Freedom Station. He was recently named the San Diego County Veteran of the Year 2019-2020 by the Veterans Museum at Balboa Park.
RELATED: Warrior Foundation Radiothon 2018: Thank You!
About Warrior Foundation Freedom Station
Warrior Foundation Freedom Station is a leading force in assisting, honoring and supporting the military men and women who have so bravely served and sacrificed for our country. We are committed to providing our warriors with quality-of-life items, support services and transitional housing designed to assist them and their families during recovery.
Warrior Foundation Freedom Station impacts the lives of over 5,000 veterans each year with programs that fuel the mind, body and spirit, including:
Transitional Housing
Innovative Treatments for Post-Traumatic Stress and Traumatic Brain Injury
Outdoor Recreation, Therapy and Wellness Programs
Adaptive Sports: The Wolfpack Wheelchair Basketball and WFFS Cycling Teams
Wheelchairs for Warriors
Career Guidance and Vocational Projects
College and Scholarship Application Assistance
Dress for Success
And much more…..
Freedom Station II: The Home of the Brave
Freedom Station has been a groundbreaking program. When we opened our doors in 2011, it became the first transitional housing residence of its kind in the San Diego region – a place for healing, personal growth and preparation for the transition to civilian life. The model has been proven, with dozens of Freedom Station residents becoming success stories - embarking on new career pursuits, college or vocational education; finding their passion and purpose; attaining independent living, and starting families of their own.
Today, San Diego remains home to one of the largest military populations in the world. To meet the need, the foundation has purchased a second property. The new transitional housing residence has been named Freedom Station II, a nod to its sister property and the continuing mission to help San Diego's warriors successfully transition from military service to civilian life.
Freedom Station II is currently undergoing renovations and improvements to make it beautiful, accessible, and above all, worthy of being the "home of the brave." The anticipated grand opening date is spring 2020.
Warrior Foundation
OUR SPONSORS
Mile of Cars has been serving San Diego for over 65 years. The Mile has over 17 brands and over 5,000 new and used vehicles. The Mile has friendly, bilingual staff members who are ready to go with your car buying needs. Each dealer has fast, easy financing, special military discounts and certified technicians. Visit mileofcars.com.
West Automotive Group is proud to support the Warrior Foundation Freedom Station. Owner and Veteran Brian Bowersock, host of Auto Talk on Saturday mornings on KFMB, loves this great country. Join West Automotive Group and donate to help bring our ill and injured Sailors, Marines and Soldiers home for the holidays. Website »
Bill Howe Plumbing, Heating and Air, Restoration and Flood has been serving the San Diego area since 1980- servicing all major and minor needs 24 hours a day, 7 days a week. Experience the Bill Howe difference. Call 1-800-BILL-HOWE or visit us online at BillHowe.com.
Enjoy "Garden Talk" Saturday 6am-7a on 760 KFMB AM! San Diego's Independent Nursery Since 1928. Friendly, knowledgeable and always welcoming, Walter Andersen Nursery offers customers a trusted, independently-owned resource for their gardening and outdoor care needs. San Diego Location: 3642 Enterprise Street and Poway Location: 12755 Danielson Court www.WalterAndersen.com.
Family-owned and operated for 38 years, Unicorn Jewelry has worked with a variety of local organizations and actively seeks out ways that they can give back in the community. Owner Fred Nasseri and his team at Unicorn Jewelry take pride in offering the highest quality of service to their customers.
Over the last ten years Palomar Solar and Roofing has built an excellent reputation installing over 100,000 solar panels on local homes, business, Churches. Most notably Waxie, Goodwill San Diego and La Jolla Presbyterian. If you appreciate a handshake that means something call the local name you can trust! www.palomarsolar.com