UPDATE: Thanks to tips from the public, Tom was arrested Thursday night.
Each week, the News 8 Crimefighters help authorities in looking for fugitives in San Diego.
James Scott Tom
DOB: 05/11/70 (49)
Description: White Male
5'09" tall, 205 lbs
Brown hair, brown eyes
Below is a picture of this week's fugitive and details about why he is wanted: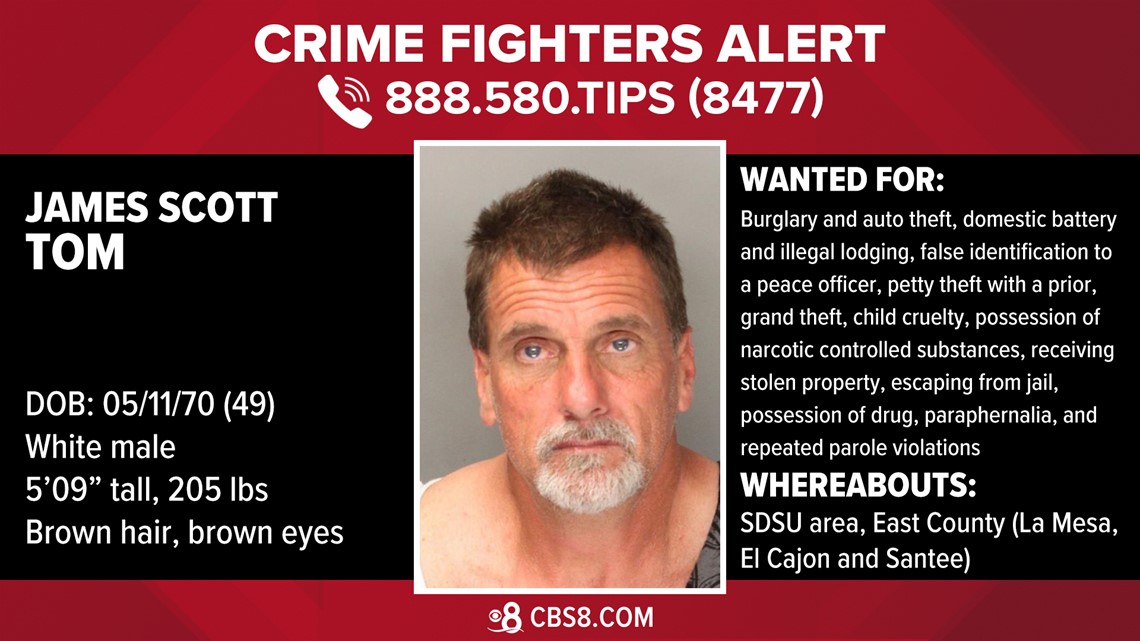 James Scott Tom (49) is wanted by the California Department of Corrections and Rehabilitation for failing to comply with the terms and conditions of his parole. Tom is considered a parolee at large (no bail). Tom is on Parole for a conviction of burglary and auto theft. Additionally, Tom has two outstanding misdemeanor warrants totaling $15,000 dollars for domestic battery and illegal lodging. Tom has previous convictions for false identification to a peace officer, petty theft with a prior, grand theft, child cruelty, possession of controlled substances, burglary, auto theft, possession of narcotic controlled substances, receiving stolen property, escaping from jail, possession of drug paraphernalia, and repeated parole violations. Tom is known to frequent the SDSU area and East County-including, La Mesa, El Cajon and Santee.
If you have information, call CrimeStoppers at (888) 580-TIPS. A reward is being offered for his arrest and remember, you can make a tip and still remain anonymous.