SAN DIEGO COUNTY, Calif. — San Diego County was awaiting the state's data Tuesday on whether San Diego County would slip into the purple tier of the state's coronavirus reopening roadmap. However, based on state data, which is updated each Tuesday, San Diego County will remain in the red tier until at least Tuesday, Sept. 29.
If the data shows a county has an average daily new case rate of 7 per 100,000 population or higher, a county will likely be moved into the purple tier. The state determined San Diego County is experiencing 6.9 new cases per 100,000 people per day - narrowly dodging the 7 mark "at least for this week."

The step backwards would have most likely shuttered indoor operations for restaurants, movie theaters, houses of worship and gyms, limited retail businesses to just 25% capacity and had major impacts on indoor business for most other industries until the county could improve its numbers.
On Tuesday, Dr. Mark Ghaly said the state had conversations with San Diego County officials about its borderline tier status and discussed strategies to mitigate the spread, especially in the college community.
"We certainly see a county that is hovering around that threshold between red and purple," said Ghaly. "We continue to have conversations here at the state about how we can support San Diego."
Leading up to Tuesday's anxiously-anticipated numbers, some county leaders had been pushing for the state to exclude the high rate of Coronavirus cases among San Diego State students from our overall case rate..
Dr. Ghaly confirmed, though, that that allowance was not granted.
"There were no concessions made based on their data and we looked closely at San Diego's data the same we do all the other counties," he said.
SDSU had reported 914 confirmed or probable cases as of Tuesday night, including four reports of faculty or staff who have tested positive. Ghaly said the state has a blanket, predetermined policy of accounting for county cases, which include college community members, so those cannot be omitted from a county's official case count, adding "the framework is our framework."
"I think those conversations have been very positive," said Ghaly.
The news came as both University of San Diego and UC San Diego have also now re-opened for the semester.
County Public Health Officer Dr. Wilma Wooten said her office has been working with those schools to review their safe re-opening plans to try to avoid a large number of COVID cases like at SDSU.
"We are trying to get in front of any issues that might result as students head back to school," she said at the County Board of Supervisors meeting Tuesday afternoon.
County leaders Tuesday also expressed concern over the so-called "yo-yo" effect experienced by businesses constantly concerned with potentially falling into the most restrictive purple tier.
"The nail-biter effect is very trying," said Supervisor Jim Desmond.
"At the end of the day, we ought to just focus on tackling COVID," Supervisor Nathan Fletcher commented.
Despite the good news about remaining in the red tier, Ghaly noted that the county is hovering on the brink of being downgraded. The state rules currently state that a county has to be above one of the two metrics -- daily case rate by population and positive test rate -- for two consecutive weeks before it can be moved. To move down to less restrictive tiers, both of those metrics must be below state guidelines for two consecutive weeks. Should the county be placed in the purple tier, it would have to wait a minimum of three weeks before moving back to less restrictive tiers.
At this point, San Diego businesses can rest assured that the county will remain in the red tier for at least the next 14 days.
"San Diego is essentially at zero weeks toward moving backward," Dr. Ghaly said. "It would take two more weeks in the in the purple tier before that county or any county for that matter moves from red into purple."
On Monday, the San Diego County Board of Supervisors met in closed session to discuss potential action should the state data indicate the county will be placed in the purple tier, including legal action.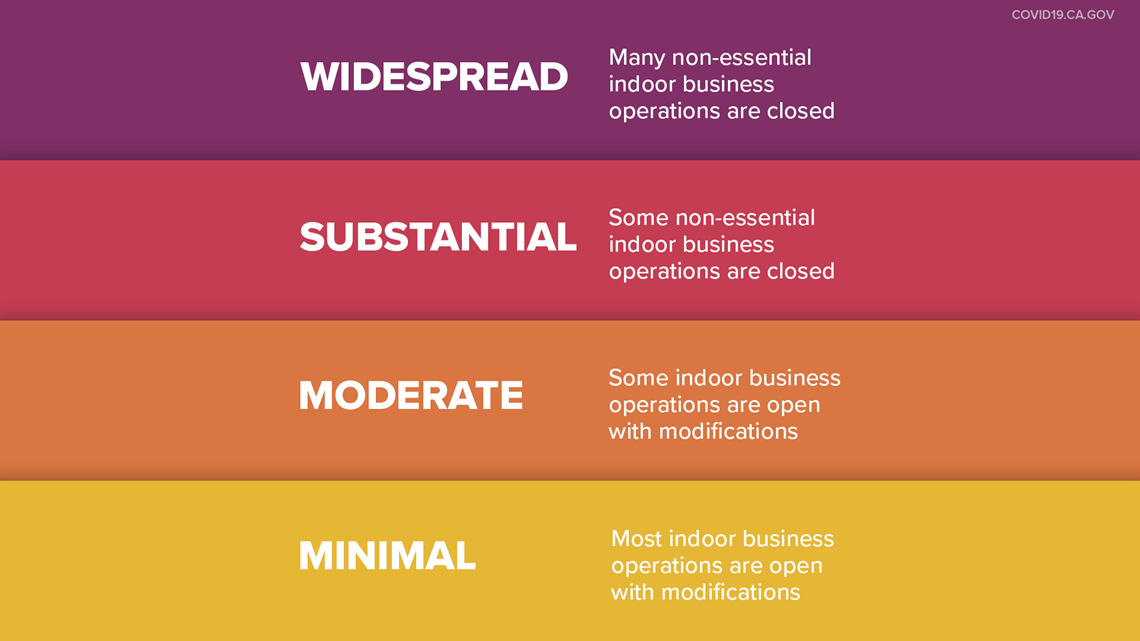 The board also met Thursday night to discuss its options after Gov. Gavin Newsom rejected a county effort Wednesday to discount the more than 800 positive tests recorded by San Diego State University since the semester began. However, if the numbers from the university were removed from the equation, San Diego County would suddenly drop below the mark to remain in the red tier.

County Supervisor Nathan Fletcher was vague about the closed meeting Thursday, but urged caution.

"In general, I believe we should be fighting COVID-19 and not the state of California," he said. "We do not yet know what our case rate will be next Tuesday and will have to evaluate that number in order to understand any possible impact."