SAN DIEGO (CBS 8/AP) - Hundreds of people showed up to rallies both for and against President Donald Trump Saturday in Ocean Beach and San Diego.
   
Between 400 and 500 people attended a "Spirit of America'' rally at Embarcadero Marina Park South, according to volunteer Amy Sutton, who organized the event as part of a series of nationwide pro-Trump rallies held Saturday.
   
Those speaking in favor of Trump included Brett Winterble, a KFMB radio host; Gina Loudon, TV personality, writer and speaker; and Patti Siegmann, president of Oceanside Republican Women Federated.
   
Sutton said anti-Trump protesters, whom she described as "rioters,'' were also at the rally, but didn't really disrupt it. "They just kind of gave up and left,'' Sutton said.
   
She added there was heavy security at the scene, including San Diego police officers.
   
Several dozen protesters were on scene at the pro-Trump rally. The San Diego Police Department said there were no reported arrests.
   
Meanwhile, about 400 people took part in "March4Impeachment'' in Ocean Beach, a participant there said. At the Ocean Beach pier, participants opposed
to the president spelled out the word "impeach.''

Drone Images Courtesy of: Caleb Serban-Lawler
Volunteers at the event, sponsored by Indivisible San Diego and the OB Rag, also registered voters and helped out with a beach clean-up, said Frank Gormlie, editor of the OB Rag.
   
Earlier, 200 people spelled out the word "Resist'' at the nearby dog beach. Gormlie said the event was peaceful and friendly.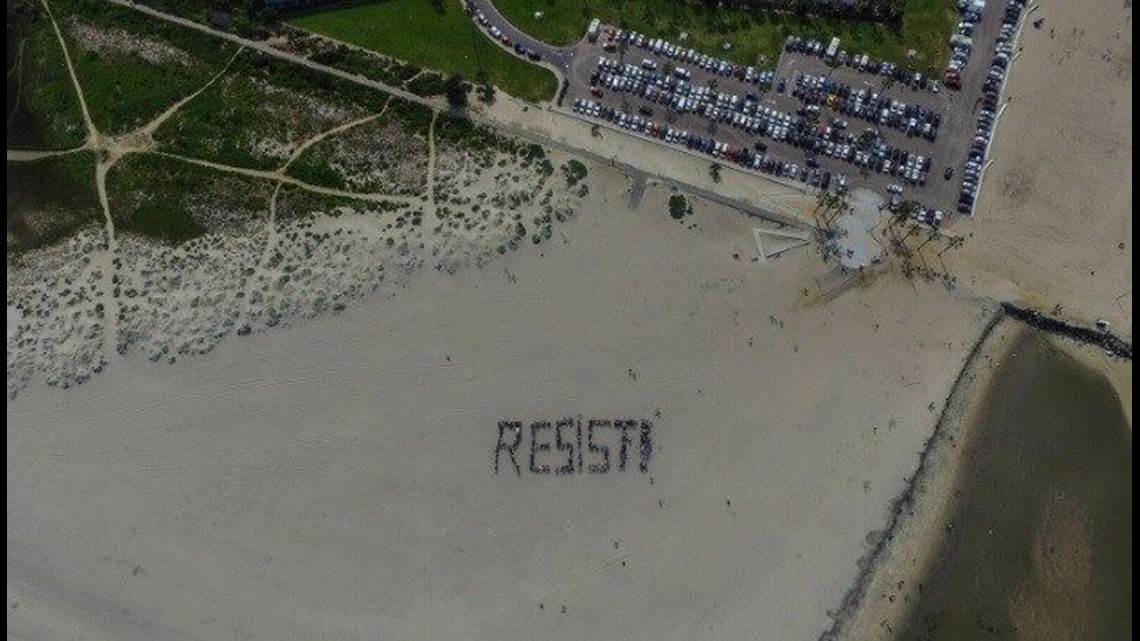 Drone Images Courtesy of: Caleb Serban-Lawler
Supporters of President Donald Trump convened near Trump Tower, the Washington Monument and several other places around the country in marches to show their pride in his presidency.
Saturday's "March 4 Trump" demonstrations intended to show unity in the face of what organizers call "a seditious fringe" aiming to sabotage his vision for the country.
A couple hundred supporters gathered in New York near Trump Tower, chanting "U-S-A." One held a sign reading: "I am not a Democrat anymore." Another read: "Yes he is our president."
A rally at the Ohio Statehouse in Columbus turned into a clash of words when Trump protesters shouted "No Trump, No KKK, No Fascist USA" over the supporters' "U-S-A" chants.
Trump supporters have held rallies in recent weeks to counter demonstrations against him.
Copyright 2017 The Associated Press. All rights reserved. 
Drone Images below Courtesy of: Caleb Serban-Lawler