'I kill [Black people] for a living' | A look at SDPD's newly released police misconduct files
Newly released investigations reveal a number of accusations of racial discrimination against SDPD officers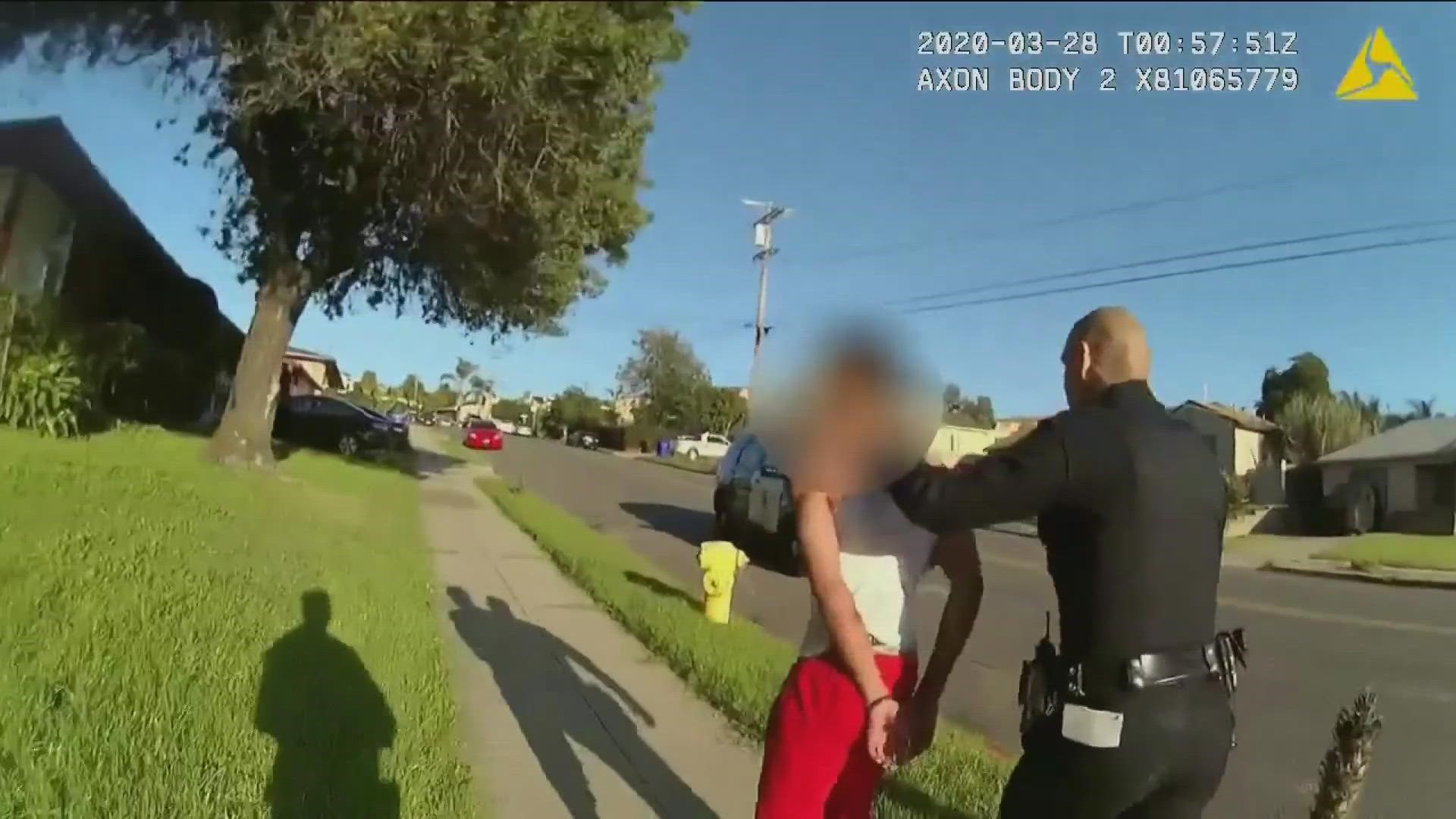 Law enforcement agencies throughout California continue to release police officer misconduct investigations as part of a 2022 law aimed at improving transparency in law enforcement agencies.
For the San Diego Police Department, many of the newly released investigations show numerous examples of racially-charged accusations against San Diego Police officers in recent years. They include accusations lodged against patrol officers for racially profiling Black motorists, for improper searches and seizures of young Black men, and in one instance an investigation into an officer who was caught yelling, "I kill [Black People] for a living. I am a cop."
The newly released misconduct records come after years of tensions between San Diego's minority residents and the San Diego Police Department over what some residents feel are disparities in the department's treatment of Black and Hispanic people compared to their white counterparts.
In recent years, researchers substantiated those sentiments. In a 2016 study, researchers at San Diego State University analyzed traffic stops and detentions from those traffic stops citywide. Researchers found, "stop and post-stop enforcement patterns show meaningful differences in the treatment of Black and Hispanic drivers, as compared to whites..." adding, "these disparities, which match the perceptions of some members of San Diego's minority communities, contribute to a recognized tension between these communities and the SDPD."
And as the department reveals its internal complaints, public records show the department's efforts to diversify its police force have been unsuccessful. All of this as public records obtained by CBS 8 show that San Diego has seen a steady drop in the number of sworn police officers since at least 1997, resulting in the 8th largest city in the country having just the 22nd largest police force.
Senate Bill 16
:
Expanded Public Access to Law Enforcement Personnel Records
On September 30, 2021, Governor Gavin Newsom signed Senate Bill 16 into law which mandated police departments throughout the state to release police misconduct records. The purpose of the bill, according to one Senator who introduced it, was to "strengthen communities' ability to hold law enforcement agencies accountable."
On January 1, 2023, police departments statewide were required to release misconduct records which historically had been held under lock and key, shielded from the public's eyes.
The internal police investigations that have since been released include instances where internal affairs detectives found evidence of police wrongdoing, specifically instances where officers wrongly used excessive force against suspects and where officers discriminated against other officers or members of the public, among other offenses.
CBS 8 reviewed numerous internal investigations recently released by the department, and the vast majority of the complaints were from people of color who said officers' actions and responses were motivated by racial bias, or that their race had something to do with the actions taken by officers.
The Investigations
:
Racially Motivated Incidents
A number of investigations that were released under the new state law included allegations of racial discrimination from racial profiling, to improper searches and seizures of young Black teens, to white SDPD officers yelling racial epithets while intoxicated.
"I kill [Black people] for a living. I am a cop" - February 22, 2020
On February 22, 2020, San Diego Police dispatchers received a call about a drunken white male near Old Town who was trying to start a fight with an employee at the EZ 8 Motel on Pacific Highway. The man, later found to be a San Diego Police Officer, later told officers that he was at a bar in Pacific Beach celebrating with San Diego Police Officers who had passed the "Police Bicycle Course."
According to the internal investigation, the employee said the off-duty officer went inside and began calling the employee names, "He wanted to fight me so I told him he had to leave," the employee told police before adding, "he told me, 'Ya, I'm a cop and I kill, you know, [Black people] for a living.'"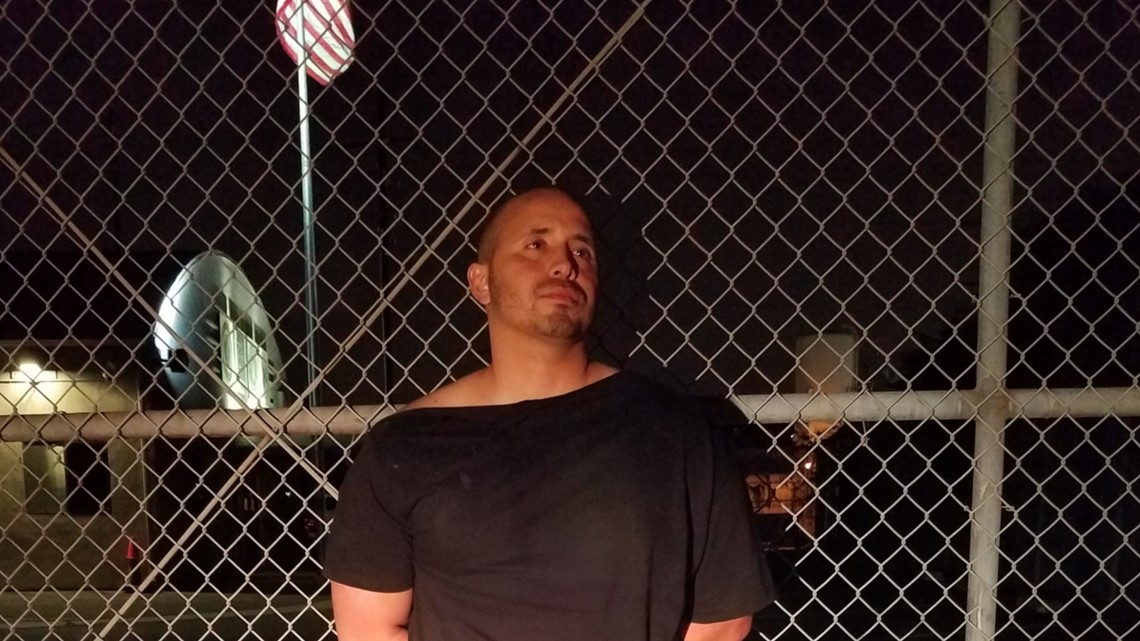 According to officers who arrived on the scene, patrol officers found the drunk off-duty cop stumbling on the sidewalk near Old Town. They detained him and during the arrest, the off-duty officer again made several racial slurs and began kicking the car. Several officers on the scene later told internal affairs investigators that his behavior did not reflect kindly on the department.
The inebriated officer was arrested, however, was later allowed to return to the force. Internal affairs investigators found the officer violated three department policies including, engaging in criminal conduct, violating procedure, and not conducting himself according to departmental standards.
The statements that the officer made that night, according to an investigation by the District Attorney's Office, were made just 29 days after the officer shot and killed 31-year-old Toby Diller after Diller ran from police and resisted arrest, later attempting to grab the officer's gun.
The officer is no longer with the department.
In April 2022, the city paid Diller's family $375,000 to settle a wrongful death lawsuit that they filed against the city.
Editor's Note: A previous version of this story incorrectly stated that the Officer under investigation shot and killed Diller a year after he was arrested for public intoxication while yelling racial epithets. In fact, the shooting death occurred 29 days prior to his arrest.

"I'm getting tired of this. This is harassment."
On September 7, 2021, an SDPD Sergeant spotted a Black woman sitting inside her car on 60th Street in Encanto. The officer, according to the internal affairs investigation, ran the plate and the system stated that the owner of the vehicle had a warrant for her arrest. The officer told investigators that he "positively identified [the woman]...through a previous booking photo" and that the suspect had at least 20 different aliases.
The police sergeant then approached the car with his gun drawn. He told the woman that she had a warrant for her arrest.
She told him that she did not.
The woman, who later filed a complaint with the San Diego Police Department, said the officer did not ask for her last name, a copy of her identification, "He just asked if I was [redacted name] and he drew his gun at me, and said that I had two warrants for my arrest."
The sergeant who conducted the stop confirmed the woman's account.
When asked what the sergeant did to confirm the woman's identity, the sergeant stated, "I looked at her identifying information such as her hair color, height, and weight."
The officers detained the woman. Throughout her questioning, the woman repeatedly told officers that she did not have any warrants, reads the investigation, "[She] was adamant that she was not the person identified in the warrant."
Despite this, other officers relied on the initial officer's positive identification. Officers searched the woman's car, including her engine. Officers searched the woman's body and shoes, before placing her in the back of the police car and to the department.
While inside the car, a second officer decided to "conduct his own records search" and after several searched discovered that the woman was not the person listed in the warrant.
The officer brought the woman back to her car and dropped her off.
"I was falsely accused of something I didn't do...I'm tired of this. This is harassment," she said. "You think I am not going to sue the city for this, hell [expletive] yes."
The officer who detained the woman continues to serve on the force.
"Dark Meat" and a Life-Sized cutout of Rapper Rick Ross
The majority of the documents released under Senate Bill 16 focused on allegations of racial discrimination. And while some of the complaints were determined to be "unfounded" others confirmed that race did play a part in the interaction with the public.
During the raid, a sergeant was overheard stating that his K9 would not bite a white officer as the dog only likes "dark meat."
Moments later the officer said when having problems getting handcuffs on a Hispanic woman, that the handcuffs did "not like dark meat."
Internal investigators determined that the officer did not conduct themselves to departmental standards and failed to follow proper procedure.
The officer who said his police dog only liked 'dark meat' continues to serve on the force.
Editor's Note: A previous version of this article stated the two statements were made by two different officers when in fact it was one officer who made both statements.
Cardboard cutout of Rapper Rick Ross in an SDPD lineup - "UH!! EVERYDAY I'M HUSTLIN' AND YOU CAN TOO…SIGN UP FOR SOME OT"
On January 13, 2020 a San Diego Police Officer contacted internal affairs about a disturbing prop that was placed in SDPD's Southeastern Division's lineup room.
The prop was a life-sized cardboard cutout of hip-hop star Rick Ross. The cutout, according to a subsequent Internal Affairs investigation, featured Ross wearing a white t-shirt, navy blue shorts and a baseball hat with the words, "San Diego Police" adhered to the front. Ross's socks were embroidered with the word, "Crenshaw." In the hands of the cutout, officers taped fake $100 bills, a Psychiatric Emergency Response Team (PERT) form, a 72-hour parking notice, and overtime request sheets.
A caption above Ross's head read, "Uh!! Everyday I'm hustlin' and you can too...sign up for some OT."
The officer that reported the cutout said the image was "offensive to him because he felt the poster was an offensive stereotypical representation of African American males. Additionally, he felt it was encouraging officers to make money through conducting enforcement action against the African American Community."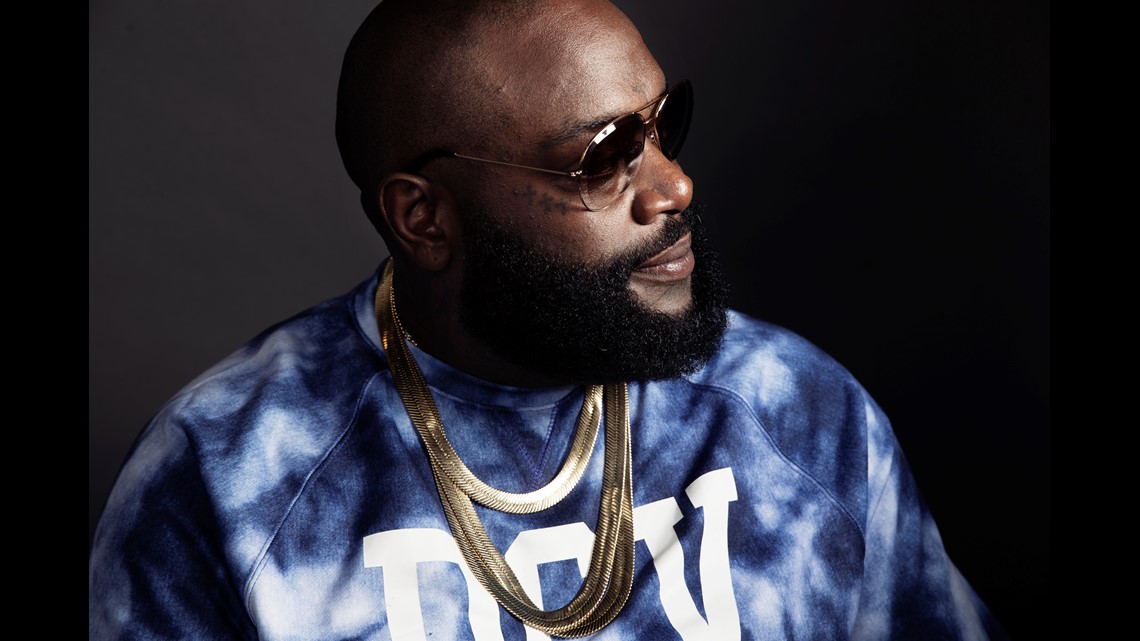 A subsequent investigation found that two officers obtained the cutout as a way to "solicit officers to sign up for more overtime," according to the investigation. The two officer's sergeant approved placing the cutout, after covering an image of a bottle of alcohol that Ross was holding in the original cutout.
The complainant later told investigators that he was offended for a number of reasons.
"Because it's suggestive of the stereotypical African American male...Obviously, it's not a police officer and it's suggesting, to me, the writing above it says, 'Uh,' like he's dumb. Then it says, 'Every day I'm hustling.' Hustlin, how? Are you drug dealing? Then you have the stereotypical African American male with gold chains around his neck with sagging shorts. The shorts are sagging off his butt. Gold rings and a gold bracelet," said the unidentified officer.
In another interview, investigators asked what impacts the cutout may have if residents of South San Diego found out about it.
That witness described the ramifications if news of the cutout got out as, "If this was seen by certain members of our community in Southeastern, this could be weaponized and added to other narratives that are out within the community that are negative towards our department."
Public records show that the officer who placed the cardboard cutout in the room is no longer working for the department, however, the Sergeant who approved it is.
Diversity and SDPD
:
Attempt to diversify the department have had little success
For years, the San Diego Police Department has worked to hire more women and people of color.
According to public records obtained by CBS 8, as of October 2021, a total of 57% of all sworn San Diego Police officers identified themselves as white, while nearly 27% were Hispanic, 8.9% were Asian, and Filipino. and 6.5% Black.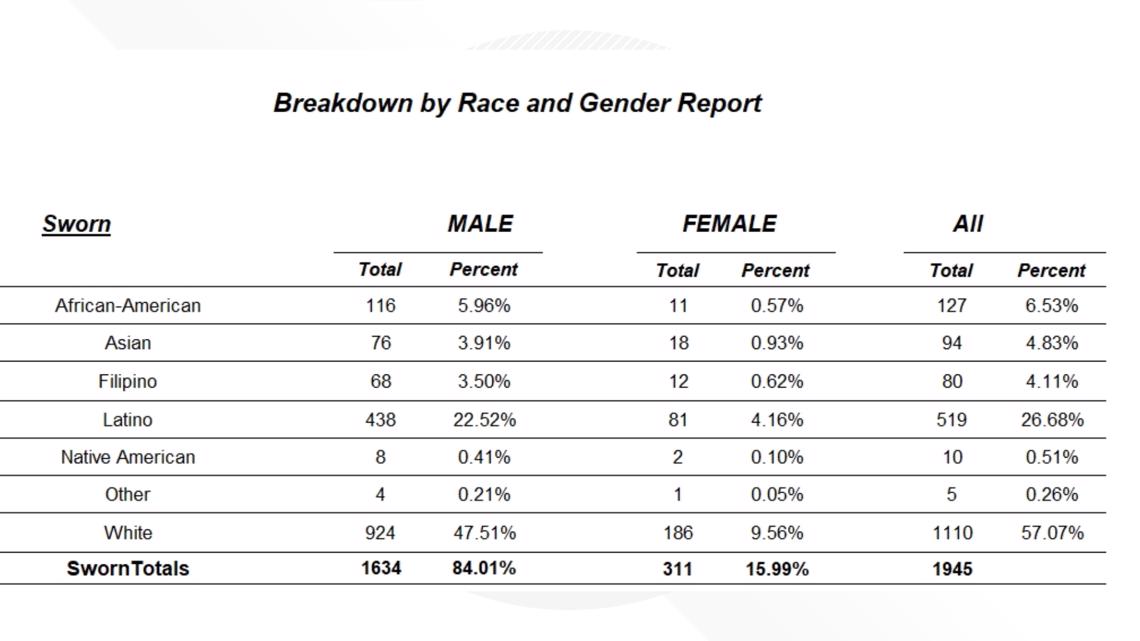 Since 2021, the department has become only slightly more diverse. According to numbers obtained by CBS 8, despite the new recruiting measures, and visiting historically Black colleges and universities.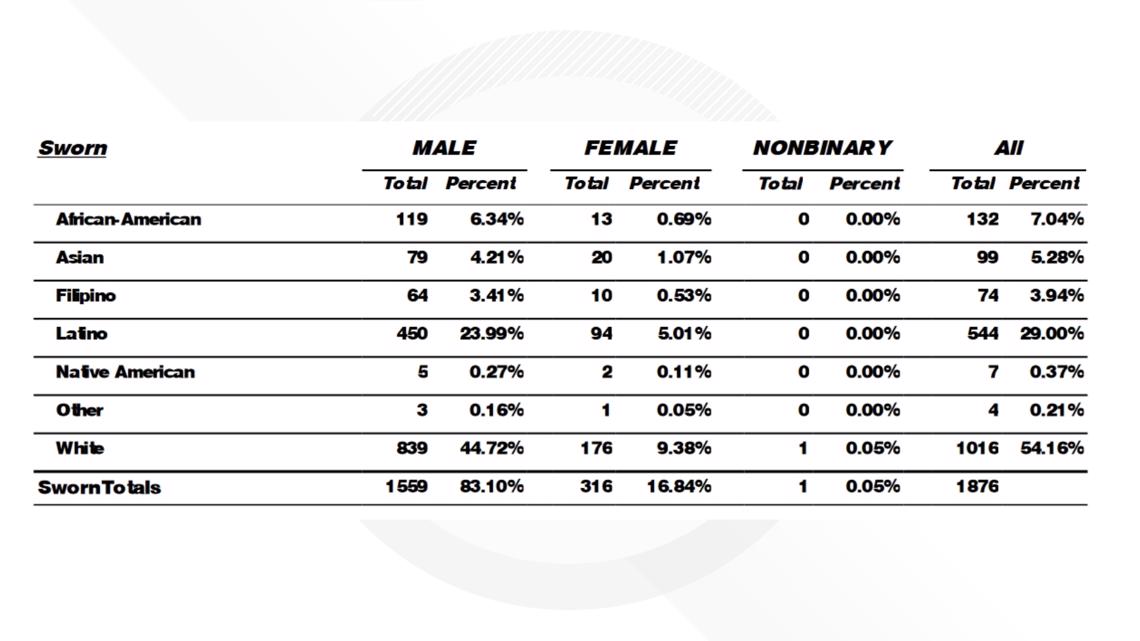 The racial makeup of the city's police force and the challenges of luring more people of color to get sworn in only underscores the historical challenges that the department has faced to retain officers, regardless of color.
Data shows that San Diego Police Department currently has 1,815 sworn police officers. In 2016, according to the Bureau of Justice Statistics, SDPD had 1,857 sworn officers, even less than the 1,964 officers it had 20 years prior, in 1997. According to federal government numbers, despite being the 8th largest city in the country, the department had the 22nd largest police force.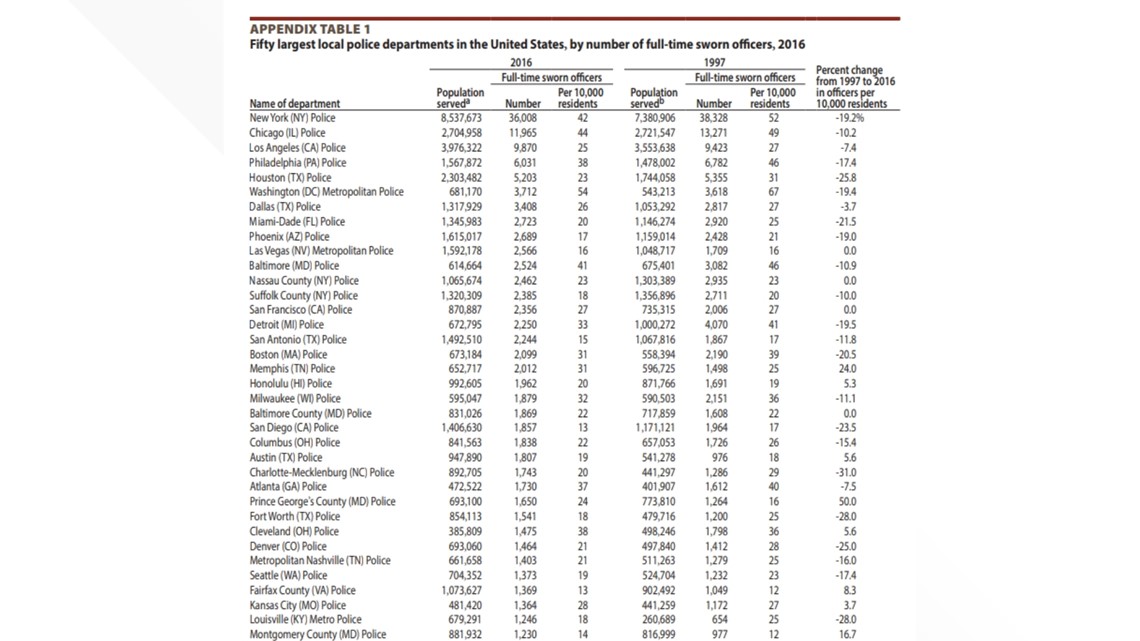 Response from the Community
:
SDPD declines to comment
Tasha Williamson has advocated for police reform in San Diego for a number of years. Williamson says she works to expose racial discrimination inside the city's police force. She does so also, in order to protect her own children from being targeted by rogue police officers.
"I often have to worry about my children being out on the streets and potentially being stopped by law enforcement only because they are Black," said Williamson.
Williamson tells CBS 8 that the newly released police misconduct records are a welcome step towards transparency, something that Williamson says has been missing for some time.
"I've submitted public records requests for over 50 officers who have had complaints, EEO findings that were sustained, and they have not released them," said Williamson. "They either withheld them, or they lied, simply saying there are no responsive documents."
"But now because of Senate Bill 16, police personnel files are available and show that officers have discriminated against individuals who were Black, that show that they have made discriminatory statements towards people who are Black and other racial demographics."
Williamson says that in order to ease tensions between the community and the department, Chief David Nisleit should not stop at just following the mandated disclosures but should release even more records.
"We've been outraged so much that we just want action," Williams tells CBS 8. "As activists and community members, we demand that the police stop policing itself. Release their tickets, release their stops, release their use of force. Make it public. Let us know exactly how far the discrimination goes."
Michael Sierra-Arévalo is an Assistant Professor of sociology at the University of Texas at Austin.
Sierra-Arévalo says police officers are saddled with, on one hand balancing expectations from the department while at the same time being expected to consider hundreds of years of institutional racial biases which date back to when police officers were mainly concerned with catching escaped slaves or meting out justice on behalf of slave owners.
"That is the unfortunate and undeniable history of the origins of the institution of policing in the United States," says Sierra-Arévalo. "Officers today are not responsible for that history but they are responsible, in my view, for the consequences of that history."
Added Sierra-Arévalo, "Redlining and segregation were not just things that snapped into existence, they were enforced by people wearing badges carrying sticks, handcuffs and guns."
It's a difficult balancing act for officers, says Sierra-Arévalo, having to address and make amends for historical injustices with little pay and a lot of responsibility.
"Your job is to quell something that has essentially spun out of control in some way. Officers get saddled with all these broken pieces and they're just told to pick them up with limited tools and limited resources."
San Diego Police Department and Chief Nisleit did not respond to numerous interview requests to speak on the release of the misconduct records, the lack of racial diversity in the police force, and the concerns from residents. The Black Officers Association also declined interview requests.