Parents at a Lakeside school are fighting to get a new cell tower that just went up, taken down.
A new AT&T cell tower was just recently installed across the street from Lakeview Elementary.
AT&T says its currently a 4G tower, with no timeline of turning it into a 5G tower.
But parents say they don't want any cell tower so close to their child's school, especially not one with 5G capabilities.
"This is 150 feet from where they eat lunch and play, it's too close," said parent Leah Santa Ruiz. She has two children enrolled at Lakeview.
"Our kids shouldn't be guinea pigs for this technology," said parent Philip Claessens. His son attends Lakeview. His daughter will attend it next year.
Both parents are worried about the potential health risks.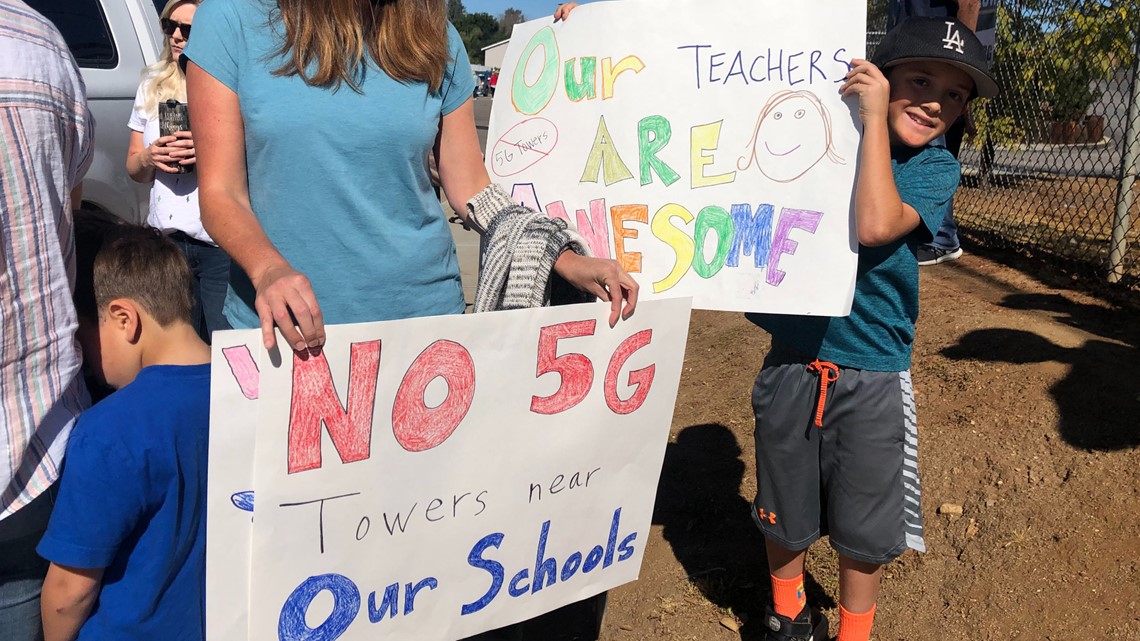 "We're concerned about the unknown," said Claessens. "Both sides of this argument don't know. Both sides can't definitively say 'It's going to affect your health, it isn't going to affect your health.'"
In August 2019, the county approved an ordinance banning cell phone towers within 300 feet of schools, daycares, hospitals, police or fire stations. However, it passed 4 months after the permit for this tower was already approved.
A spokesperson for County Supervisor Dianne Jacob's office told the group any further action will require the federal government.
According to AT&T, 5G uses high-frequency waves that support faster speeds but don't travel as far as current wireless frequencies. So instead of relying on large cellphone towers spread far apart, they need "small cell" sites that are much closer together.
Cell phone equipment does emit radiation but research on its health effects has been inconsistent. According to the National Cancer Institute, "a limited number of studies have shown some evidence of statistical association of cell phone use and brain tumor risks… but most studies have found no association."
A spokesperson for AT&T echoed that sentiment, telling News 8 that there have been no conclusive studies and proof about health risks.
Cellular Telecommunications Industry Association (CTIA) sent the following statement to News 8:
"Radio frequency energy from wireless devices and networks, including 5G, has not been shown to cause health problems, according to the consensus of the international scientific community, including expert organizations such as the FDA, WHO and American Cancer Society."
"If there's any amount of extra risk being taken form this tower, our community is not willing to take that risk for our kids," said Claessens.
The Lakeside group plans to attend a meet and greet with Supervisor Dianne Jacob scheduled for February 28, at 9:30 a.m. at Ramona Town Hall.
Supervisor Jacob released this statement to News 8:
"I'm hearing a lot of complaints from parents and others about this tower and I completely understand their concerns. The problem is that the Federal Communications Commission since 2018 has handcuffed our ability to regulate the placement of these towers. It's another case of federal government overreach and the county and other local land-use authorities are fighting it in court. I encourage residents to join me in this battle and contact their federal representatives, and to urge them to restore land-use authority back to our communities."