SAN DIEGO — The City of San Diego is eliminating street parking on Park Boulevard through Balboa Park to install protected bike lanes.
Vehicle traffic lanes will be reduced to one in each direction to make way for a bus lane.
An estimated 300 parking spots were eliminated as a result.
"As a person who also likes to ride a bike, I get it. But I will say it took us probably 45 minutes to find parking today just to go over to this park," said a young mother playing with her daughter in Pepper Grove.
Construction on the project is expected to last through the end of February.
The 300 parking spots were eliminated along Park Boulevard between Presidents Way and Morley Field Drive.
"Well, on a busy street like that a bike lane is necessary, because it gets pretty dangerous when people are going by at 45 miles an hour," said Alan Devilliers, who was riding his bicycle through Balboa Park.
A city rendering shows how how the new traffic layout will work, with plastic dividers separating the bike lanes on each side of the road.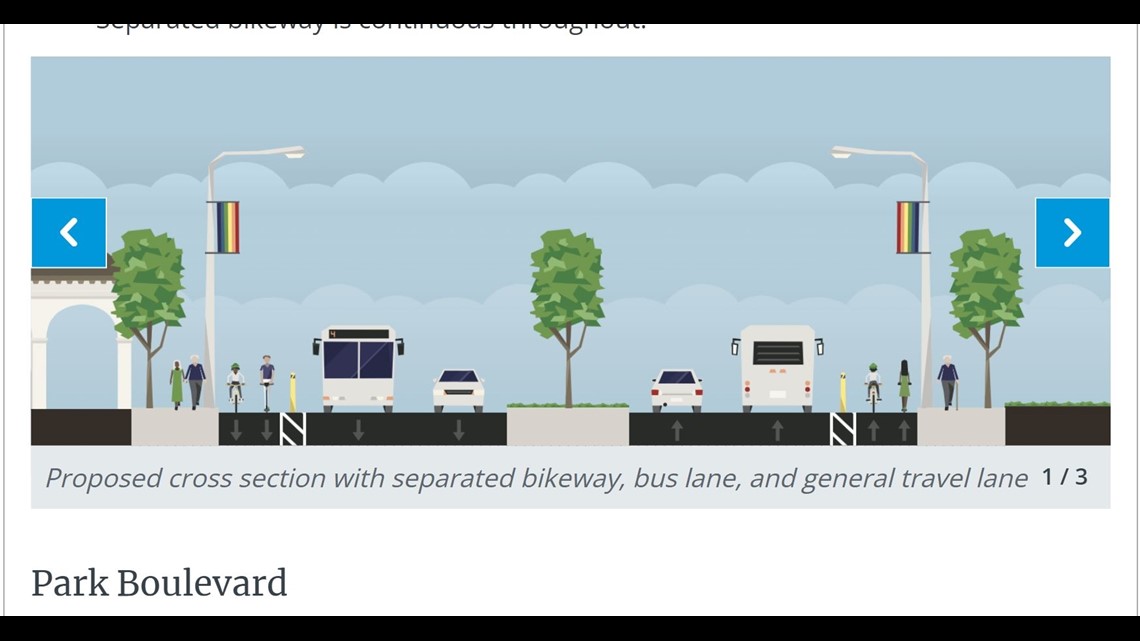 Vehicle traffic lanes will be reduced from two in each direction to one lane in each direction so dedicated bus lanes can be installed.
"I don't see that many bicycles, that dedicates an entire lane. I think lane sharing is good. But lots of parking spaces have been lost," said John Belfiore, who volunteers at Balboa Park.
Belfiore said parking lots in Balboa Park tend to fill up on weekends and during summer months.
Earlier this month, Mayor Todd Gloria touted the project as "road repair work" with transit improvements.
"A lot of folks go up and down this road every single day to go to work, to go to school, to go to some of these attractions in Balboa Park. It's a very important part of our regional transportation network," Mayor Gloria said during a Feb. 7 news conference.
A city spokesperson confirmed additional parking will be available at Inspiration Point, which offers free tram service, but did not respond to questions from CBS 8 about where the additional parking spots would be located.
"It's going to be rough out there on the road to find a place to park that's close enough to where you want to go," said Belfiore.
The red striping along Park Boulevard may be good news for the students at Roosevelt Middle School just north of Balboa Park.
When the parking lots are all filled up on the weekends, the school offers parking on campus for $20 per car.
WATCH: Mayor Gloria highlights road repair work on Park Boulevard:
HERE ARE MORE WAYS TO GET CBS 8: