SAN DIEGO — Less than a day after a fire burned an acre of a Clairemont canyon, residents are still breathing a sight of relief.
Firefighters say a pickup truck lost a tire on Genesee Avenue which caused it to crash into parked cars. The rim of the truck sparked multiple separate fires. A witness told News 8, "We saw smoke in this direction, then we saw smoke in that direction. When we walked to our fence, we saw four different areas with smoke and fire."
Fortunately, firefighters had a fighting chance thanks to a lot of defensible space. Residents say they just redid the fire break which made them feel much safer.
Cal Fire preaches the importance of clearing a fire line with a defensible space plan.
Zone 1 extends 30 feet out from buildings, structures and decks.

Remove all dead plants, grass and weeds (vegetation).
Remove dead or dry leaves and pine needles from your yard, roof and rain gutters.
Trim trees regularly to keep branches a minimum of 10 feet from other trees.
Remove branches that hang over your roof and keep dead branches 10 feet away from your chimney.
Relocate wood piles into Zone 2.
Remove or prune flammable plants and shrubs near windows.
Remove vegetation and items that could catch fire from around and under decks.
Create a separation between trees, shrubs and items that could catch fire, such as patio furniture, wood piles, swing sets, etc.

Zone 2 extends 100 feet out from buildings, structures and decks.

Cut or mow annual grass down to a maximum height of 4 inches.
Create horizontal spacing between shrubs and trees. (See diagram)
Create vertical spacing between grass, shrubs and trees. (See diagram)
Remove fallen leaves, needles, twigs, bark, cones, and small branches. However, they may be permitted to a depth of 3 inches.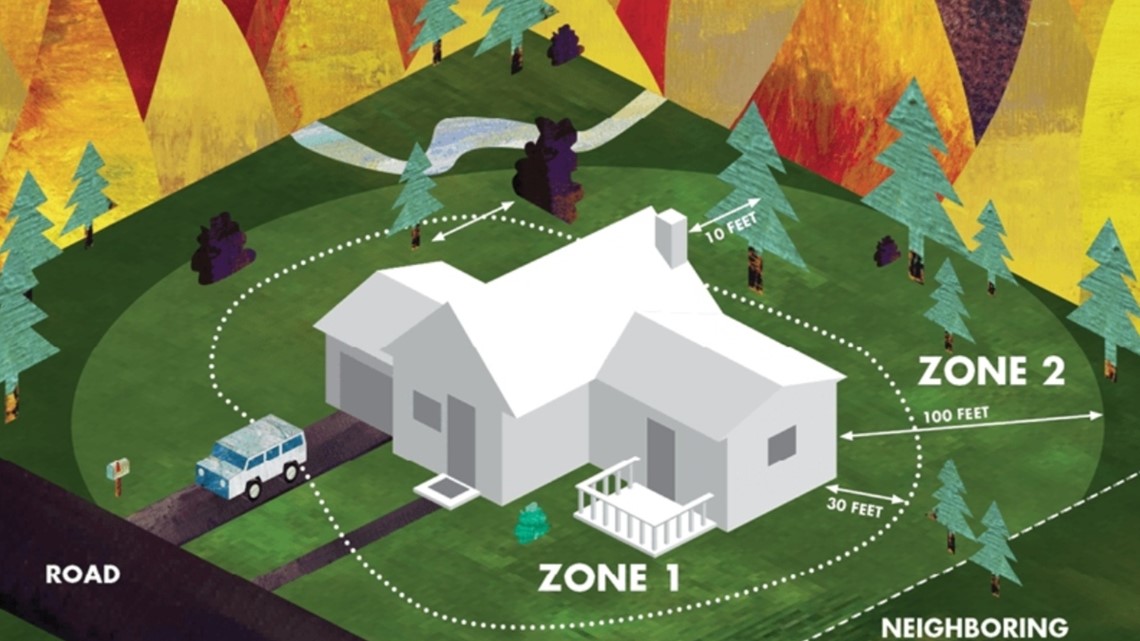 Firefighters were able to get a quick jump on the flames eventually keeping it contained from the ground and the air. Firefighters were able to knock it out in around an hour.