There are 30,978 confirmed cases in California and 1,208 deaths, Newsom announced on Monday.
"These are not statistics," said Newsom. "These are human beings."
California's First Partner, Jennifer Siebel Newsom, announced efforts to address educational disparities during this crisis, but acknowledged that these have existed in California for decades. Siebel Newsom announced that 70,000 California students will receive a device to learn on, like laptops, chromebooks, and iPads.
Newsom also said that Sacramento will start using buses as hot spots to help broaden internet access for distance learning. If this idea works well in Sacramento County, it could roll out to counties across the state. Newsom then expressed his appreciation for janitors, custodial staff, and bus drivers.
"Because of these commitments, hundreds of thousands of families will cross this digital divide," said Siebel Newsom.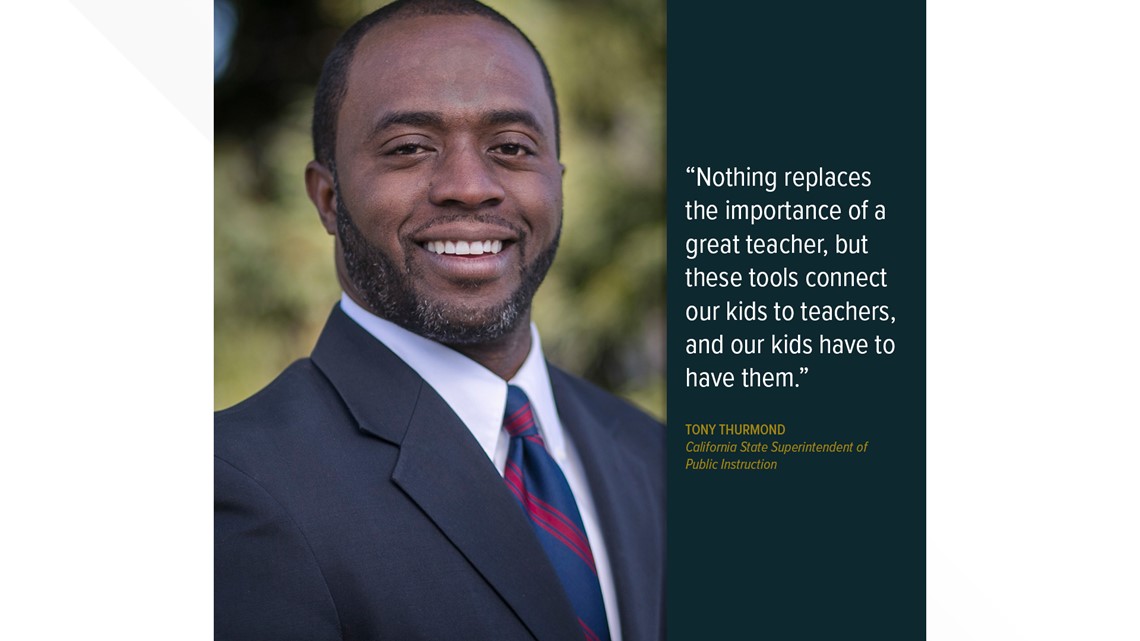 Tony Thurmond, California's State Superintendent of Public Instruction, said his department surveyed all of the approximately 1,000 school districts statewide to look at need issues. It created a task force to "close the digital divide."
"Nothing replaces the importance of a great teacher, but these tools connect our kids to teachers and our kids have to have them," said Thurmond.
Newsom announced a $30-million effort to connect California students to distance learning resources. $25 million of that money will go to expanding hot spots, WiFi, etc. and $5 million will go toward providing students access to those additional laptops, chromebooks, and iPads.
Monday's conference came as many have questions about how local businesses will safely bounce back from the pandemic, both in San Diego County and statewide.
The San Diego Economic Recovery Advisory Group will meet for the first time Monday to develop a framework for a phased re-opening of San Diego County's economy once the threat of COVID-19 has been tamed.

The group, which was announced Friday, consists of local "civic and business leaders" representing a variety of industries that can advise how best to safely reopen for business, and how to have the local economy thrive in a business environment so widely impacted by COVID-19.

"This group will not be focusing on the when, but more on the how," San Diego County Supervisor Greg Cox said Friday. "We can't afford to blindly rush into this. We will only reopen when we are convinced that doing so will not endanger more lives."

San Diego Mayor Kevin Faulconer will provide information about the outcomes of the first San Diego Economic Recovery Advisory Group meeting at his daily briefing, scheduled to start at 4:30 p.m. Monday.
The number of COVID-19 cases in San Diego County grew by 55 on Sunday to 2,268 but no new deaths were reported, keeping the death toll at 71 people, county health officials said.

Of the total positive cases, about 24% have required hospitalization and about 8% have needed intensive care, officials said.