SAN DIEGO — The California coastline, including San Diego's, is being battered by towering waves caused by a rare phenomenon called "king tides."
Oceanic experts said San Diegans could expect the king tides to hit January 21 and 22.
What is a king tide?
"A king tide is a non-scientific term people often use to describe exceptionally high tides. Tides are long-period waves that roll around the planet as the ocean is "pulled" back and forth by the moon's and the sun's gravitational pull as these bodies interact with the Earth in their monthly and yearly orbits," according to the National Ocean Service.
Isabelle Kay, the reserves manager at UC San Diego, said the sea is expected to rise by about five feet by 2100.
"This is especially good for kids to think about because this is going to be their coastline that's going to have to be resilient," said Isabelle Kay, the reserves manager at UC San Diego.
When can I see the king tides?
Several reporting stations around San Diego coastlines send data to the National Oceanic Administration, which pulls data together here.
You can select a reporting station, such as Point Loma, La Jolla, Mission Bay, etc., which will display detailed tide descriptions.
King tides are expected to be at their highest levels starting around 8 a.m. Saturday, January 21, and at the lowest point at 3:21 p.m., NOAA reported.
On Sunday, January 22, king tides were expected to kick up around 8:50 a.m. and recede around 4 p.m., NOAA detailed.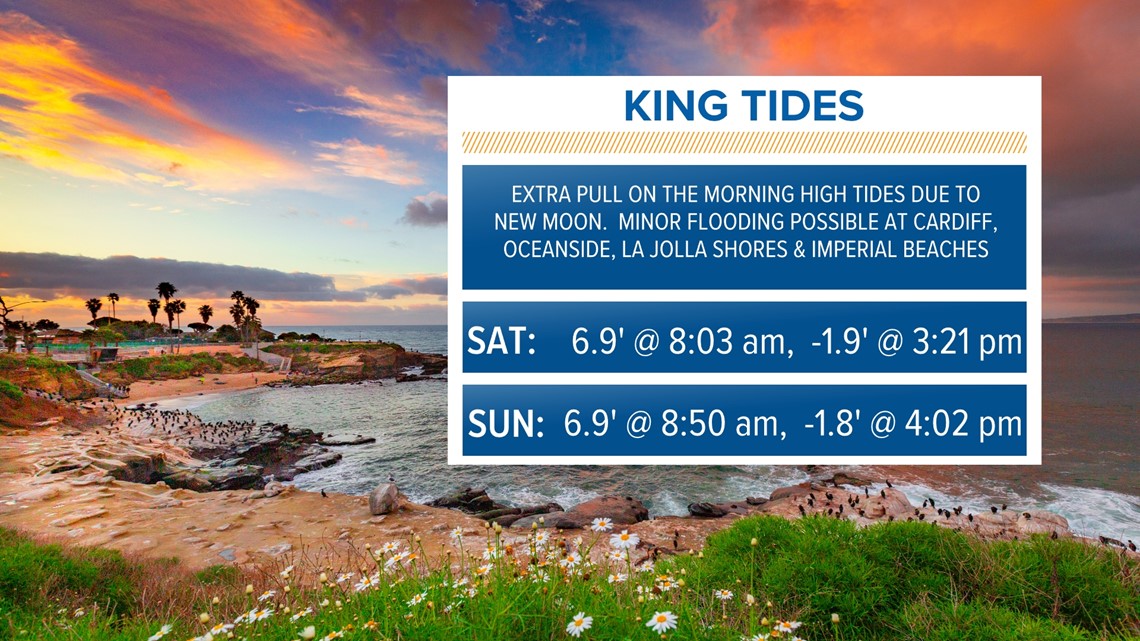 In Kendall-Frost Marsh Reserve, Saturday Morning's king tide showed local environmentalists how some of the wetlands in the region could drown as the sea level rises.
This is why nonprofit organizations like San Diego Audubon Society ask city leaders to prioritize restoration.
"In Mission Bay, this is the last 40 acres of this kind of habitat where you could see king tides changing the habitat drastically. We've got a project called revival mission bay, where we are trying to restore much of this habitat. Hence, there's more of this tidal marsh wetland ecosystem," said Andrew Mayor, who is part of the Audubon Society.
Council member Joe LaCava of district one oversaw part of this region and was also at the reserve witnessing what happens; he says he understands the importance of preserving San Diego's wetlands.
"We have the endangered species with limited habitat, but we also have to consider our public infrastructure and how sea level rise will affect that. And how we need to prepare that in advance so that we maintain our public infrastructure, we maintain environmental habitat," said LaCava
With the king tide here, San Diego city crews have been preparing for the worst.
In Pacific Beach, crews used bulldozers to pile up sand near the boardwalk in case of erosion–sandbags were also handed out to nearby businesses.
WATCH RELATED: King Tides return to San Diego beaches (2021)