NATIONAL CITY, Calif. — Content warning: The social media posts in this story contain racial slurs and expletives and may not be appropriate for all viewers.
An officer with the National City Police Department was under investigation Wednesday for allegedly making racist statements in a private text-message exchange that wound up becoming public.

According to the NCPD, the officer will be on administrative leave pending the results of an in-house probe into the purported inappropriate communications, which were made to a member of his family before being posted on social media by a woman who said she is the officer's former stepdaughter, Miranda Dykes.
Dykes identified the officer in question as Officer Nick Matthews. Matthews's ex-wife said he's been with NCPD for 10 years.
"I texted him and let him know, 'you know what you said you said is not ok and he went off. I gave him a warning, 'that hey if you don't fix this, I'm going to take it to social media," said Dykes.
She said she has a boyfriend who is Black and he's the father of their 14-month old biracial son. She told News 8 she afraid to say anything when he lived in the house.
"He would say racists things here and there, and I was pregnant stuck in this house. I didn't have a place to move," said Dykes. "When my son grows up I don't want him growing up with police officers like him, police officers that say these racist things and target Black people."
She said Matthews even used the inappropriate language with his 14-year-old daughter.
"He said if she was dating a Black guy, and he didn't say Black guy, that she would be sure to get STDs," said Dykes of the conversation with her sister.
It was unclear when the allegedly racist comments came to the attention of the department. Department spokesman Sgt. Thomas Wilkins did not immediately return a call seeking elaboration about the episode.
Dykes said National City Police contacted her about the tweets and said there would be an investigation.
Dykes said the tipping point happened when Matthews allegedly texted his daughter and ex-wife an insensitive meme of George Floyd.
"He is a police officer and thinks what happens is ok or what happened is a joke," said Dykes.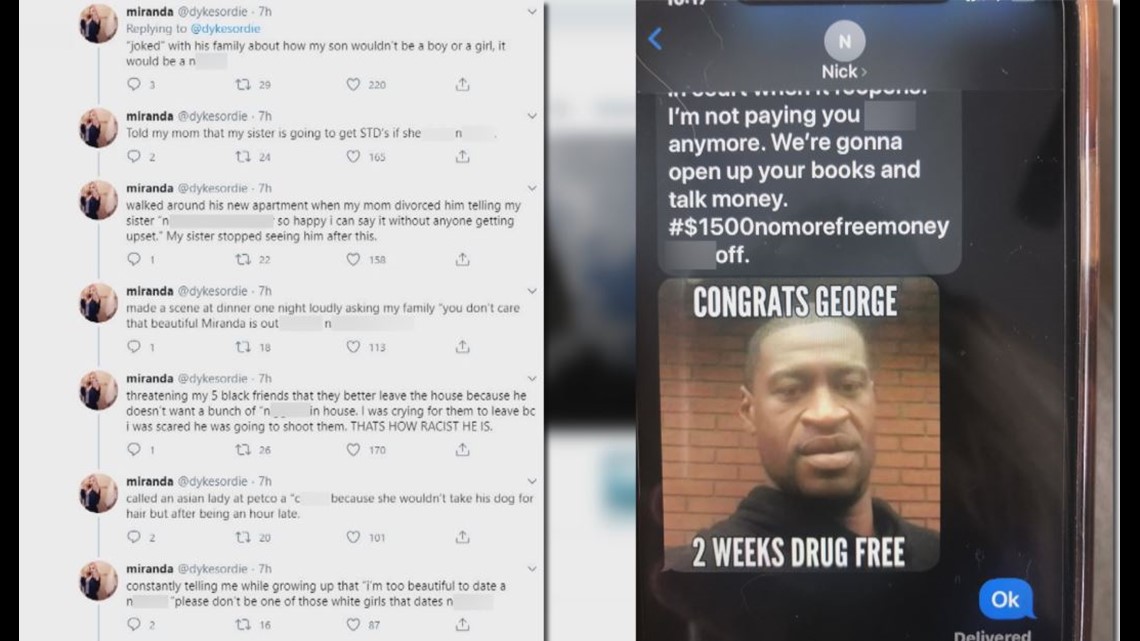 In a prepared statement, National City police Chief Jose Tellez asserted that he would not "tolerate racist and unacceptable epithets made by any member of our organization."

"We are extremely disappointed that we have to conduct an investigation into one of our officers' alleged misconduct," Tellez said. "However, we want to assure the public and our community that there will be a comprehensive investigation into this matter."
Mayor Alejandra Sotelo-Solis thanked the police chief for his "swift action" in addressing the controversy.
"When you hear of things in this nature it's truly appalling and we as leaders and public servants we have to hold ourselves to a higher threshold. As public servants, we must be above reproach, and I fully support the investigation that has been prompted by these social-media posts," Sotelo- Solis added.
Dykes tweet with several threads has been retweeted thousands of times.
"I don't want an apology from him I don't know need anything from him. The main thing is I don't want him patrolling the streets and protecting all of the community," she said.
Officer Matthews did not return News 8's request for comment.