SAN DIEGO — An officer was shot Thursday morning in the Chollas Creek area of San Diego after an officer reportedly approached a suspect who was attempting to steal a car.
San Diego Police Department said around 11:30 a.m., an officer approached a suspect who was attempting to steal a vehicle in the 5200 block of Wightman Street.
The situation escalated when the suspect shot a San Diego police officer in the arm, according to authorities.
The officer was transported to Mercy Hospital with non-life-threatening injuries, according to Lieutenant Adam Sharki, the Public Information Officer for the San Diego Police Department.
The suspect ran from the area where the shooting occurred before additional officers on the scene could bring him into custody.
WATCH: SDPD Chief Nisleit Friday afternoon update | Investigation is ongoing for suspect who shot San Diego police officer, makes plea for community help:
People who live and work in the area say they're shocked over what happened in what they describe as a calm and family-oriented part of the city.
"We've never had a problem, we've never had a problem in this vicinity of the area, no problem at all – none whatsoever so it's unfortunate this happened," said Timothy Okuboye, who works nearby.
"Normally it's quiet, everybody is either at work or at school or the kids is outside playing, there's not really a lot of violence in this area is very quiet," said one neighbor.
Officers originally believed the suspect was hiding in an area near Wightman & Ogden Street in the Chollas Creek area, but have yet to apprehend the suspect, officials told CBS 8.
The man who shot the officer was described as a Hispanic male, about 150 lbs, 5' 8", bald, and last seen wearing a gray sweatshirt.
The suspect is considered to be armed and dangerous, authorities said.
The search continued through most of Thursday afternoon as people in the area reported dozens of officers swarming the area in SWAT gear, loud flash bangs, and circling police helicopters.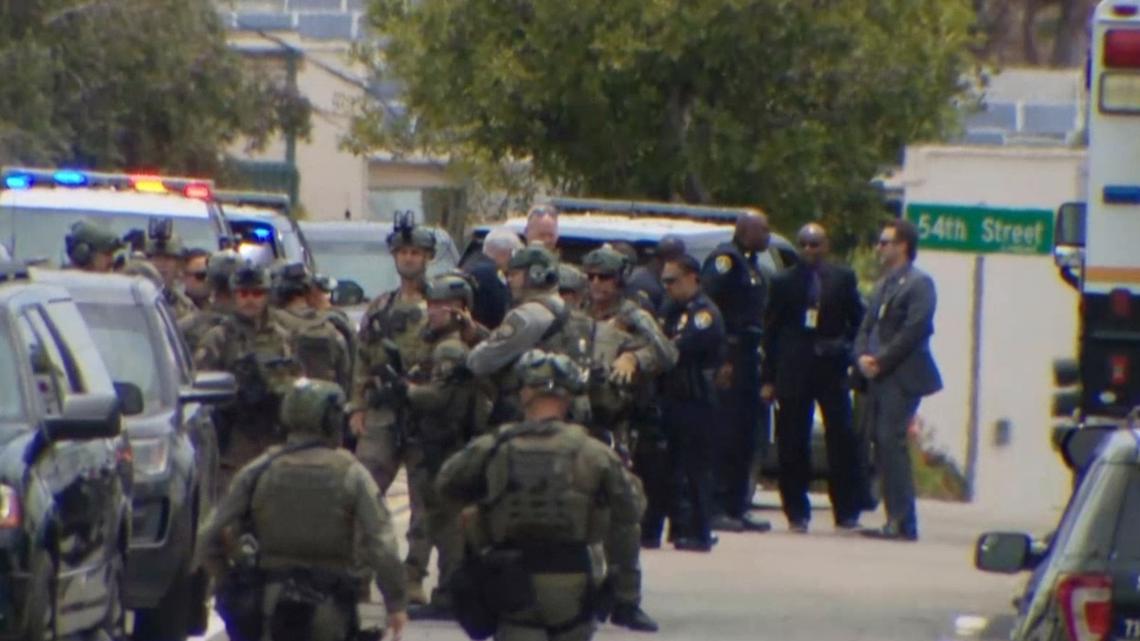 Lt. Sharki said because an officer was shot, the investigation would be turned over to San Diego Police Department's Homicide Unit as a formality.
By 4:40 p.m., Lt. Jud Campbell with San Diego Police Department's Homicide Unit told local media that a 28-year-old man that "roughly" fit the previous description of the suspect was in custody, but they are working to determine if the man in custody is responsible for the shooting.
A reporter asked Lt. Campbell how many resources are on the scene and he said he does not know, but it's a lot. He said, "This is what it looks like when something like this happens."
San Diego Police Chief David Nisleit, who was out of town on official business, was said to be flying back to San Diego because of this incident.
Authorities lifted the shelter-in-place order at around 7:40 p.m. Thursday and allowed neighbors to return to their homes.
WATCH RELATED: Manhunt underway for suspect who shot San Diego police officer