SAN DIEGO — For those that wanted to help others in need during the pandemic, a special event kicked off Tuesday morning at the Pechanga Arena.
News 8 and our own Kyle Kraska hosted a "Celebration of Heroes" drive to collect food and blood donations - two critical community needs that have been drastically impacted by COVID-19.
"The response was really good in the beginning of the coronavirus pandemic," said Karen Powell of the San Diego chapter of the American Red Cross. "Everybody came out of the woodwork to support the cause, and now we're starting to see that participation drop off a little bit."
Blood and Food Drive: Tuesday, June 16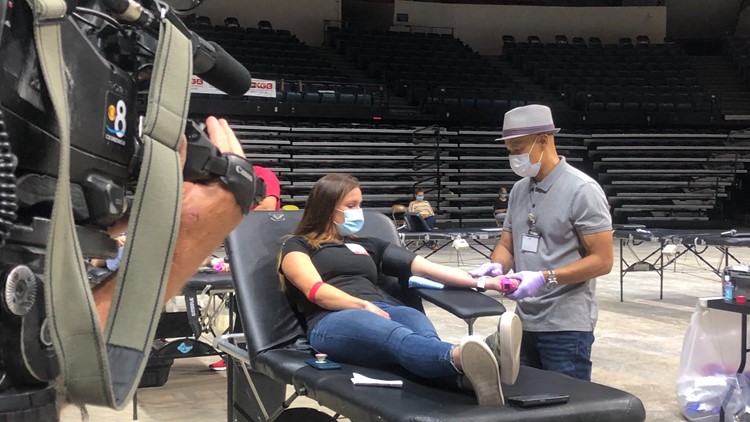 For 12 hours on Tuesday, San Diegans dropped off non-perishable food donations at the Pechanga Arena parking lot. Drivers didn't have to leave their cars to donate as volunteers collected the items.
"This is our 10th 'Celebration of Heroes' blood drive," said Kraska. "And each and every time we've asked the community to come out and respond they have."
For Kraska, who survived being shot back in 2015, this event is personal.
"Through my journey, I've met so many people, so many children who regularly need blood transfusions. You go to Rady Children's Hospital, you have cancer patients who need blood platelets. Unfortunately, many of the blood drives did stop," said Kraska.
The Red Cross said around 200 blood drives have been canceled so far during this pandemic.
"I heard Kyle's story, I was really touched by it and I thought if there's anything I can do to help, I would love to," said Loretta Jones.
She was one of more than 160 people who gave blood Tuesday.
"I hope through my message I can inspire people to want to give blood," said Kraska. "When I hear that's why they're here I can't tell you how good it makes me feel."
News 8 also met Chelsea Coddington. She works with traveling nurses.
"Dealing with people who are seeing what the facilities look like right now and how impacted they can be, it's really important right now to give blood," said Coddington.
"I think right now anything we can do to show other people we care about them is a good way to get out there and make a difference in people's lives," she added.
Meanwhile, the number of food-insecure people in San Diego has doubled.
"We went from feeding 350,000 people a month to nearly 600,000 people [a month]," said James Floros, CEO of the Jacobs & Cushman San Diego Food Bank.
Floros said the food bank typically purchases about $1 million worth of food a year. However, in the first eight weeks of the pandemic, he said it purchased $3 million.
"Every little bit helps. Everyone can make a difference," he said.
It was appointment-only to donate blood Tuesday, however, you can still donate blood at a later date. You can learn more here.