RED SHOE DAY 2019
San Diegans opened their hearts and wallets this morning raising an estimated $253,000 during the 10th Annual Red Shoe Day fundraiser, benefiting Ronald McDonald House Charities of San Diego.
During this morning's commute, nearly 1,600 dedicated volunteers – the most volunteers in Red Shoe Day history – collected donations at approximately 200 major intersections across San Diego County to raise funds to support families with critically ill or injured children receiving treatment at San Diego-area hospitals. Proceeds help provide a range of services to families, including meals, lodging and emotional support during their child's hospital stay.
In addition to street-side donations, funds were also raised through online fundraising pages, matching gifts, corporate sponsorships and contributions made at McDonald's restaurants in San Diego County. This year, the impact of online donations is being doubled courtesy of a $500,000 matching gift and endowment from the Joseph Clayes III Charitable Trust. The funds will help transform the House's kitchens and dining rooms as part of its 'More Than A Meal' Campaign.
On Thursday, June 20, News 8's Jeff Zevely, AM 760's Mike Slater, 100.7 San Diego's Robin Roth and Mikey, and more than 1500 volunteers carried BIG RED SHOES all over San Diego intersections to support San Diego's Ronald McDonald House.
Here are some photos and videos from this year's event.
Thank you for supporting 'Red Shoe Day'!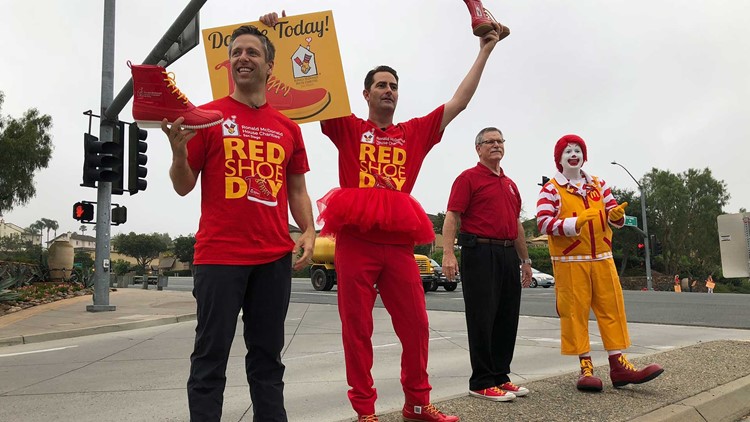 RED SHOES… CARING HEARTS
Help the Ronald McDonald House provide a home away from home for families of seriously ill or injured children being treated at San Diego area hospital.
JOIN OUR MOVEMENT TO HELP
Help support San Diego's Caring House.