Make it Your Mission to Love Your Heart
It's not just a man's disease
1 in 3 women die of heart and cardiovascular disease
Yet, heart & cardiovascular disease can be prevented
Be Powerful ... Be Passionate About Prevention
News 8, the San Diego American Heart Association and Mission Federal Credit Union invite you to feel the passion and create the power of RED to make it your mission to fight heart disease.
NEWS 8's Barbara-Lee Edwards
and
San Diego's 2019 GO RED SURVIVORS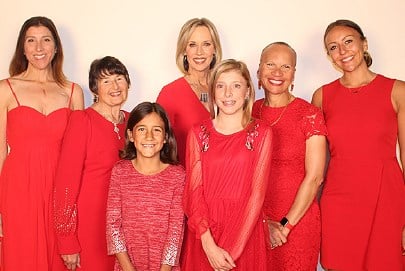 Mother. Sister. Friend. Love Your Heart, GO RED FOR WOMEN
KNOW Your Risk - Online E Visit Assessment
The American Heart Association has created a tool to help you understand your risk profile through My Life Check®. Even if you don't have all of your numbers like cholesterol, use what you do have and get your Heart Score today. In turn, we'll help you learn what you can do to improve, and ultimately lower your risk for heart disease and stroke. Get Started with My Life Check®
LEARN the Symptoms of Heart Attack & Stroke
If you had heart disease, would you recognize the symptoms? You might be thinking, "Of course!" Many people are familiar with the scene of a man clutching his chest and falling to the ground, but there's plenty more you need to know. Learn the symptoms now to save your life. CLICK HERE
#GoRedGetFitEatHealthy
For tips & heart healthy recipes, please CLICK HERE
Wear RED Day February 1, 2019
Celebrate your commitment to women's heart health
ATTEND the San Diego Go Red for Women Luncheon & Expo February 28, 2019 or Donate

The Fairmont Grand Del Mar
10am – GO RED Expo
Noon – GO RED Luncheon
Fashion Show Featuring GO RED Survivors

Men Go Red for Women
Men Go Red is a dynamic, committed group of men who are rallying their resources to fight heart disease, the No. 1 killer of women and men. They're standing behind the women they care about - wives, mothers, daughters, sisters and friends - while influencing and inspiring communities.

At Mission Federal Credit Union, our mission includes giving back to our local community on behalf of our customers. We invite you to join the fight against the number one health threat to women: heart disease.

Visit any Mission Fed branch January 16 through February 28 to get your

Red Dress Bracelet

while supplies last for a suggested donation of just $10. Your donation will benefit the lifesaving work of the San Diego American Heart Association. When you make a minimum $10 donation, we'll also display a paper heart in our branch. If you prefer to make a donation without receiving a

Red Dress Bracelet

, we will display a paper heart for a minimum $1 donation. Help spread awareness by wearing your

Red Dress Bracelet

proudly and raise much-needed funds to fight cardiovascular disease in women. Together we can touch hearts, save lives and make a real difference in the fight against heart disease and stroke. Make it your mission to love your heart.
Love Your Heart...Go RED for Women