SAN DIEGO COUNTY, Calif. — For the third weekend in a row, demonstrations against racial prejudice, police use of force against people of color and systemic racism are being held in San Diego.
A Paddle Out for Unity got underway at Carlsbad State Beach.
A protest began at 5 p.m. Trader Joe's in Pacific Beach. Organizers planned to march to the beach and back before wrapping up around 7 p.m.
The City of La Mesa reports the protest had ended and thanks everyone involved for helping to make it a safe and peaceful event.
Peaceful La Mesa protest remains in progress. The City of La Mesa estimates about 150 people are still in attendance.
A march from the San Diego Zoo to the Downtown San Diego Police headquarters was getting underway and is scheduled to end around 6 p.m.
In La Mesa, about 200 protesters gathered in a circle around multiple speakers in the parking lot in front of police headquarters. Some in the audience carried signs such as "Defund the Police" and Black Lives Matter flags. Some of the bikers stayed seated on their motorcycles. Many in attendance wore face coverings. The group applauded and cheered as a microphone was passed between speakers.
The City of La Mesa estimates about 350 people are peacefully gathered outside LMPD headquarters. The La Mesa Chief of Police Walt Vasquez and other LMPD officers were seen hugging and shaking hands with protesters.
A protest is being held outside La Mesa Police Department headquarters on University Avenue.
San Diego protests - June 14, 2020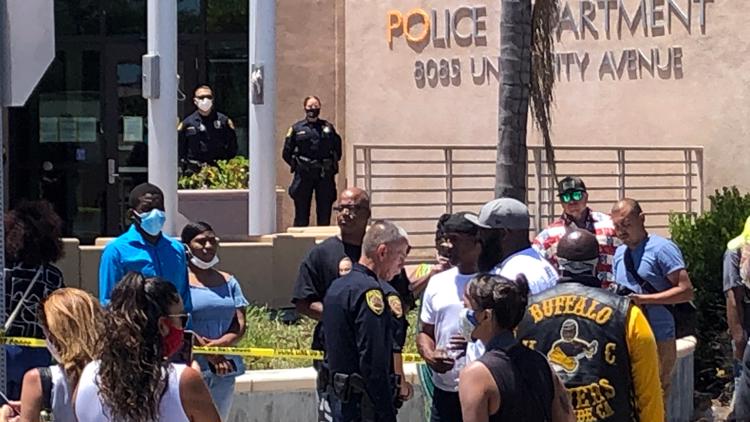 About 150 Unity Ride participants are making their way to La Mesa for a 1 p.m. protest.
A Unity Ride titled San Diego Motorcycle Set is holding a rally to protest police violence. It is starting at the Rite Aid parking lot at 1735 Euclid Avenue and traveling to La Mesa Police headquarters where a larger protest is scheduled at 1 p.m.
Police estimated about 70 people were there on bikes at the start of the event.
Also getting underway at noon was a Walk for Equality in Pacific Beach starting and ending at Crystal Pier.
Sunday morning a Black Lives Matter protest was held at Spreckels Park in Coronado for families with children of all ages. About 100 people turned out for the "Baby's First Black Lives Matter Protest" organized by Ellie Coburn and featuring activism storytime, music, dancing and voices of black motherhood.

"We had a beautiful turnout," Coburn told City News Service. "We had the opportunity to listen to some incredible mama speakers speak on black motherhood and the founder of SD Peaceful Protests speak on the importance of early race awareness."

She said participants heard the reading of a storybook on activism, danced and sang to empowerment music by black artists, taught the kids how to do protest chants and engage in about an hour of "art, bubbles and community."

"This event for families with young children is so important because we know that children establish a lifetime of racial biases by just five years old," Coburn said. The event lasted about 90 minutes.

The group is planning another event on June 28 in North County.

At noon in Pacific Beach, "Walk for Equality" protesters met at the Crystal Pier to begin a march.