SAN DIEGO — Due to elevated fire danger across San Diego resulting from Santa Ana winds and high temperatures, San Diego Gas & Electric on Tuesday contacted approximately 24,000 customers of potential power shutoffs. The agency reported that it notified the residents of high fire risk areas by phone, text and email.
"While about 24,000 customers were notified, it does not mean all these customers will have their power turned off," the agency said in a post on its website. "In the past, the actual number of customers who were affected by Public Safety Power Shutoffs was smaller than the number of customers notified."
SDG&E indicated that it will provide notifications to customers within 24 hours of a potential shutoff and again within 1-4 hours, "if possible."
The National Weather Service has issued a Red Flag Warning for San Diego's mountains and valleys which will go into effect at 5 a.m. Thursday and expire at 5 p.m. Friday.
The following areas and map appeared on SDG&E's Public Safety Power Shutoff page as of Tuesday night.
Alpine
Barona
Barrett Lake
Boulevard
Campo
Cuyamaca
Descanso
East Poway
East Valley Center
Julian
Mesa Grande
Mount Laguna
Palomar Mountain
Pine Valley
Potrero
Ramona
Rancho Bernardo (portions of)
Santa Ysabel
Shelter Valley
Viejas
Warner Springs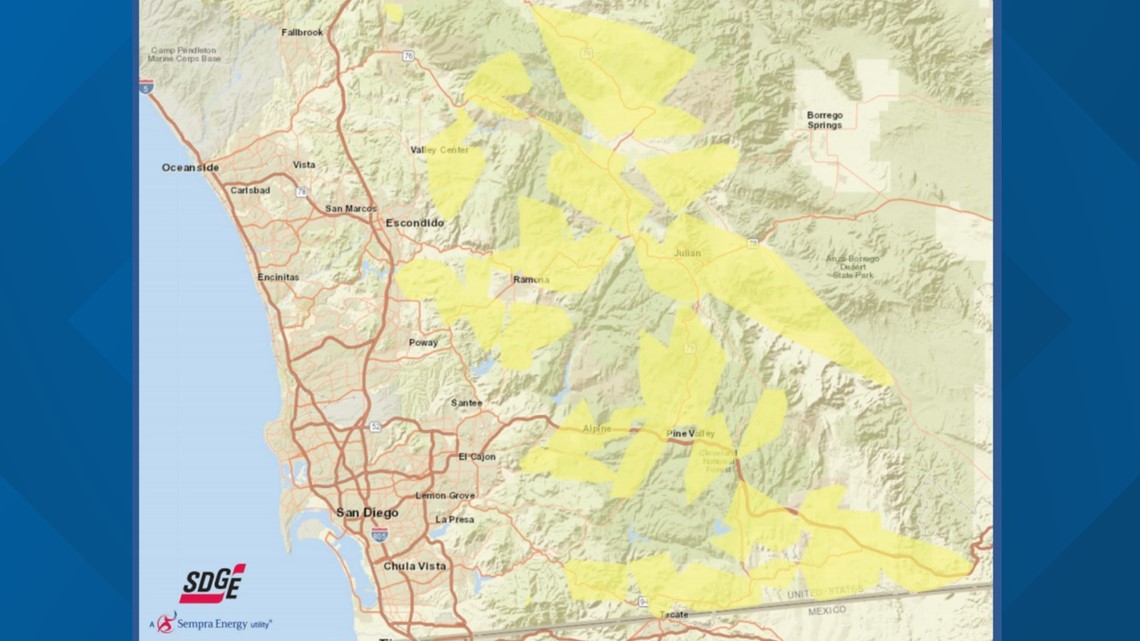 A statement on the page reads:
"Forecasted weather conditions could affect the power lines that serve local communities. We are actively monitoring the potential for adverse weather conditions. These conditions may require us to turn off the power for public safety. If we do turn off power, it will stay off until we can safely restore it."
The agency indicated it will continue to notify and update customers that may be impacted.