SAN DIEGO — Whether as the backdrop for a film or the location of a television special, San Diego has sparkled on screens big and small over the years. It's no surprise to those of us lucky enough to call it home that several celebrities have chosen sunny San Diego as the setting for TV shows, movies and even sporting events.
Our archives are full of famous faces and in this News 8 Throwback we find a few of the hottest names from the 1950s, '70s and '80s around America's Finest City.
Lights, camera, action...
Though this 1958 footage doesn't have sound, it still captures the mesmerizing nature of Marilyn Monroe. Marilyn along with co-star Jack Lemmon are seen filming scenes for "Some Like It Hot" on Coronado Beach while groups of fans crowd around to watch. Many of the scenes in the film were also shot at the Hotel Del Coronado.
In the fall of 1978, Steve Martin visited the San Diego Zoo to film a comedy special called "Steve Martin: A Wild and Crazy Guy." But the actor-comedian must have saved the "wild and crazy" stuff for filming as he was relatively shy in front of News 8 cameras. Martin's special featured other big-name stars including George Burns, Johnny Cash and Bob Hope. Reporter Dave Cohen got a behind-the-scenes peek at a scene involving rodeo turtles.
It was October 1979 and Dean Martin came to town to shoot a Christmas special at SeaWorld San Diego. He brought along some famous friends including Shirley Jones and Dom DeLuise to record "Dean Martin's Christmas in California." News 8's Doug McAllister tried to get details on the special but the "King of Cool" wasn't giving much away.
At the height of his Magnum, P.I. popularity, heartthrob Tom Selleck made a trip to San Diego in 1983 to compete in a volleyball match of all things. Unsurprisingly, spectators at the game were mostly there for Selleck and not sports. News 8's Lorraine Kimel captured some of the highlights at San Diego State where the actor and his Honolulu-based Masters Division volleyball team battled it out on the court as fans battled for Tom's attention. In case you haven't heard, Magnum, P.I. is one of many classic shows getting a reboot with the new version – sadly sans Selleck – debuting this fall on CBS.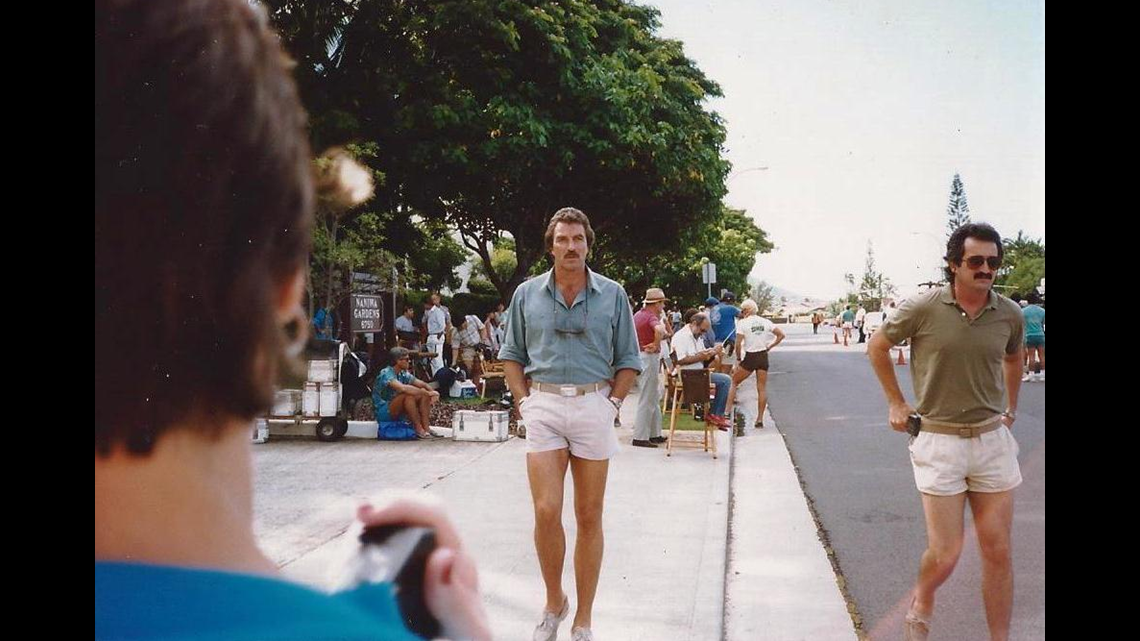 Bonus Tom Selleck: Photo from Magnum, P.I. set in Honolulu (Courtesy of News 8 editor Barb Nielsen.)
More News 8 Throwback stories: