SAN DIEGO — In a show of national solidarity, the Air Force Air Demonstration Squadron, the Thunderbirds, conducted a series of multi-city flyovers on Friday.
America Strong is a collaborative salute from the Navy and Air Force to recognize healthcare workers, first responders, and other essential personnel while standing in solidarity with all Americans during the COVID-19 pandemic.
The flight started in Chula Vista at 12 p.m. where the formation of six F-16C/D Fighting Falcons took off from Brown Field. They then flew north to San Diego, then up the coast through Encinitas and Carlsbad before heading east to Escondido.
"It is an honor for our team to salute the countless Californians who have committed to keeping the communities safe during this difficult time in our nation," said Lt. Col. John Caldwell, commander of the U.S. Air Force Air Demonstration Squadron. "We hope to give onlookers a touching display of American resolve that honors those serving on the frontline of our fight against COVID-19."
Residents were asked to observe the flyover from the safety of their homes following the stay-at-home order.
The Air Force encouraged people who take photos to tag them on social media as #AmericaStrong and #Thunderbirds.
For the full live stream of the flyovers, click here.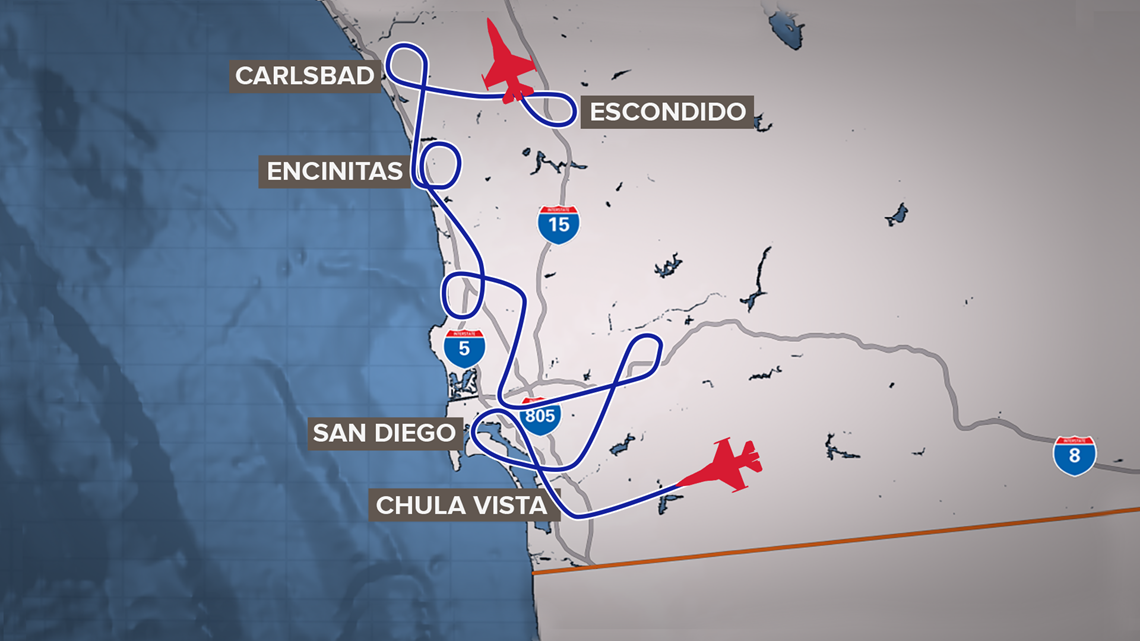 News 8 sat down with Major Trevor Aldridge, one of the Thunderbird pilots that will be flying on Friday, and talked about what this mission means to him as well as the other U.S. Airforce members.