Within hours of a devastating wildfire in Northern California, firefighters up and down the state rallied together within hours to respond to the Camp Fire in Butte County.
The near instantaneous response is a product of the state's fire and rescue mutual aid system, which State Fire Chief Kim Zagaris calls the "the best in the world."
What is the California Fire and Rescue Mutual Aid system?
It's a system that has officially been in place since the 1950's, combining efforts from the state and local governments to move fire and rescue resources around the state. In modern times, this system has seen local firefighters from areas like Turlock, Modesto, Tracy, Manteca, Sacramento, and many other areas responded in quick fashion.
PHOTOS: The search for California wildfire victims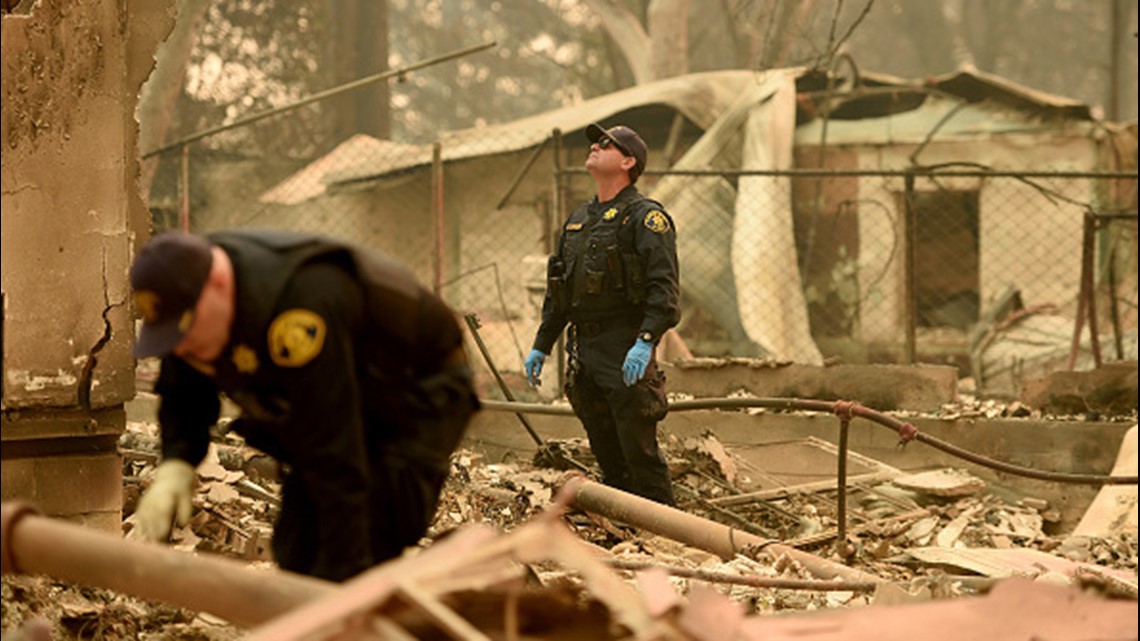 For example, the Camp Fire broke out around 6:30 a.m. on Thursday.
Sacramento Metro Fire District along with many other regional fire department responded within hours.
Even in Stanislaus County, Turlock firefighters responded on the same day to travel up to Butte County.
This is a result of the modern mutual aid system in California.
"It was all about neighbor helping neighbor back in those early days and, today, neighbor helping neighbor may be San Diego sending resources Siskiyou [County] up on the northern border or vice versa," said Zagaris.
RELATED: How to help California fire victims
"It's probably the world's best mutual aid system anywhere in the world, if not the universe. It's used so often and used on a pretty daily basis in this great state," he added.
What makes it the best in the world?
In Zagaris' opinion, the writers of this system had "great minds," and the system only got better with time and experience as California turned to it time and again over the years.
California's fire personnel are well versed in responding to calls for mutual aid; sometimes, the system is a daily process in California.
The experience
"Unfortunately, here in California, it's sometimes referred to as the 'Disneyland of Disaster'- one of the most disaster-prone states in the nation, if not the world sometimes. We, unfortunately, get the exercise," Zagaris said.
While the system has grown over time, he points to some key moments that helped the system grow over the years, including:
Early 1970's fires, which saw some of the more significant growth in the system
1987 fire siege in the northern part of the state
Oakland Hill Fire storm
1993 Southern California fires
2008 and the 2,000 lightning fires
2013 Rims fire
2015 fires in Lake and Calaveras County
It's a system that is modified over time when the need to do so arises. Crews in this year have already had to deal with the largest fire in California history, the Mendocino Complex Fire, and what Zagaris believes will become the most destructive fire in California history, the Camp Fire in Butte County.
When do firefighters reach out to other states and countries?
Other states and countries are called in when Cal OES when local governments are unable to respond to the wildfires.
"When we're making calls and we're having less and less success in people filling those orders, we take a look," Zagaris said. "I can generally tell you somewhere around that 500 engine level is about the point we start really taking a look at where we're at in case we need to go out of state."
RELATED: Latest map and road closures in Butte County
RELATED: Latest map and road closures in Southern California
It's a system that is monitored constantly and takes advantage of interstate compacts and Emergency Management Assistance Compact.
For current wildfires, the EMAC has enabled California to call for and receive aid from states like:
Texas
Oregon
Washington
New Mexico
Utah
Idaho
Montana
Aid has also come from areas like Nevada.
Whether it is help from out of the state one of the 55,000 career or volunteer firefighters in California, the mutual aid system is a voluntary system to participate in and willingness goes a long way in its success.
"What really makes our state fire and rescue mutual aid system work… is the willingness of not only the fire chiefs but their personnel and their governing bodies that allow them to respond," said Zagaris.
---
Watch More … "California Wildfires: The New Normal" is ABC10's new, 9-part series on how wildfires are changing lives across Northern California. Episode 1: When disaster approaches, the body cams of first responders and eyewitness accounts are the best way to get an idea of what it's like to face a life-or-death race against the clock.