SAN DIEGO COUNTY, Calif. — Award-winning jet skiing enthusiast Steve Gordenker remembers the good old days at El Capitan reservoir in East County.
"This was a very special place to the San Diego watersports community. We've probably been coming here for 35 years," said Gordenker.
The water fun stopped when the City of San Diego closed all water recreation on its reservoirs on March 18, 2020 because of COVID-19. The reservoirs eventually reopened later that year. But jet skiing on El Capitan is still prohibited. Even the hand-painted sign posted at the reservoir's entrance informing visitors that "jet sking" was not allowed seemed like a misspelled afterthought on the city-run lake.
"The city shuttered the water contact program just prior to COVID. And they just are unwilling to explore any avenues of regaining access. As a result, if you want to jet ski on freshwater, we have to go to either Yuma or the Colorado River," said Gordenker.
San Diego budget documents from May of 2020 indicated the city wanted to save money by eliminating water-contact sports on El Capitan reservoir because it required extra staffing.
The city's recreation water permit makes it clear that the state of California will allow jet skiing and water skiing on both El Capitan and San Vicente reservoirs. This means the final decision is up to the San Diego Public Utilities Department.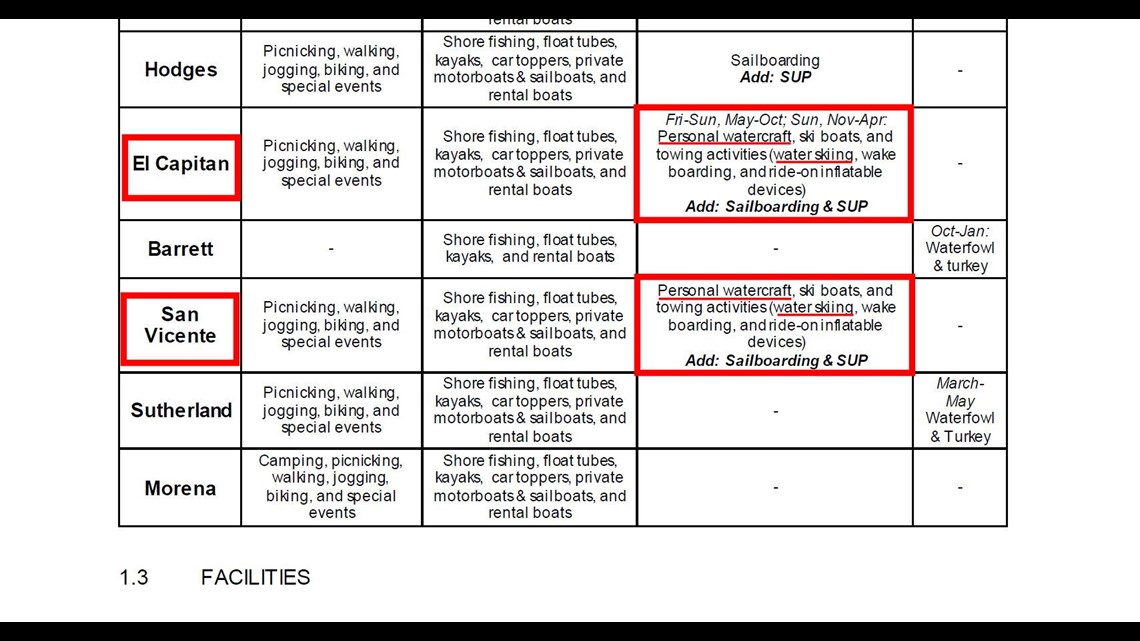 "The water side of the (Public Utilities Department), their only real background is the purchase of water, the storing, the treatment, and the distribution of water," said Kevin Kidd-Tackaberry, a former ranger diver with the city of San Diego.
"The issue is the city to date has said they don't want anything to do with it, or they're unwilling to meet. And we're trying to bring solutions to work with them to make it work, to make it as cost neutral as possible," said Kidd-Tackaberry.
The City of San Diego emailed CBS 8 the following statement:
"Smaller jet skis and wave runners are not allowed at San Vicente Reservoir due to safety concerns because of the high volume of boat traffic. Three-seaters are allowed to follow the flow of traffic through a marked course, pulling a skier. In this way, the 3-seater is acting like a boat. Jet skiing ended at El Capitan Reservoir in late 2019. The reservoirs recreation program operates on a cost-neutral basis and the jet skiing attendance at El Capitan could not support the staffing level necessary to ensure water safety in the event of misuse or accidents. Jet skiing continues to be allowed at Mission Bay."
The City of San Diego contends jet skiing was prohibited in late 2019 on El Capitan reservoir. Budget documents and published reports indicate the closure happened later, perhaps in early 2020.
At CBS 8, we are always Working for You and our community. This is a station promise that we will go the extra mile to solve a problem our audience can't solve themselves. We want to hear your ideas on how we can cover and help our community. If you have a story idea, please email us at workingforyou@cbs8.com.
WATCH RELATED: Lake Hodges set to reopen for paddleboarding, windsurfing Sept. 13