SPRING VALLEY, Calif. — A high school cross-country coach is making sure every student is given the opportunity to run.
In this Zevely Zone, I met the 'Heart and Sole' of Monte Vista High School.
You know the saying about walking a mile in someone else's shoes, but in order to do that first everyone has to have a pair of shoes to lace on.
Four years ago, when David Crabtree became the cross country and track coach at Monte Vista High, he noticed some of the athletes couldn't afford to buy running shoes. "We have students that are in need for sure, quite a few," said Coach Crabtree.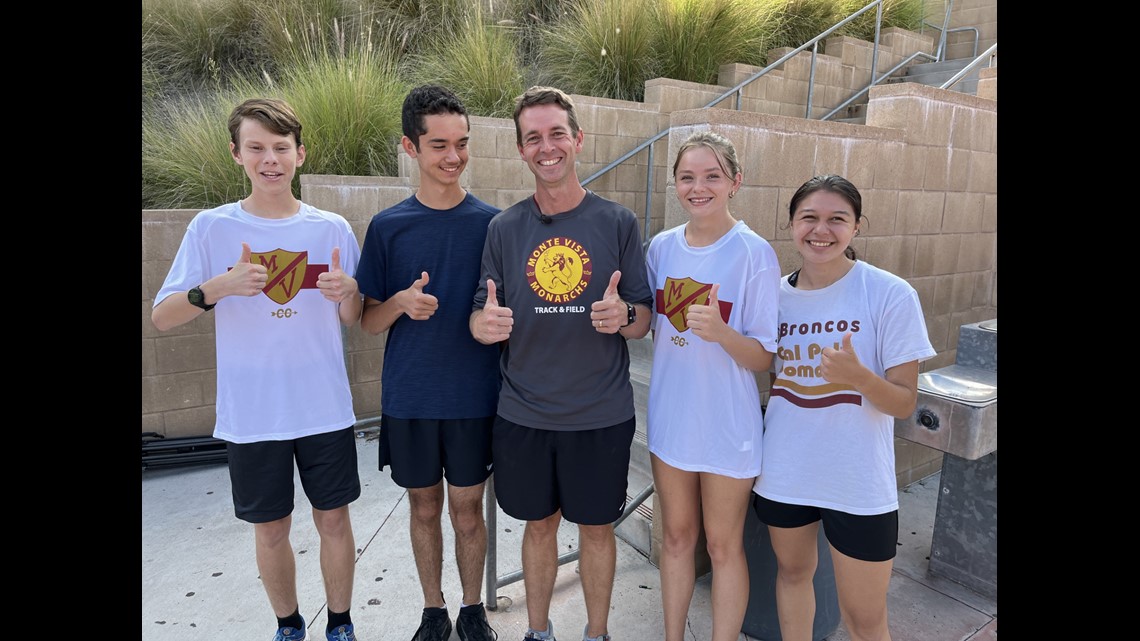 Back in 2021, he noticed that many of his students didn't have the proper running shoes. He put out an ask on social media and was flooded with responses for help.
With a school at 80% free and reduced-price lunch eligibility and approximately 100 students on the teams, there is a continual need for shoes. "I obviously couldn't ask him because I was like embarrassed, but he knew about it, he talked to me about it and just gave them to me, he was like keep them, they are yours, I am here for you always," said student Caitlyn Ternus.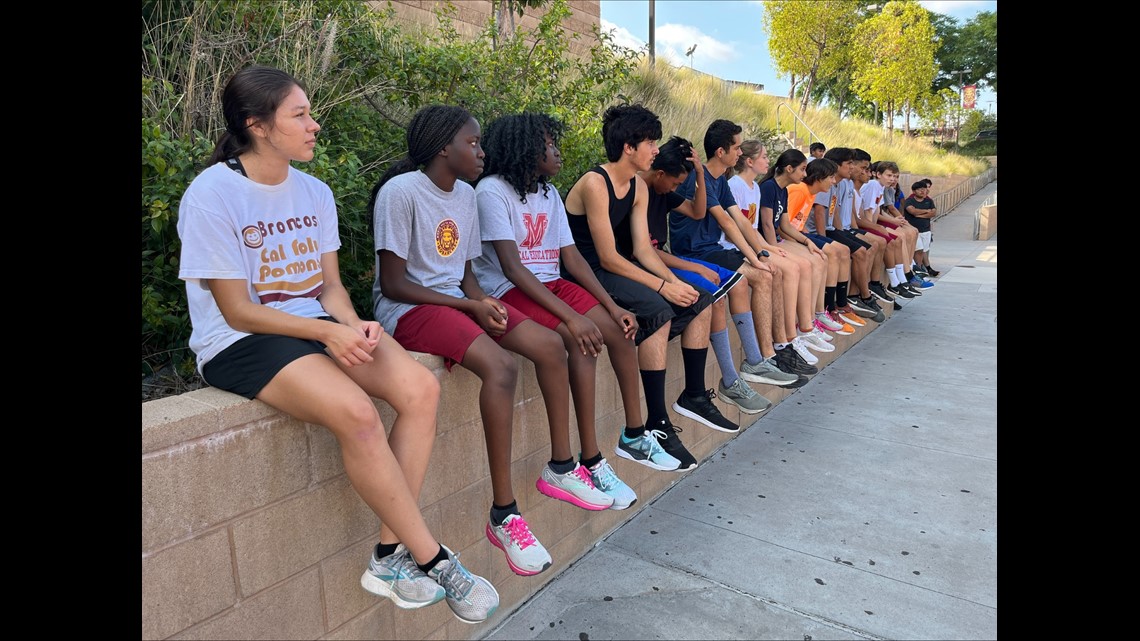 Running shoes can cost up to 150 dollars. "In our sport of Cross Country, you need one thing, and you need shoes," said Ty Lopez. He was one of Coach Crabtree's students. After graduating from UCLA, Ty returned to Monte Vista to teach and coach with his mentor. "I think it's a really good justice that he's doing to our kids because he knows the type of kids that we are getting and often times they don't have a whole lot," said Coach Lopez.
Coach Crabtree continues to seek opportunities with local partners and friends to find the right shoes for all his students.
Over the course of his career, Crabtree has seen how important it is for students to feel a part of something, and eliminating those barriers to joining the team is critical.
To date, he's helped almost 100 students get a new pair of shoes. His efforts to help students is one of the many reasons he was selected by his school and district as a Teacher of the Year. He was also a nominee for San Diego County Teacher of the Year.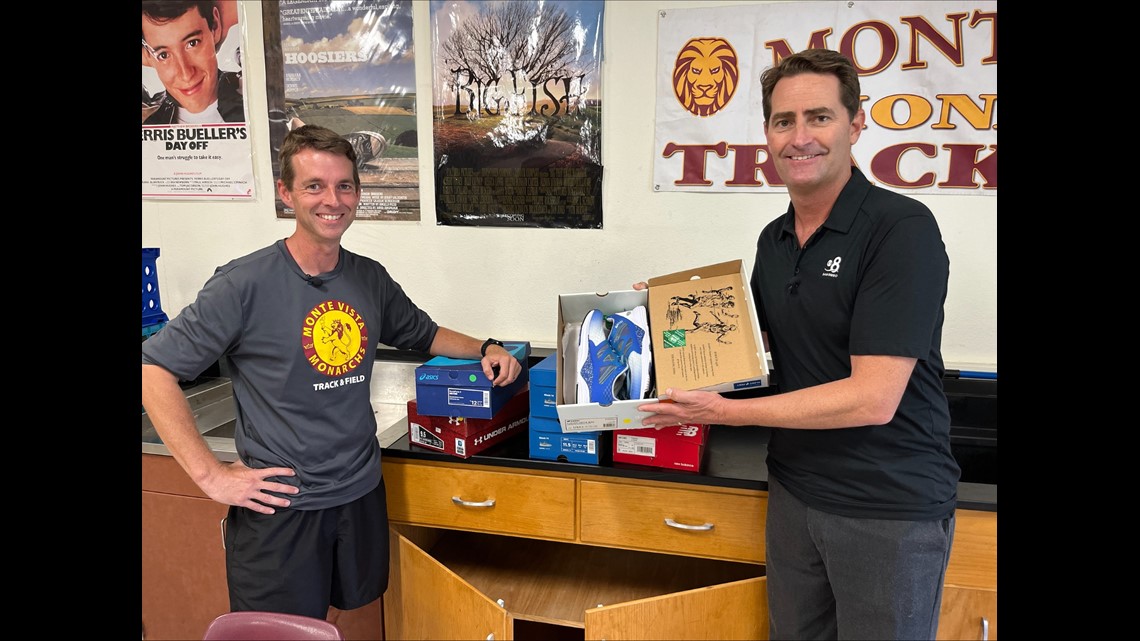 Using donations from the public, running shoe stores and even a Brooks sponsorship, Coach Crabtree's classroom is filled with shoes sometimes stacked to the ceiling.
"I think everyone loves getting new shoes I mean I still do," said Coach Crabtree. When Samantha Tompkins wore the tread off of her shoes, Coach Crabtree was ready. "He is just really kind, and I know that he doesn't want us to ask our parents for a new pair of shoes when he is able to provide for us," said Samantha.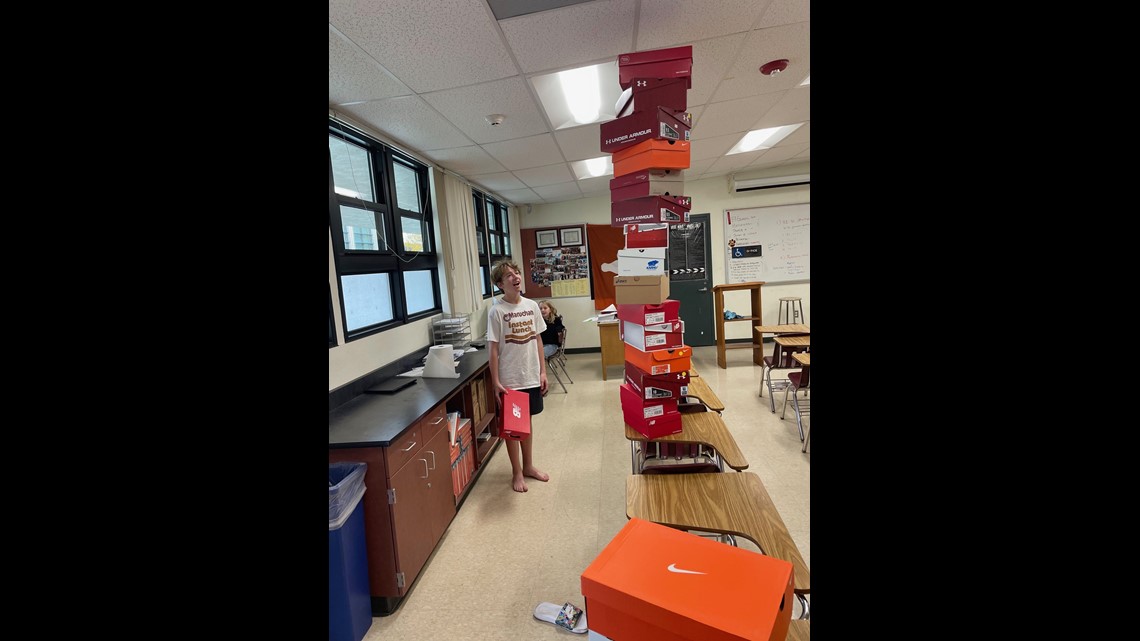 "He's not one of those teachers who says that is just the way it is there is nothing I can do about it," said Coach Lopez. "He is just a really nice person and is able to push the barriers and connect to people easily," said student Edward Phillippi.
Caitlyn Ternus added, "I think he makes us all feel safe, I mean it's a really good environment to be around."
Whether you are the fastest or slowest runner, everyone has a place on the Monte Vista team. "Yes, absolutely, that is our goal," said Coach Crabtree who makes sure every student gets a running start on the road to success.
Coach Crabtree would like to thank Milestone Running their support. If you'd like to donate a pair of running shoes, you can drop off a pair at Monte Vista High School or contact Coach Crabtree at his email address dcrabtree@guhsd.net.