SAN MARCOS, Calif. — When a Chula Vista man battling a rare muscle disease got ripped off, CBS 8 jumped into action. In this Zevely Zone, I have the feel-good follow-up.
How many times have I said it? People in San Diego County are the best. "Yeah, it's too much handle you know," said Tom Lukasiewitz who told us last week about how thieves stole the catalytic converter off his mobility van. "It's bad enough I have this muscle disease, but you took my ability to get to places that need to go, and it just hurts," said Tom.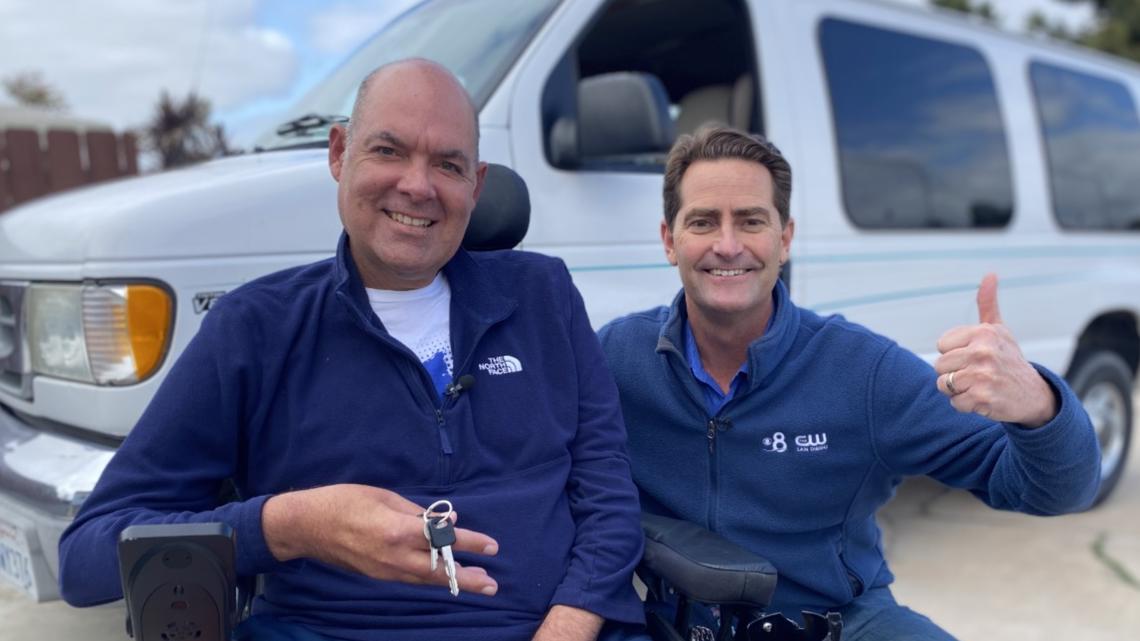 As soon as our story aired, donations poured in along with an offer to fix the van from an auto repair expert named Jeff. "Hey Jeff, there is not much more than I can say but thank you, thank you so much, like I just said for someone that has a limited life you have given me a better life," said Tom.
Tom gave us his trust and the keys to his van. I live in San Marcos, as soon as the offer came in to fix Tom's van, I jumped in my car and drove to Chula Vista to get Tom's van. I then drove straight back to San Marcos to where this generous offer came in.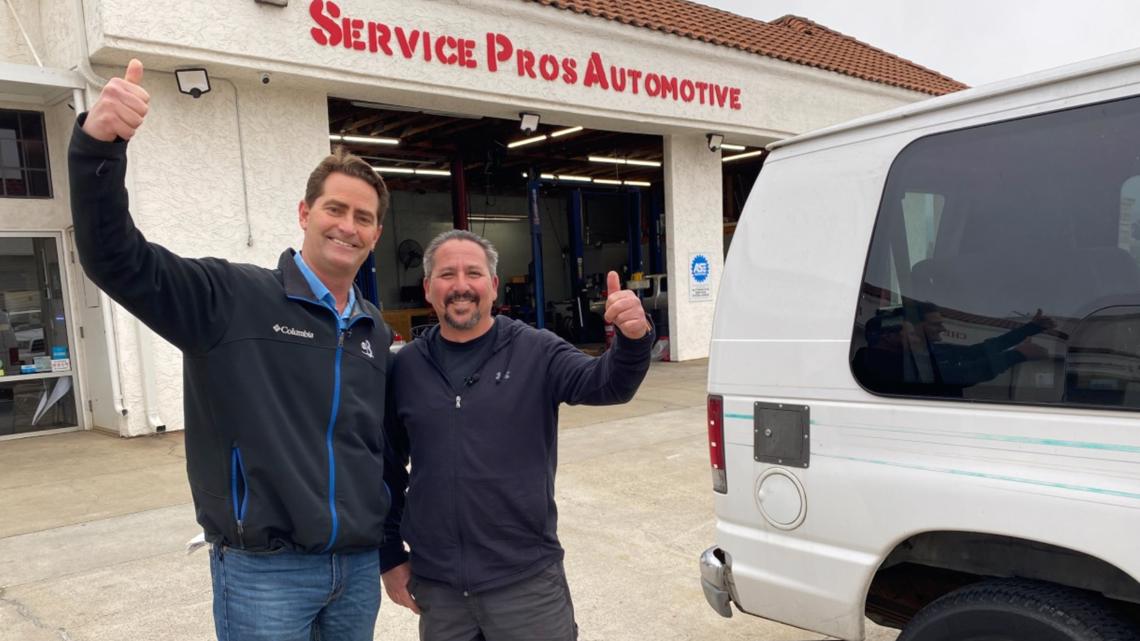 Jeff D'Oporto has owned Service Pros Automotive for 18 years. He was waiting for me when I pulled in. I have met some nice guys in my life and Jeff is at the top of the list. He watched the Zevely Zone story asking for the community to help Tom and contacted me. "I just happened to be here early sitting on the couch drinking some coffee and going through some emails, I thought you know what? I think we can help that guy," said Jeff. I did my homework on Jeff's shop and was pleased to see a perfect 5-Star Rating. "People love you, so I know Tom is in good hands," I said while handing Jeff the keys. "Yeah, we'll get it taken care of for him," said Jeff.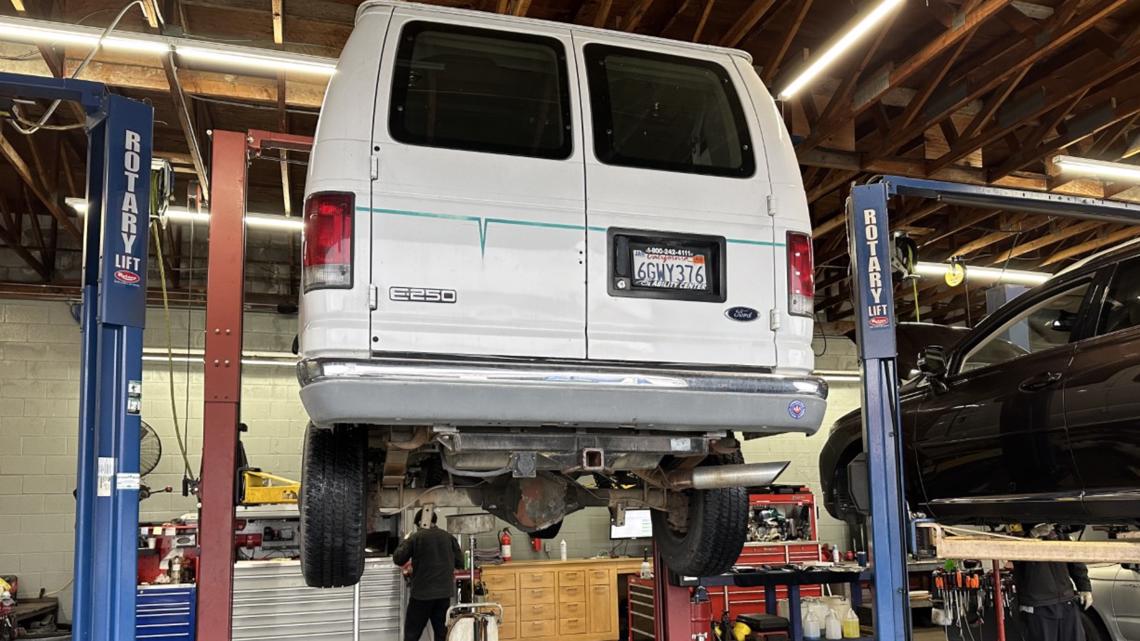 That's just what he did; first by diagnosing the problem. "The repair is going to be right here," said Jeff while crawling under the van. Service Pros Automotive installed a new catalytic converter and even threw in an oil change within 24 hours. "Hey Tom, we've got your van taken care of and get you back on the road doing what you need to do," said Jeff.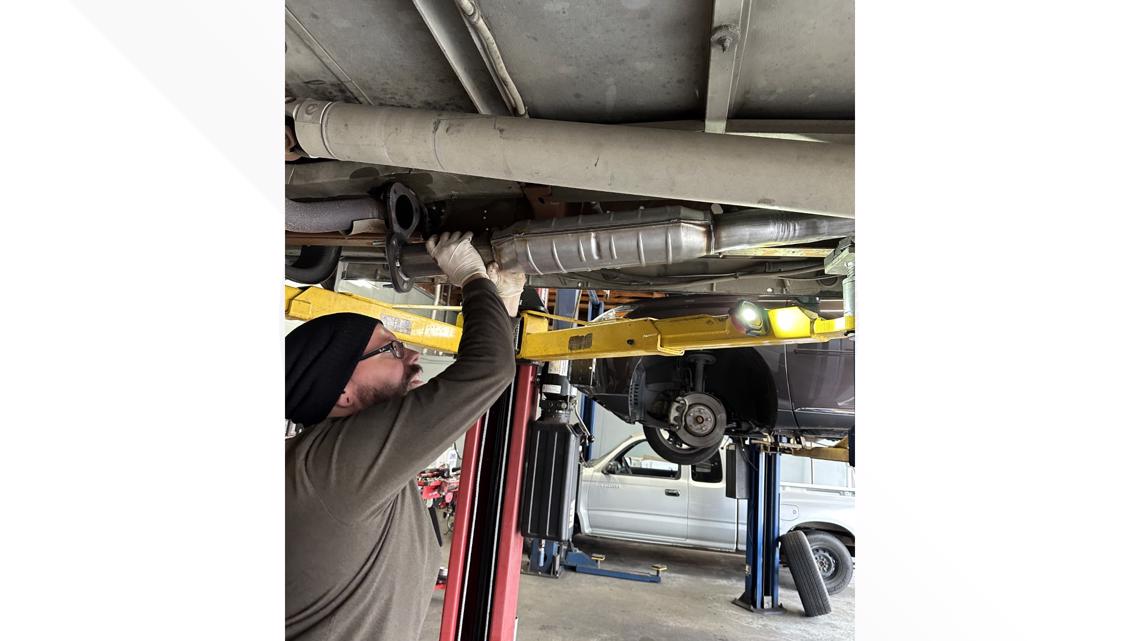 Without a mobility van Tom missed four medical appointments and couldn't attend his mother's Easter Brunch. I then drove the van back to Tom's home in Chula Vista. "Oh my God it's so quiet," said Tom. His van is purring like a kitten.
Service Pros Automotive did the repair for free and with all of our viewers' donations, Tom plans to install a strong security system at his house to watch over the van. "To every San Diegan that came in and saw the story and donated thank you so much, you literally put wheels under me, but also put wheels underneath my wheels to get me to go anywhere so I really appreciate it. Thank you so much," said Tom.
CBS 8 also filled up Tom's gas tank. The van has three hundred thousand miles on it, so Tom plans to use some of the donations to pay for overdue maintenance. If you'd like to learn more about Service Pros Automotive click here.
Watch more Zevely Zone content below: