SAN DIEGO COUNTY, Calif. — How would you like to catch a flight to Palm Springs or Yuma for free? The only catch is you have to learn how to cross country hang glide. In this Zevely Zone, I went to Horse Canyon in the East County where pilots were ready for liftoff.
"Let's go fly a kite, up to the highest height," Butch Peachy was singing with a big smile on his face while preparing to foot launch off a cliff from 4,500 feet.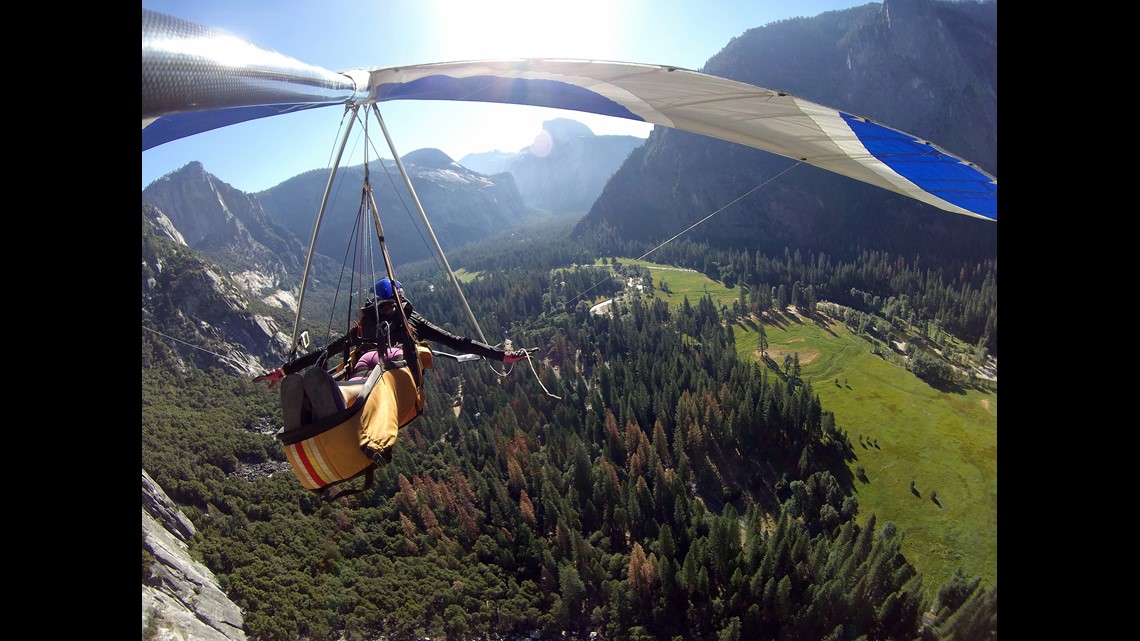 I'm not sure if I've been living under a rock but when it comes to hang gliding, I never knew what goes up doesn't have to come down for a very long time.
"How many people here are in the 100 Mile Club?" I asked a group of San Diego County's best pilots. They all raised their hands. "How many people here have flown to Palm Springs?" I asked. Again, they all raised their hands.
For example, Jeff Brown and David Whitehall. "You flew from here past Yuma?" I asked. "Yep, with my buddy David," said Jeff.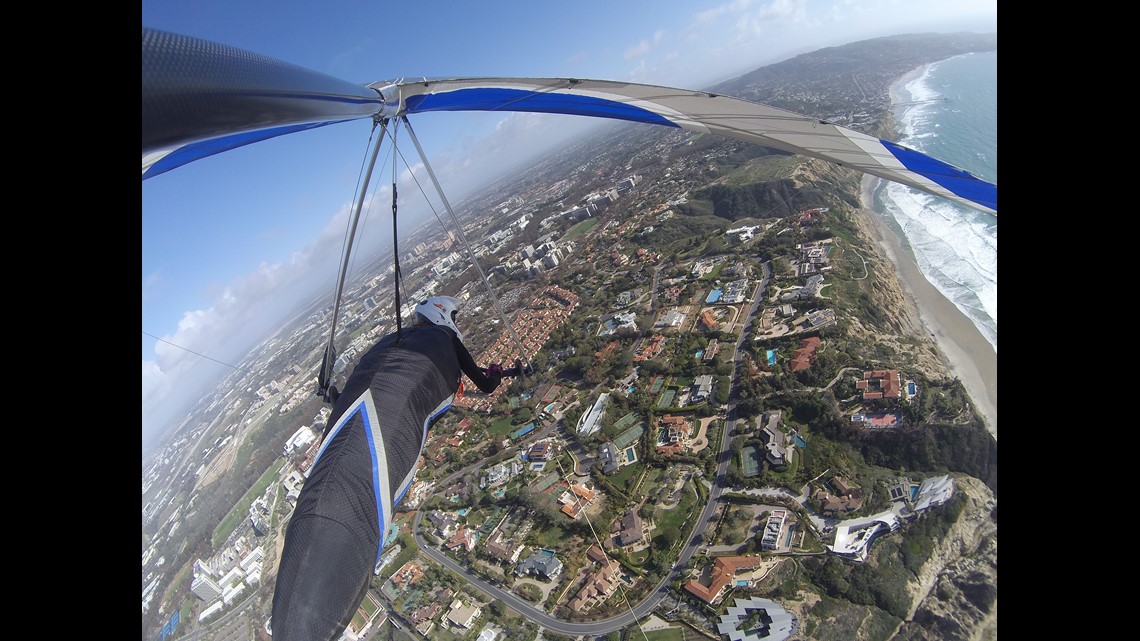 Montgomery Field is named after John Montgomery the legendary aviator who was the first to fly his gliders in San Diego county in the 1880's. Now the sport is called cross country hang gliding or XC Hang Gliding. Just to be clear, the hang gliders have no engines. They fly on wind thermals alone. Butch Peachy told me, "The air is like boiling water. It bubbles up somewhere all we do like a hawk or an eagle is we fly along we are always going downhill and we find a bubble of air and we start circling and it takes us up."
The pilots rise, at times, a thousand feet per minute. John Burke said one day he just kept rising. "How high did you go? I went 20,105 feet," said John. I asked, "Isn't that illegal?" He said, "Oh yeah, scratch that ha, ha, ha."
The legal limit is 18,000 feet. Think about that for a second. To give perspective jets approach San Diego at 10,000 feet. In case your wondering pilot Bill Kimball says they fly with parachutes. "This is actually a two man if I ever had to throw that I'd be going down real slow," said Bill.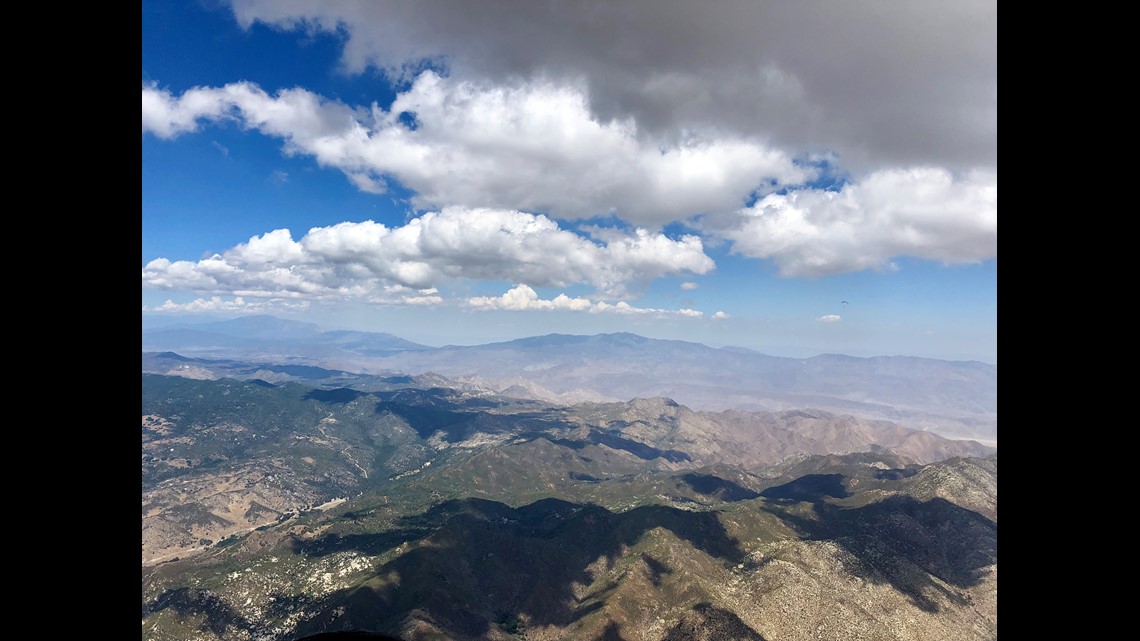 The pilots call XC Hang Gliding a relatively safe sport, in fact, in the past 20 years in San Diego County they can only recall one pilot dying while hang gliding and unfortunately that person forgot to strap himself to the hang glider.
"How about duration of flight? Who has had the longest flight in the air?" I asked. They responded, "Six hours. Six and half hours." But then Glen Volk said, "I have had a ten hour flight." What? I had to ask, "How do you go to the bathroom?" Glen told me, "That's a common question. There are some guys who will fly with catheters. There are some guys who will fly with diapers I personally don't do any of that and I hold it." As a child, Glen had a recurring dream that he could fly like Superman. "I would wake up convinced that I now knew how to fly," said Glen. He just flew from Texas to Canada over 17 consecutive days by repeatedly launching and landing. "It's a challenging chess game in the air that's what this sport really is it's a giant chess game," said Glen.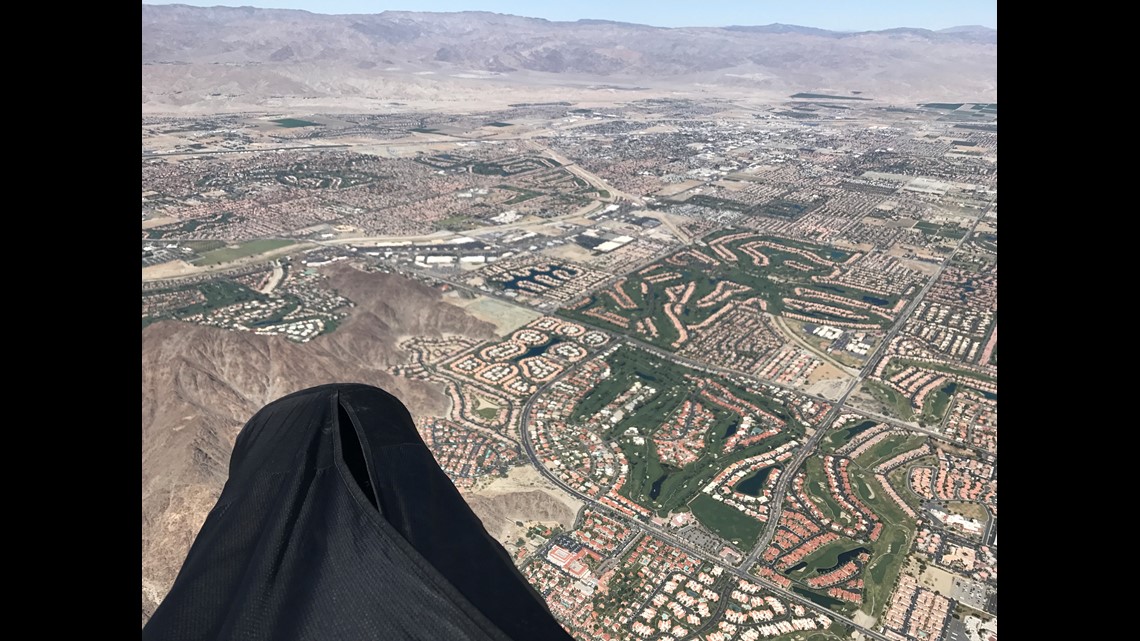 For other pilots like Butch Peachy, it's all about adventure. On two occasions, the wind surprised him and took him all way to Palm Springs. He did not have a ride home so he hitch hiked home. It was funny to me to hear Butch was caught without a car because he sells cars for a living at Mossy Nissan in Kearny Mesa. When he's not getting people to sign on the dotted line, he's singing his favorite song called Let's Go Fly a Kite. "Up through the atmosphere where the air is clear," Butch sang as he approached his launch. No, I did not fly but I did view their hang glider footage for hours and hours and you can't beat the view.
If you're interested in learning more about Hang Gliding or Paragliding go to San Diego Hang Gliding Paragliding Association at https://www.sdhgpa.com/
The SDHGPA is the oldest and longest running Hang Gliding and Paragliding Club and Organization in San Diego and Southern California originally organized in 1973.