WASHINGTON — Enrique Tarrio, the one-time Republican congressional candidate and chairman of the far-right Proud Boys, was sentenced Tuesday to 22 years in prison for his role at the top of a plot to incite violence at the U.S. Capitol on Jan. 6, 2021.
Tarrio appeared before U.S. District Judge Timothy Kelly alongside his attorneys, Sabino Jauregui and Nayib Hassan, to face sentencing on six felony counts, including the rarely used charge of seditious conspiracy and two other conspiracy counts. Tarrio and four fellow Proud Boys were convicted in May after a five-month jury trial for joining in a conspiracy to incite a mob of both Proud Boys and non-members to overwhelm police at the Capitol.
At trial, federal prosecutors said the Proud Boys were galvanized after former President Donald Trump told the far-right group to "stand back and stand by" during a presidential debate in 2020. After Trump lost the election, prosecutors said Tarrio and other Proud Boys leaders began recruiting members who were prepared for violence and, ultimately, plotting to stop the certification of the election on Jan. 6.
"Let's bring this New Year in with one word in mind," Tarrio wrote to other Proud Boys on Jan. 1, 2021. "Revolution."
Kelly sentenced Tarrio's co-defendants Ethan Nordean, Joe Biggs, Zachary Rehl and Dominic Pezzola last week to prison terms ranging from 10 to 18 years. On Tuesday, Assistant U.S. Attorney Conor Mulroe described Tarrio as being a leader on "a tier of his own" – a politically savvy organizer who attracted thousands of followers and aimed their penchant for street violence at the Capitol.
"He demonized his perceived adversaries. He glorified the use of force against them. He distributed violence propaganda to his thousands and thousands of followers," Mulroe said, adding Tarrio compared himself favorably to Nazi propaganda minister Joseph Goebbels. Mulroe also pointed out Tarrio was convicted in 2012 for his role in a federal conspiracy involving the resale of more than a million dollars' worth of diabetic test strips.
"So, when he was organizing with his co-defendants, he knew what a conspiracy was," Mulroe said. "He knew what he was doing. He did it anyway."
Although Tarrio urged hundreds of other Proud Boys to come to D.C. on Jan. 6, he himself was not in the District that day because he'd been arrested two days earlier in connection with the burning of a historic Black church's Black Lives Matter flag. Tarrio eventually pleaded guilty to burning the flag, as well as unlawfully possessing large capacity magazines, and was sentenced to five months in jail. A DC Police lieutenant has since been indicted for allegedly tipping Tarrio off about the investigation into him and his impending arrest and misleading the FBI about his contacts with the Proud Boys leader.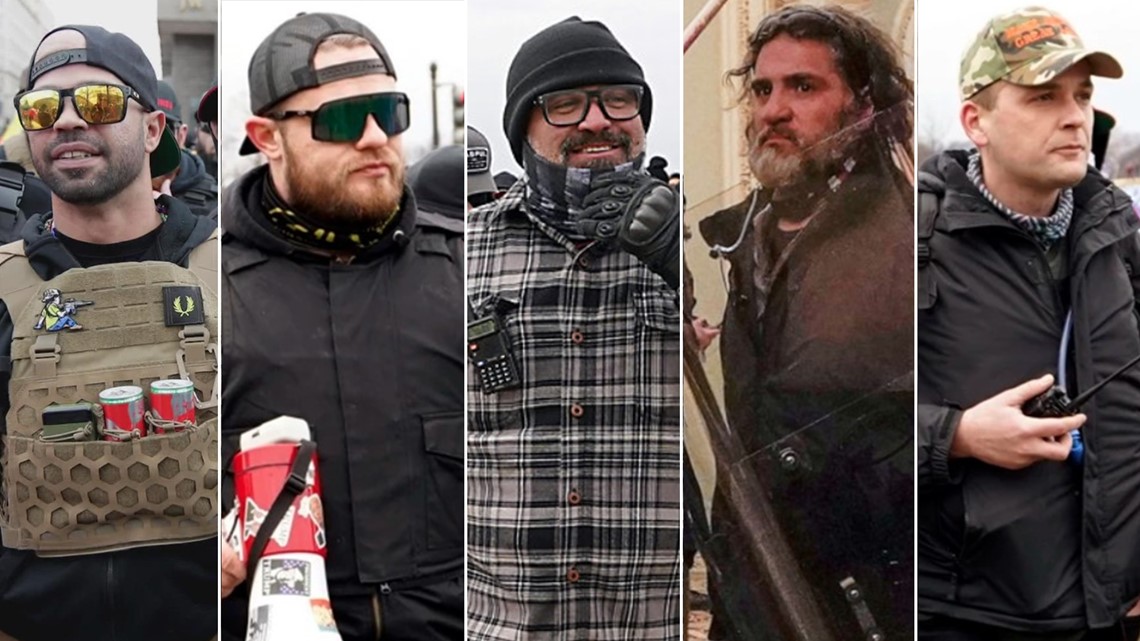 Tarrio's attorneys repeatedly argued he was being used as a "scapegoat" for Trump and that his presence in Baltimore on Jan. 6 proved he wasn't in control of the Proud Boys – something prosecutors were quick to push back on Tuesday. Assistant U.S. Attorney Conor Mulroe said there was ample evidence of communications between Tarrio and the Proud Boys' leaders on the ground before and on Jan. 6. Kelly agreed, citing among other things Tarrio's creation of a special, invite-only chapter of the group called the "Ministry of Self-Defense" just a day after Trump called supporters to D.C.
"I do find the evidence shows that Mr. Tarrio was on the top of the command structure with regard to the planning of the offense," Kelly said.
Tarrio's attorneys called a number of family members to speak on his behalf, including his younger sister, fiancée and mother. They stressed his importance to their family and their belief that he would leave prison a changed man if granted mercy. Tarrio himself spoke as well, denouncing politics and apologizing to the city in which he and fellow Proud Boys repeatedly caused chaos.
"To the citizens of D.C. that saw their city turned upside down, I'm sorry," he said.
Tarrio, who has links to long-time Republican political operative Roger Stone and who served as Florida state director of Latinos for Trump in addition to his role with the Proud Boys, also said he intended to swear off politics upon his release. While Tarrio's attorneys described the Proud Boys at trial as a "drinking group with a politics problem," prosecutors have said it was Tarrio who played an outsized role in the politicization of the group. All of that, Tarrio said, was behind him.
"When I get back home I want nothing to do with politics, groups, activism or rallies," he said.
"And when you walk out that door your honor, I won't be saying anything other than that," Tarrio added — a reference to his co-defendant, Dominic Pezzola, who shouted "Trump won!" while being led out of the courtroom Friday following his sentencing.
Kelly also referenced Pezzola before delivering Tarrio's sentence — seeming to take special offense at Tarrio comparing the New York Proud Boy who caused the first breach of the Capitol on Jan. 6 to George Washington.
"What Dominic Pezzola did — it's not only not an apt comparison, it slanders the father of our country to speak that way," Kelly said.
Tarrio's sentence of 22 years in prison puts him at the top of all Jan. 6 defendants sentenced to date. In May, U.S. District Judge Amit P. Meta sentenced Oath Keepers founder Stewart Rhodes, who was also convicted of seditious conspiracy, to 18 years in prison. One of Rhodes' top lieutenants, Florida Oath Keepers leader Kelly Meggs, was sentenced to 12 years in prison. Ethan Nordean, a Washington state Proud Boy who served as one of the group's ground leaders on Jan. 6 in Tarrio's absence, was sentenced by Kelly last week to 18 years behind bars. Another Proud Boys leader, Joe Biggs, received 17 years in prison.