SAN DIEGO COUNTY, Calif. — Monday is the deadline for San Diego County residents to register to vote in the Nov. 3 election. And in California and across the country, people are getting out to vote in record numbers.
According to the US Election Project, over 27 million people have voted this year. Compared with 4,682,892 votes this time in 2016, that's nearly six times the number of early voters.
"Over 1.93 million individuals have received the mail about thus far. And as of right now, we have over 432,000 mail ballots that have been returned back to our office," said Michael Vu the San Diego Registrar of Voters. "That is an overwhelming number when you think about this time in comparison to the 2016 election."
Vu said his office appreciates the number of people who are voting early as it prevents people from potentially crowding polling places on Election Day.
"To keep everyone safer is really resonating with voters that are out there and them returning their ballots back to our office," said Vu.
To vote from home, San Diegans can drop their ballot in the mailbox or at a drop-off location around the county. And anyone not registered should do so by the end of the day Monday. Residents will need to register or re-register to vote if they are not registered in the county, recently moved or changed their name.
"If you want to participate in this election, tomorrow is the registration deadline." said Vu. "Don't wait until after the deadline to participate, because, again, what that does is just create more time for you, more time for individuals that need to participate."

County residents can check their registration status online at sdvote.com.

If they are not registered or need to change their registration, they will be able to complete an online registration form.

If their signature is confirmed through records at the Department of Motor Vehicles, it will automatically be sent to the Registrar of Voter's office.

If a signature is not confirmed, the form can be printed out, signed and returned to the registrar's office at 5600 Overland Ave. in Kearny Mesa by 8 p.m. on Monday.

Registration forms are also available at the offices of the U.S. Postal Service, City Clerk, public libraries and Department of Motor Vehicles.

Election materials are also available in Spanish, Filipino, Vietnamese and Chinese.

Registration forms must be postmarked or delivered to the Registrar of Voters office by 8 p.m. Monday. Voters may also register online until midnight.

If you miss the deadline to register, you may still conditionally register and vote provisionally through Election Day but will have to physically go to an early voting location to fill out the form. These votes will be counted after being verified by the registrar's office.

Early voting is underway at the registrar's office in Kearny Mesa. Voters can cast their ballots there Monday through Friday, 8 a.m. to 5 p.m.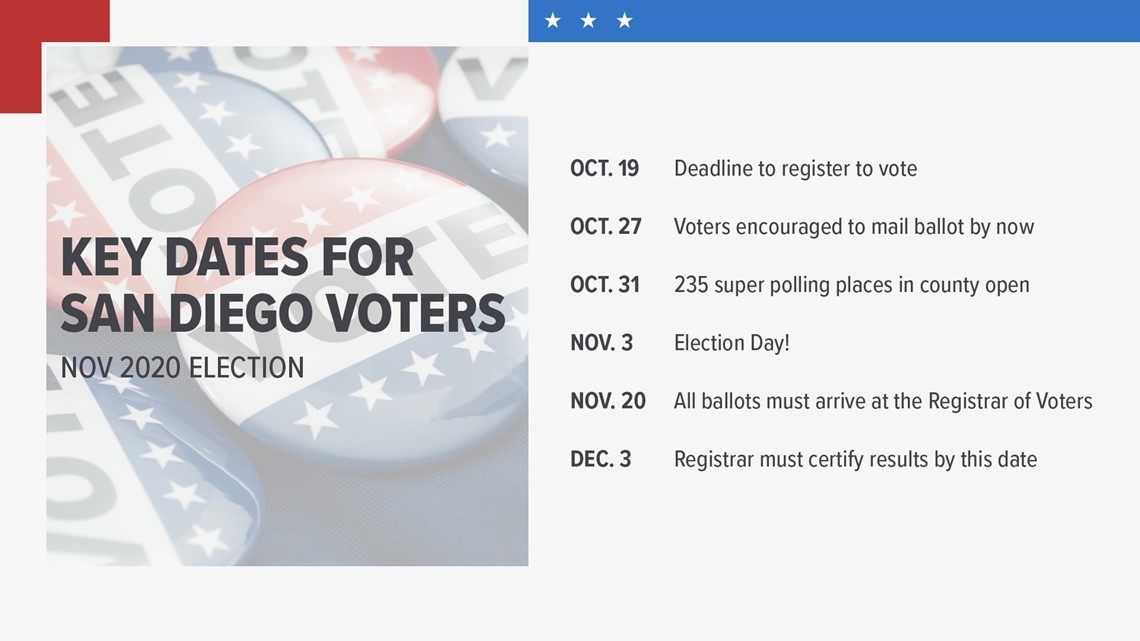 Resources for San Diego voters for Election Day 2020: