SAN DIEGO (NEWS 8) — The family of Debra Puente says they still don't know what happened to her.
Debra's car was found abandoned last year in Ocean Beach and there's still no sign of her.
"I have to keep going, I have to keep searching," said Puente's sister Tami Cox.
It's been 12 months of waiting for Tami and her husband, Tony - waiting for answers about what happened to Tami's sister Debra, who goes by Debi.
"It's just difficult to have no answers, no leads, no nothing," said Tami. "It's like she just vanished."
RELATED: Missing woman's family canvassing Ocean Beach
50-year-old Debi Puente disappeared March 28, 2017 after hanging out with friends at a Grantville bar near Mission Gorge and Friars Road. She was last seen leaving the area but didn't arrive at work as scheduled three days later and never called to say she would be out, according to San Diego police.
Her car was found abandoned at the 5000 block of Santa Cruz Avenue in Ocean Beach with her purse and keys locked inside.
There has been no activity on her bank accounts since then.
"If she's in the water, nothing's washed up, nothing's come ashore," said Tami.
"The not knowing is a feeling you just cannot describe," said Tami's husband Tony. "It's unimaginable."
Debi's family blanketed the community with fliers, holidays have gone by without Debi and her four kids just want to see her.
"Her kids miss her," said Tami. "It's really hard for her kids to get through the day."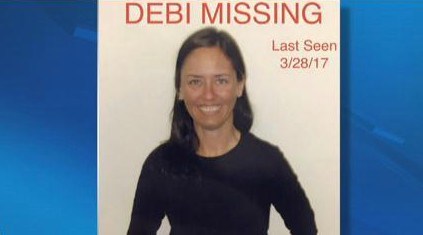 Tami said she misses her sister's laugh.
"She was just silly," said Tami. "She was just funny. She says the funniest, craziest things. She lights up the room."
"I have dreams I find her and I bring her home to Tami," said Tony. "I wake up and it feels like more of a nightmare."
Puente is white, 5 feet 4 inches tall, 115 pounds with brown hair, blue eyes and a large mole on her left cheek bone, under her eye.
Anyone with information regarding her whereabouts was urged to call San Diego Police Detective Shelly Luna at (619) 531-2277 or the SDPD's main number at (619) 531-2000.

RELATED COVERAGE