After 38 train cars, some of which were carrying toxic chemicals, derailed in East Palestine, Ohio, in early February, railroad safety and infrastructure have been top of mind for many people.
A viral video shared on social media in the days after the East Palestine derailment claims to show a freight train traveling over "bendy" train tracks in Ohio.
"It is quite honestly a miracle any time a train carrying something remotely dangerous makes it through Ohio unscathed," one person wrote in a tweet. "This is what American infrastructure is."
VERIFY reader Ian L. asked if the video shared on social media is real.
THE QUESTION
Does a viral video show real bent train tracks in Ohio?
THE SOURCES
THE ANSWER
Yes, a viral video does show real bent train tracks in Ohio. But the video was originally posted in 2017 and the tracks have been repaired since that time.
WHAT WE FOUND
The viral video shows real bent train tracks in Ohio, but it was first posted nearly six years ago and repairs have been made since that time.
Scott Taipale, who takes video of railroads in northwestern Ohio and eastern Indiana, originally posted the video to YouTube on March 31, 2017. Taipale noted in the description that part of the video was sped up during editing, writing that he "condensed 6 minutes of the train crawling down the track" into approximately 52 seconds.
The track shown in the video is located in Defiance, Ohio, along the Napoleon, Defiance and Western (ND&W) railroad, the Federal Railroad Administration (FRA) said.
That railroad spans 58.2 miles from Woodburn, Indiana to Liberty Center, Ohio, Patriot Rail, the railroad's owner, says on its website.
A spokesperson for Patriot Rail confirmed to VERIFY that the tracks shown in the viral video are on the ND&W railroad, but there have been "considerable investments in the tracks to improve the conditions" since the video was first posted in 2017.
Patriot Rail shared this side-by-side image showing the train tracks before and after they were repaired: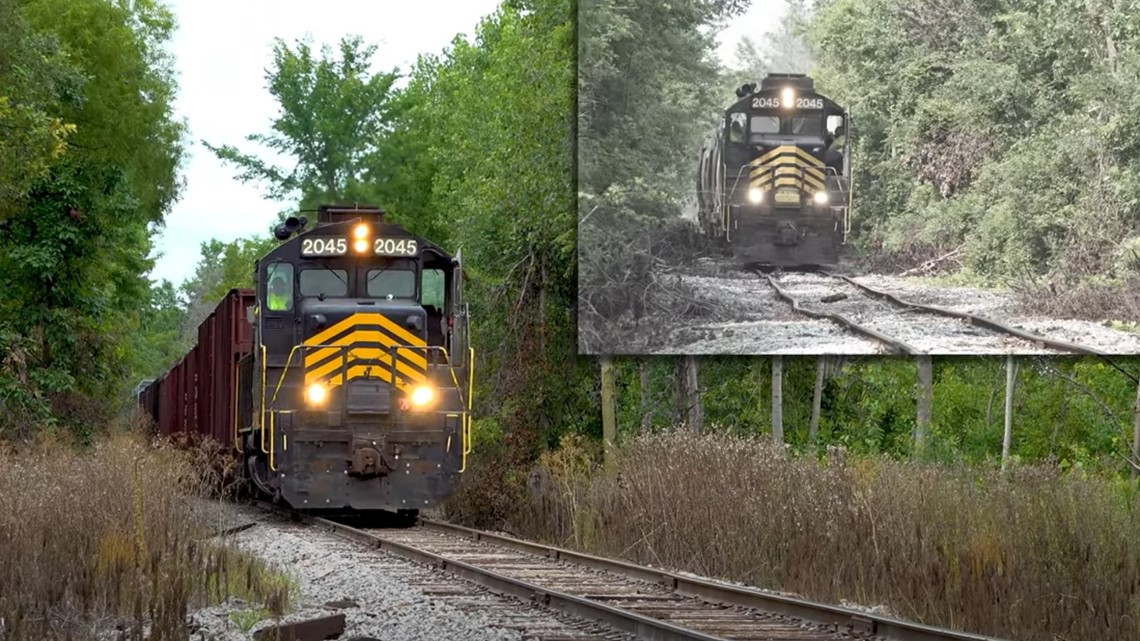 Wende Jourdan, public information officer for the Ohio Rail Development Commission, also said the railroad "has been rehabilitated."