SAN DIEGO —
Game results:
San Diego State Aztecs defeated No. 1 Alabama 71-64, making history and moving on to the NCAA Tournament Elite 8. San Diego State is now the first Mountain West Conference basketball team to advance to the NCAA Tournament Elite 8.
Darrion Trammell and San Diego State used a dominant defensive performance to knock top overall seed Alabama out of the NCAA Tournament on Friday night, bottling up All-America freshman Brandon Miller in a 71-64 victory in the Sweet 16.
Trammell scored 21 points while Miller, whose outstanding season was marred by off-the-court complications, was held to nine points on 3-of-19 shooting and had six turnovers.
The fifth-seeded Aztecs (30-6) will face either Creighton or Princeton on Sunday in the West Region final as they seek their first Final Four in program history. With fellow No. 1 seeds Purdue and Kansas losing during the tournament's first weekend, Houston — which played Miami on Friday night — was the only top-seeded team remaining.
San Diego State trailed 48-39 midway through the second half before going on a 12-0 run and controlling the game from there. The Aztecs finished with eight blocked shots — five by Nathan Mensah — and forced 14 turnovers.
The March Madness run of Alabama (31-6) was clouded by its response to the Jan. 15 fatal shooting of a 23-year-old woman in Tuscaloosa, which led to capital murder charges against a then-Crimson Tide player, Darius Miles.
Miller was at the scene of the shooting and has not been charged, but police have said in court documents that Miles texted Miller to bring him his gun. Authorities have said Miller is a cooperating witness, and he did not miss any playing time. Miller has received armed security protection during the tournament.
Game time, channel and how to watch
The Aztecs are heading to the Sweet 16 for the first time since 2004 and have won 11 of their last 13. Balanced scoring carried them to a second-round victory against Furman and they'll need more of the same against the Crimson Tide, who handily dispatched Maryland in the second round. All-America freshman Brandon Miller, who is nursing an injury, had 19 after going scoreless in the first round.
Wondering what channel and what time the SDSU-Alabama game is on? Here are the details.
How to watch the game on TV
The No. 5 SDSU vs No. 1 Alabama NCAA Tournament basketball game airs live nationally Friday at 3:30 p.m. PST on TBS.
Streaming is also available on the NCAA website or the NCAA March Madness Live app in the Apple store or Google Play store but a cable subscription may be required to watch. The game will also be aired across other streaming platforms including YouTube TV and Hulu.
How to listen to the game on the radio
Watch party with SDSU fans at Viejas Arena
Want to watch the game live and in-person with fellow Aztec fans? SDSU is hosting a watch party on Friday at Viejas Arena. The watch party is free, doors open at 2:30 p.m. and Viejas Arena's clear bag policy will be enforced.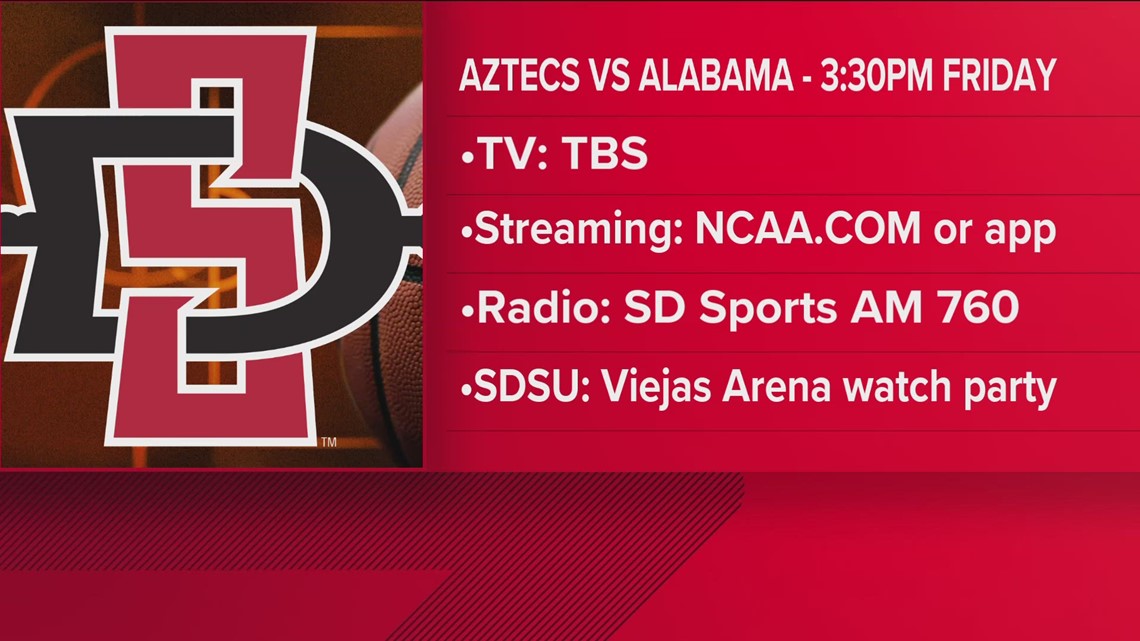 SDSU vs Alabama
San Diego State is the first Mountain West Conference team to reach the Sweet 16 since Nevada in 2018. It'll be the third regional semifinal appearance for the Aztecs and the seventh for the Mountain West overall.
The Aztecs are 0-2 in Sweet 16 games. Coach Brian Dutcher feels this team is capable of going further.
"Now that we've settled into the rhythm, and we know what this is about, I think we'll play better moving forward," the coach said. "And that's really encouraging moving into the Sweet 16."
Alabama faces SDSU on Friday, a team making its first Sweet 16 appearance since 2004, which was also the year of the Tide's only Elite Eight run. The Crimson Tide have never reached the Final Four.
"I know San Diego State's defense is elite," Coach Nate Oats said.
The Associated Press contributed to this story.
WATCH RELATED: SDSU fans and alumni ecstatic for the Aztecs to make it to Sweet 16 (March 2023).

HERE ARE MORE WAYS TO GET CBS 8: