SAN DIEGO — It's been a truly historic run for the San Diego State Aztecs in the NCAA Tournament. After a wild win against No. 6 Creighton on Sunday, the Aztecs will face off in the Final Four against the Owls of Florida Atlantic for the first time in program history.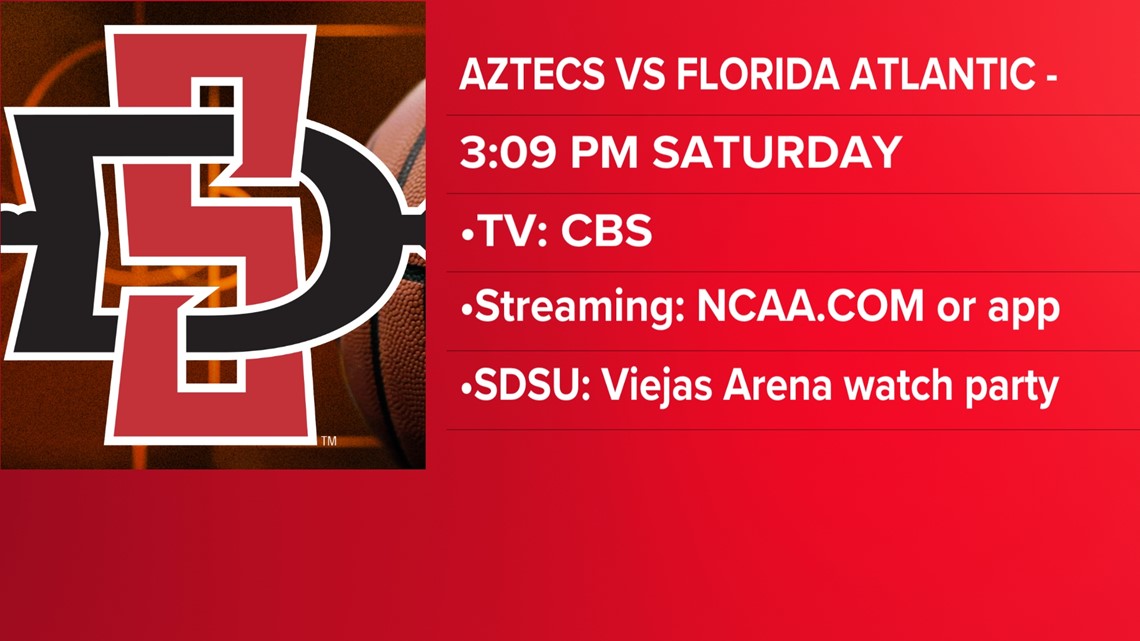 Game time, channel and how to watch
Wondering what channel and what time the SDSU-Florida Atlantic game is on? Here are the details that you need to know.
How to watch the game on TV
The No. 5 SDSU vs No. 9 Florida Atlantic NCAA Tournament Final Four basketball game airs live nationally Saturday, April 1 at 3:09 (Pacific Time) on CBS. The game can be watched locally in San Diego on CBS 8.
Streaming is also available on the NCAA website or the NCAA March Madness Live app in the Apple store or Google Play store but a cable subscription may be required to watch. The game will also be aired across other streaming platforms including YouTube TV and Hulu with a subscription.
How to listen to the game on the radio
Watch the game with fans at Viejas Arena
Want to cheer on SDSU with hundreds of other Aztec fans? SDSU is hosting a watch party live at Viejas Arena. Doors open at 2 p.m., admission is free.
WATCH RELATED: Aztecs fans react to San Diego State making it to Final Four
HERE ARE MORE WAYS TO GET CBS 8: