SAN DIEGO — A Great White Shark washed ashore at Torrey Pines Beach Sunday.
Local park rangers brought it up to the Beach Trail as several Torrey Pines hikers gathered around. CBS 8 reporter Ariana Cohen was out hiking when she stumbled across the dead shark right before her eyes. She snapped a picture and talked to an expert Wednesday to find out more.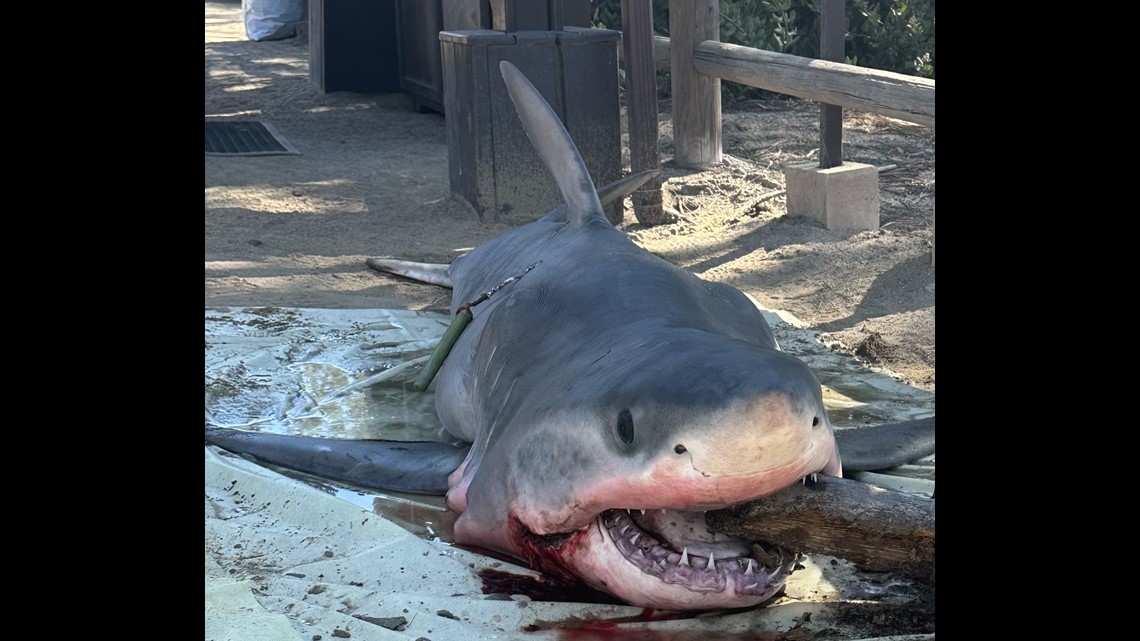 Director of the Shark Lab at Cal-State Long Beach, Dr. Chris Lowe, and his team tagged the shark and had been tracking it since August.
"There is an aggregation of juvenile white sharks that use Torrey Pines as a nursery. We estimate that there are 30 sharks there," Dr. Lowe said. "Unfortunately, fisherman have found out and illegally targeted the sharks. So, over the last few months, we've noticed an increase in sharks carrying fishing tactile that have broken off and I'd say about 40% of sharks had gear trailing off them. At least a dozen are swimming around with hooks in their mouths or line coming out. That line could be 100 yards long and it could have weights. We don't know how long it will take for that gear to come out. There has always been a concern that shark will be tangled with that line.".
The female Great White Shark was only 2 years old. Dr. Lowe says normally Great White Sharks can live until they are 70 years old.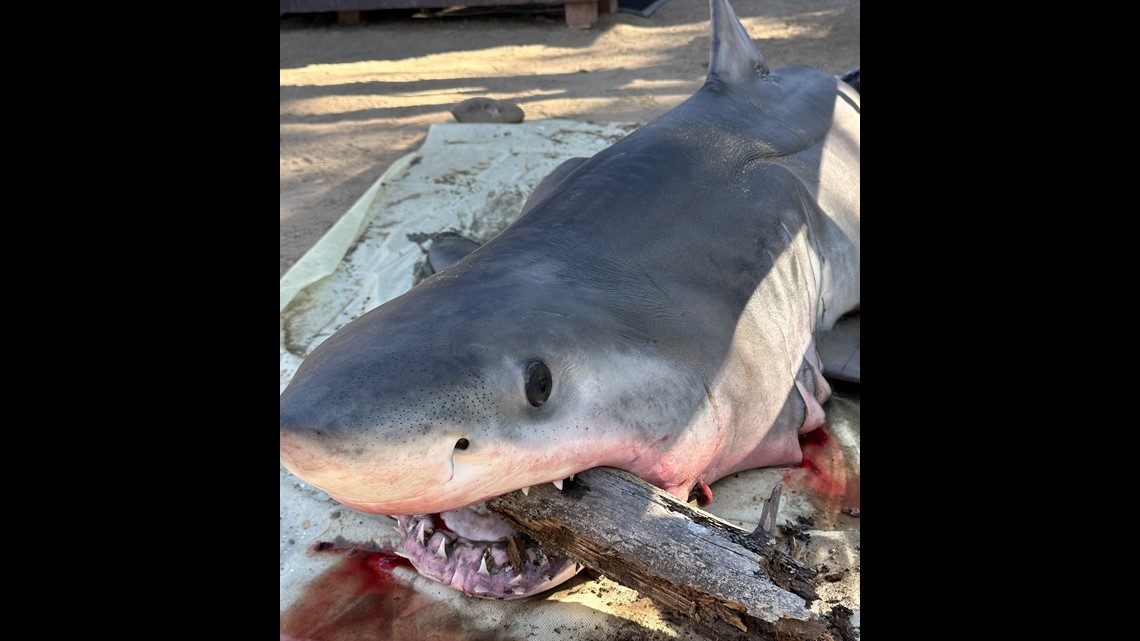 "That shark had clearly been caught by a fisher. The jaw was ripped and line tears in the body. The most likely cause of death is fishing," Dr. Lowe said. "During its necropsy, we found fishing line tearing the jaw with hooks and the shark died of organ torsion. Its internal organs were twisted and that was the primary cause of death and it had signs of infection caused from the hook."
He said white sharks have been protected in the state of California since 1994, which means it is illegal for anyone to target, land them or sell them.
Dr. Lowe also noted that it's difficult to convict these fisherman of any wrongdoing because many claim it is accidental. However, he says fisherman are not accidentally hooking these sharks since they use very large tactile to catch the sharks.
"It's always sad to see that especially for a young one. The population is going up. It hasn't been happening at a high enough rate to effect the population yet. If more and more people do this, there will be an effect on population. It won't endanger them, but it could in the future," said Dr. Lowe.
He added that a new law will go into effect January 1st that will make it enforceable to catch people who are fishing for sharks whether it's intentional or not. He also says these types of sharks tend to ignore people at the shoreline, but to be safe he says its better to swim or surf in groups.