SAN DIEGO COUNTY, California — This Labor Day weekend could be one for the record books in San Diego.
An excessive heat warning will be in effect for San Diego county, with temperatures soaring into the triple digits. Experts say this weekend's high temperatures can be dangerous to your health.
There are cool zones open across the county this weekend from noon to 5 p.m. For a full list of locations, click here.
A sign welcoming hikers to Cowles Mountain Friday said it all. An extreme heat advisory is in effect, with conditions so dangerous, everyone is at risk.
One hiker said, "We chose today because tomorrow is going to be 108."
We asked another hiker, "So, what are you doing to make sure you're safe in this heat?"
"Water, water, hydrate, take frequent breaks," the hiker said.
Experts warn this weekend's heat wave poses significant health concerns, especially for young children, the elderly, and those with underlying conditions.
Dr. Georgine Nanos, Medical Director of the Kind Health Group in Encinitas spoke with News 8 about the two forms of heat illness, heat exhaustion and stroke.
Signs of heat exhaustion include:
heavy sweating
looking pale
extreme muscle cramping
feeling tired, weak, or dizzy
Signs for heat stroke include:
headache
nausea
vomiting
dizziness
confusion
a rapid pulse
and a high core temperature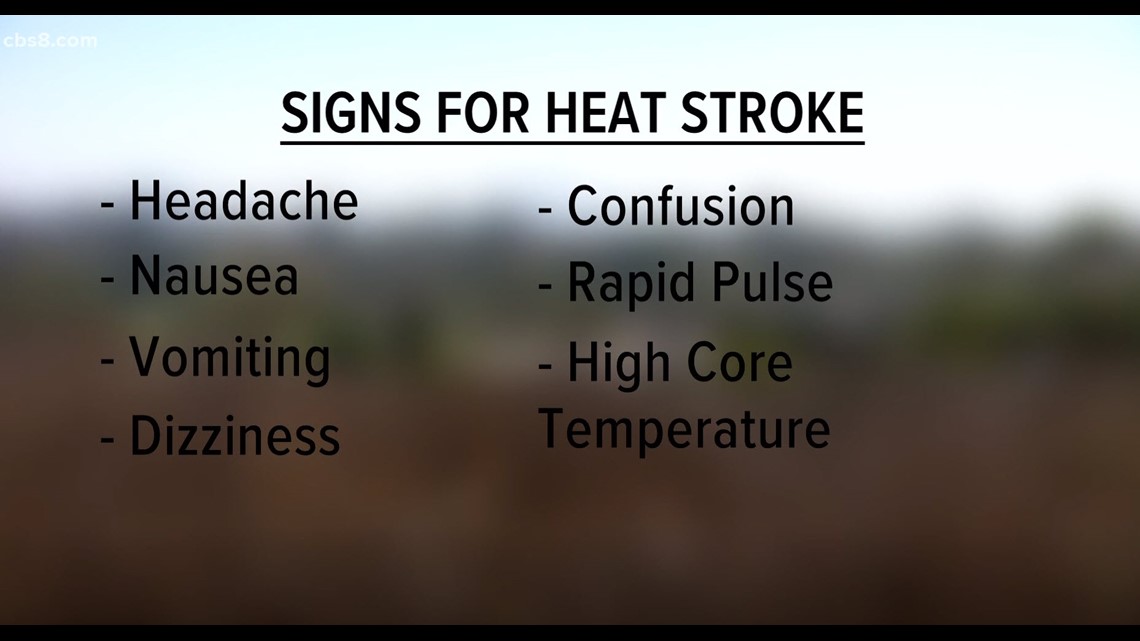 Dr. Nanos said in either situation, calling for help as well as cooling the body down using cold towels and water is key. "And that's a critical step-immediate cooling as quickly as possible."
So what can you do to prevent yourself from getting sick?
If you're working out outside, do it early in the morning or in the evening and make sure to drink lots of water, even if you don't feel thirsty.
Dr. Nanos said,"Because what happens sometimes is when it gets very hot, our body loses the ability to sweat, so you lose that perception."
Something else to keep in mind-don't leave your pets or children in the car. Temperatures in vehicles can become deadly within minutes.
Dr. Nanos said,"Even if you're in the car and you're with your child or pet, you wanna make sure you've got the windows down or ac right away because it's going to get so hot so fast in the car."
Dr. Nanos suggests spending time in an air conditioned environment, or in water at the beach or pool. Taking a cold shower or bath is another option.
And don't forget to check on those most at risk.
"It's really the same at risk populations that we've been talking about with Covid. Those are the people that are vulnerable, Dr. Nanos said. "If you've been checking on them for COVID, check on them for this too."