COLORADO, USA — FORECAST BY: Meteorologist Kathy Sabine
THIS EVENING AT A GLANCE:
Sunshine and hot highs in the mid to upper 80s to start the new week. A little moistures traveling under the high pressure ridge has helped produce a few high based storms this afternoon. A little rain, but also wind and lightning with these storms as they track east.
Tuesday and Wednesday we will see partly cloudy skies and warm temperatures again with the chance of a late day thunderstorm. These storms will have wind and lightning but also the chance for a brief shower.
A Red Flag Warning is in effect for portions of south-central Colorado from Noon to 8 p.m. today. An Air Quality Alert in generally the same area due to fire smoke is in effect until 9 a.m. this morning.
Thursday will be the warmest day of the week with the highest fire danger ahead of a Friday cool front and chance for rain! Friday will be much cooler with highs in the upper 40s and lower 50s and lows in the lower to middle 30s.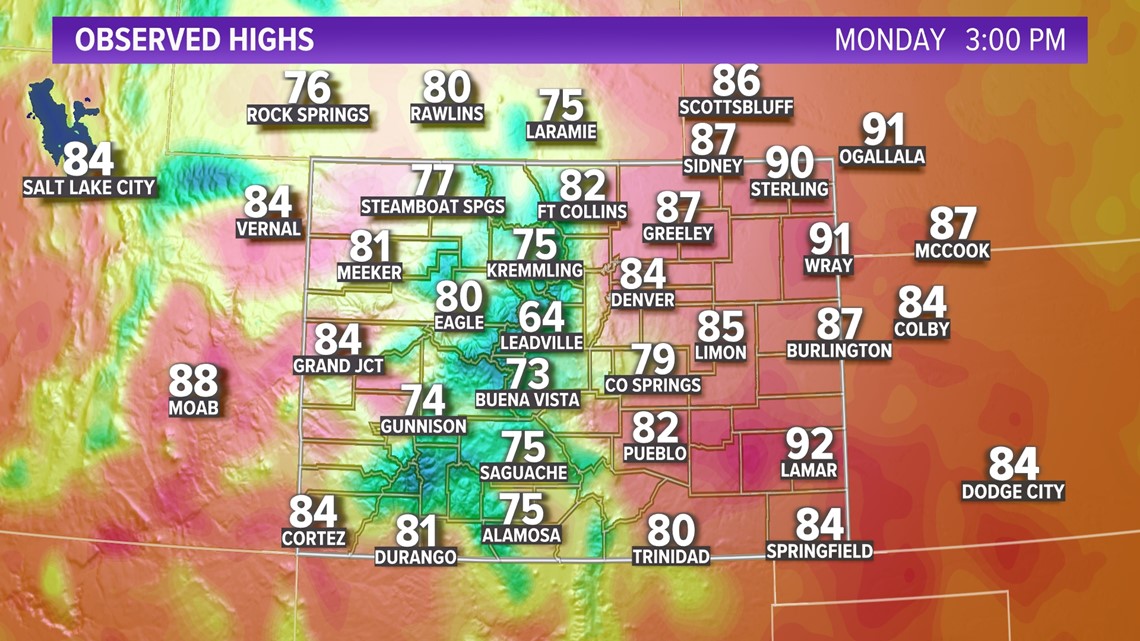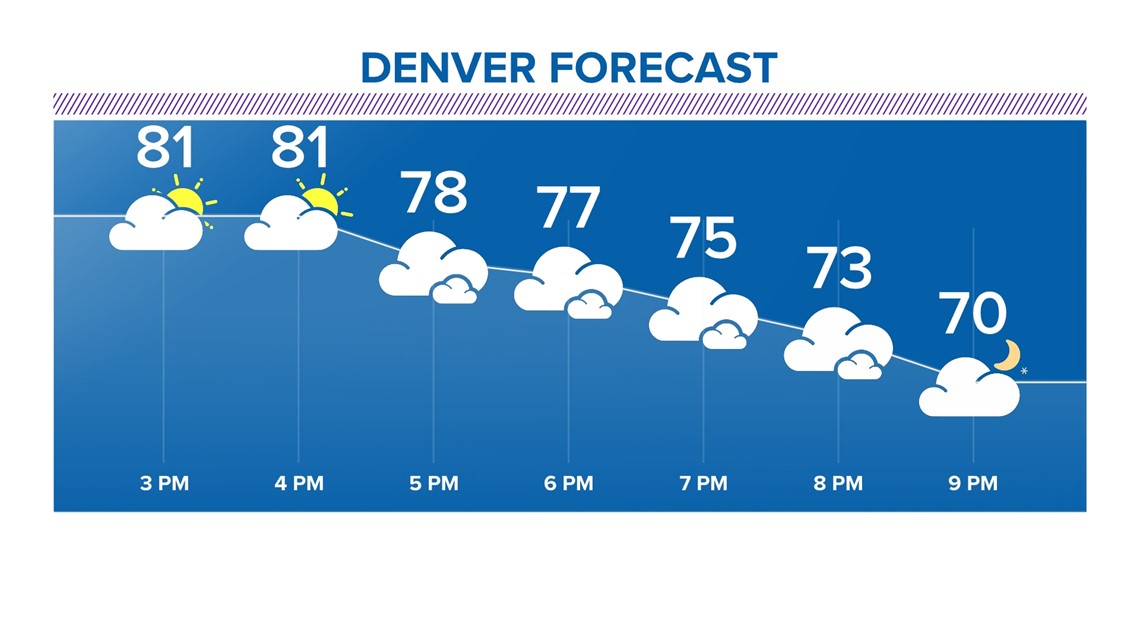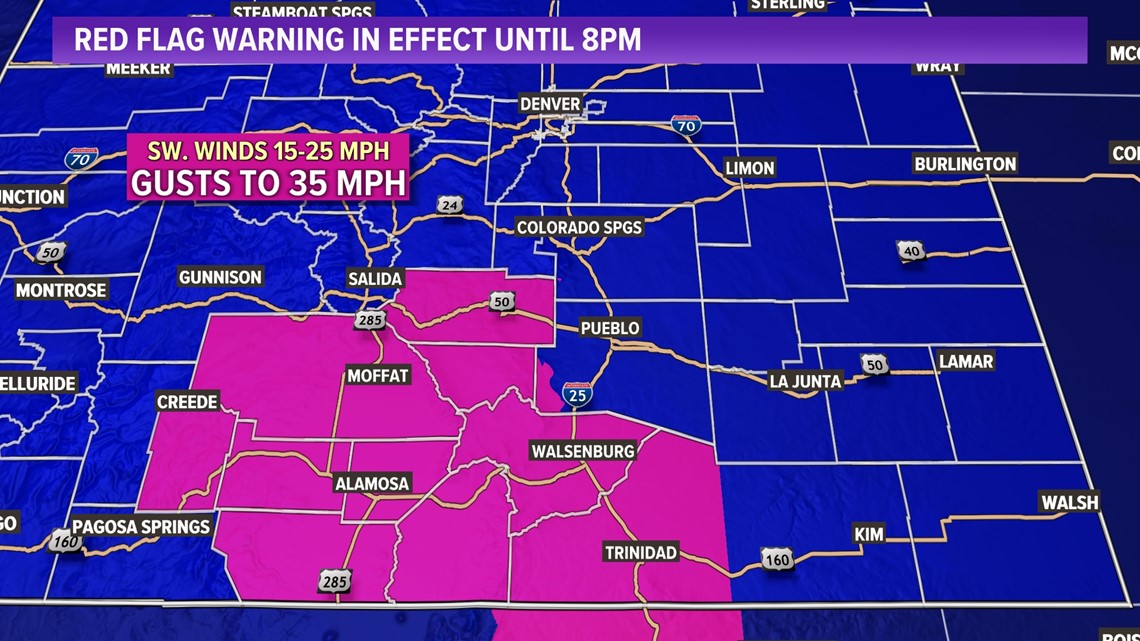 MONDAY: Partly cloudy and very warm with isolated gusty late day storm, high 84; partly cloudy tonight, low 53.
TUESDAY: Partly cloudy with a chance for a few gusty late storms, high 83; mostly cloudy with scattered storms overnight, low 51.
WEDNESDAY: Partly cloudy and mild with a few late day storms, high 78; partly cloudy overnight, low 52.
THURSDAY: Partly sunny and very warm, windy with high fire danger, high 87; becoming cloudy overnight with a chance for an isolated storm, low 41.
FRIDAY: Mostly cloudy and much cooler with rain showers, foothill rain/snow mix possible, high 49; mostly cloudy and chilly overnight, low 34.
SATURDAY: Partly cloudy with isolated storms otherwise breezy and cool, high 52; partly cloudy overnight, low around 40.
SUNDAY: Mostly sunny, breezy and mild, high 68; partly cloudy overnight, low 45.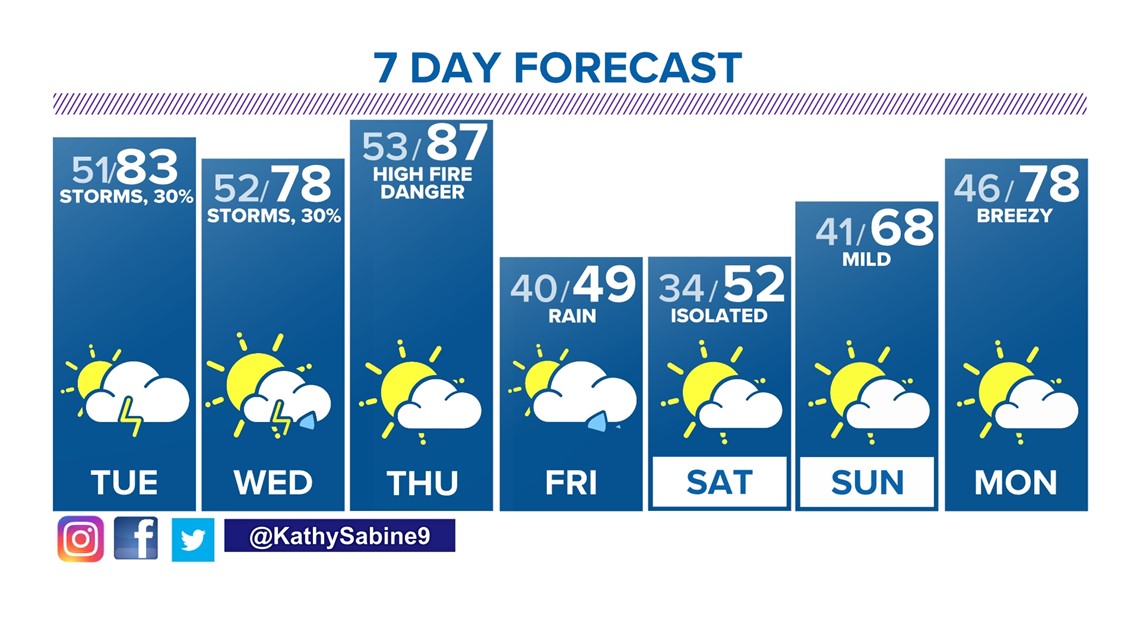 WEATHER LINE 9: Updated weather info at 303-871-1492.
WEATHER LINE 9: Updated weather forecast information at 303-871-1492.
If you have a weather report, photo or video to share, you can contact the 9NEWS Weather Team in these ways:
The 9NEWS Weather team of Kathy Sabine, Danielle Grant, Cory Reppenhagen, Keely Chalmers, Ed Greene and Chris Bianchi update the Denver weather forecast multiple times each day. Bookmark this link to always have the latest forecast from 9NEWS. The team values your local weather reports and often features your photos and videos during weather segments in all newscasts.