SAN DIEGO — Monday afternoon high temperatures will be near seasonal norms.
Coastal highs 74°-85°, normal around 75°.
Inland highs 83°-93°, normal around 88°.
Mountain highs 86°-96°, normal around 85°.
Desert highs 110°-119°, normal around 107°.
At the beaches, water temperature is 68°-75° with a low rip current risk. Wave heights are 1'-3' from a small southwest swell and a northwest swell mix. The UV index will peak at 11 (extreme).
A coastal eddy has pushed marine clouds into the inland valleys Monday morning. The coastal winds have also pushed the smoke from the USS Bonhamme Richard northward. Elevated levels of PM2.5 will make air quality unhealthy for sensitive groups, and for all groups in heavily affected areas. Winds will shift onshore later today, pushing the smoke more towards inland areas.
Humidity levels around the county are elevated, with dew points in the mid to upper 60s near the coast. Inland areas will see dew points in the mid 60s. Drier in the mountains and desert.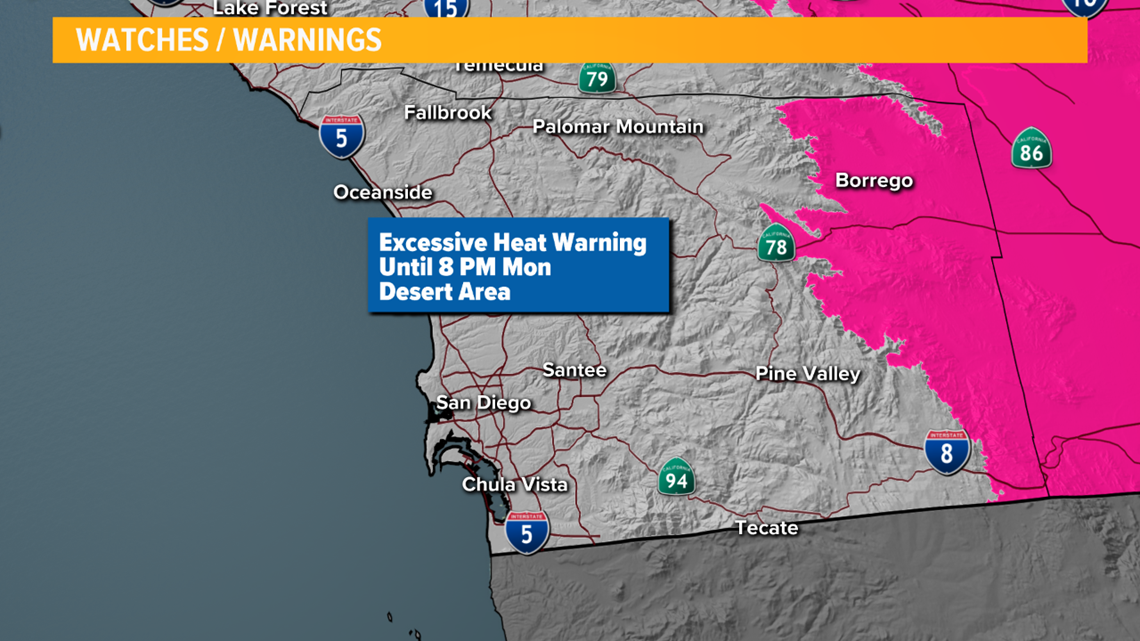 An Excessive Heat Warning has been issued for the San Diego desert area until 8 PM Monday. Dangerously hot afternoon temperatures up to 115° are possible. The extreme heat will significantly increase the risk of heat related illnesses. If you are in the desert during this time, drink plenty of fluids and avoid the sun.
High pressure is slowly weakening over the next few days. Onshore flow will strengthen, bringing in the marine layer and pushing cooler air inland from the coastal waters. Mountain and desert areas will remain fairly warm to hot.
Troughing will build over the West coast over the coming week. The trough is weak, a result of two large high pressure ridges to either side. Temperatures are not expected to cool significantly and remain fairly stable, no extreme changes are expected for the next week. Temperatures warm up slightly over the weekend as the trough weakens slightly.