SAN DIEGO COUNTY, Calif. — A red flag warning that started Wednesday night ended at 6 p.m. Friday for San Diego County mountains and inland valleys.
SDG&E was monitoring the potential for high fire risk weather conditions, amid the red flag warning and those conditions required the utility to turn off the power for public safety.
According to the National Weather Service, the forecast called for east winds of 20 to 30 mph, with gusts reaching 55 mph, and some isolated gusts as high as 65 mph in "wind-favored" locations.
Humidity levels had dropped between 5% and 10%.
"Any fires that develop will likely spread rapidly," according to the NWS. "Outdoor burning is not recommended."
The winds are expected to diminish by the weekend, along with a gradual recovery in humidity.
On Thanksgiving, many residents living off Willow Road were without power on Thanksgiving.
"We come back to the hotel instead of home tonight that's ok," said Mandy Mascol, Alpine mother.
The Mascol family lives off Willow Road east and power had not been restored Thursday night so they were staying their second night at the Best Western in Santee.
"It goes down in history, it's a fun one," said Mascol.
Willows Road west had power restored Thursday afternoon.
Tony Hanlon had Thanksgiving plans and wasn't planning to work on the holiday.
"We were suppose to have some family over and some friend over but no power so we're going to it tomorrow," said Hanlon.
Down the road on Willowside Terrace, the Hartman's just returned from Thanksgiving with family in Mt. Helix.
'I would rather go without power than lose our home our lives, if they want to shut it down to protect us more power to them, pardon the pun," said Terri Hartman.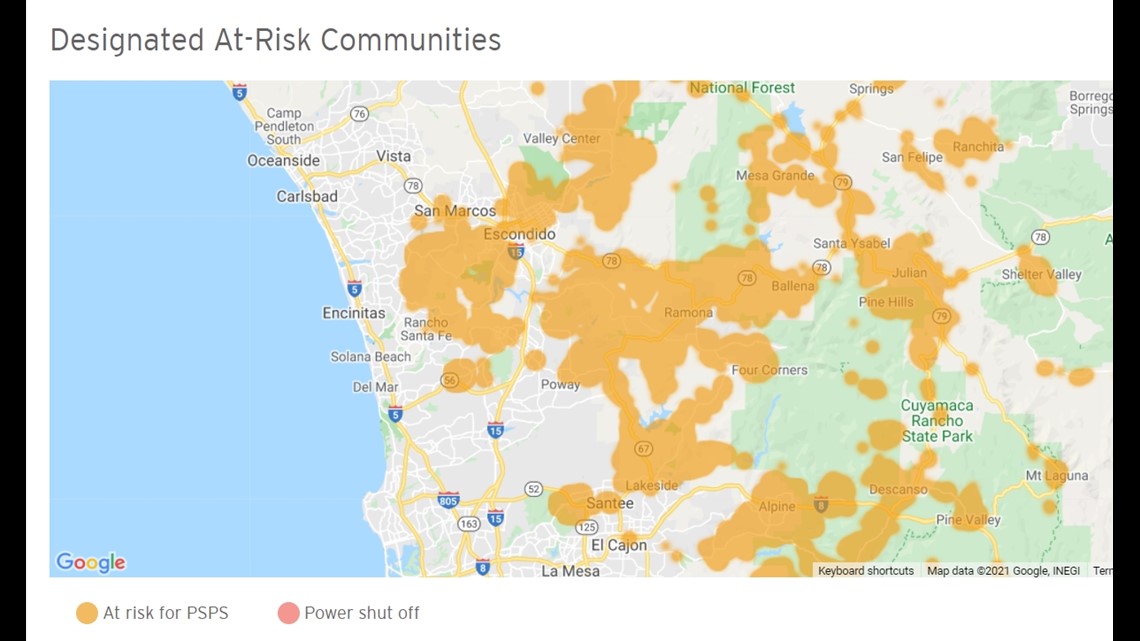 San Diego County government officials on Wednesday asked residents to stay alert for wildfires, and refrain from using power tools outdoors, including lawn mowers, as they can potentially spark on rocks and ignite grass or brush fires. Instead, residents should use hand tools to remove dead or dying plants near their homes.
The county also reminded residents to maintain defensible fire space around their homes and remove dead leaves, debris and other flammable items, such as wood piles, that are stacked against structures.
During a high fire season, people should also:
Be careful with smoking materials to avoid accidentally starting a fire
Never pull their vehicle over in grass as it can ignite a blaze, and make sure their vehicle is well maintained
If their vehicle has a trailer, make sure its chains don't drag on the ground while driving
WATCH RELATED: Much of California missing the mark in water-conservation efforts during drought (Sep 21, 2021)