SAN DIEGO COUNTY, Calif. — San Diego Gas and Electric customers are amped up about sky-high utility rates.
One San Diego County teacher decided to make her voice heard.
For the past two days, the California Public Utilities Commission held an affordability workshop aimed at lowering gas and electric rates
San Diego County teacher Jennifer Broderick called in and gave the utilities commissioners and it's panel of experts an earful about rising electricity rates.
"Hi, thanks for listening to me. I'm just an average public school teacher," said Broderick. "My salary has not increased with the rate of the increase that I'm getting all around me. My off-peak time-of-use went from 25 cents, off peak, to 37 cents."
"For an average middle-class person. All these things are adding up. And then when I see that you've got people on your board who are making $23 million a year. It's infuriating," said Broderick, referring to the CEO of Sempra, Jeffrey Martin.
During the workshop, Pacific Gas and Electric's Executive Vice President Carla Peterman acknowledged, customers can't afford the high bills.
"We saw this increase coming...This was projected and we are now in the thick of it, and it sucks," Peterman said.
Lowering utility profit rates on capital projects (ROE) to 7% could result in a 5% reduction in electricity rates.
Making taxpayers pay for low-income assistance programs (Public Purpose Programs) could result in a 7% electricity rate reduction. (SDG&E estimates a 6% reduction in its area).
Public ownership of transmission lines results in an estimated 4% rate reduction.
Charging all utility customers a fixed, $20-per-month charge results in an estimated 13% reduction in electric rates.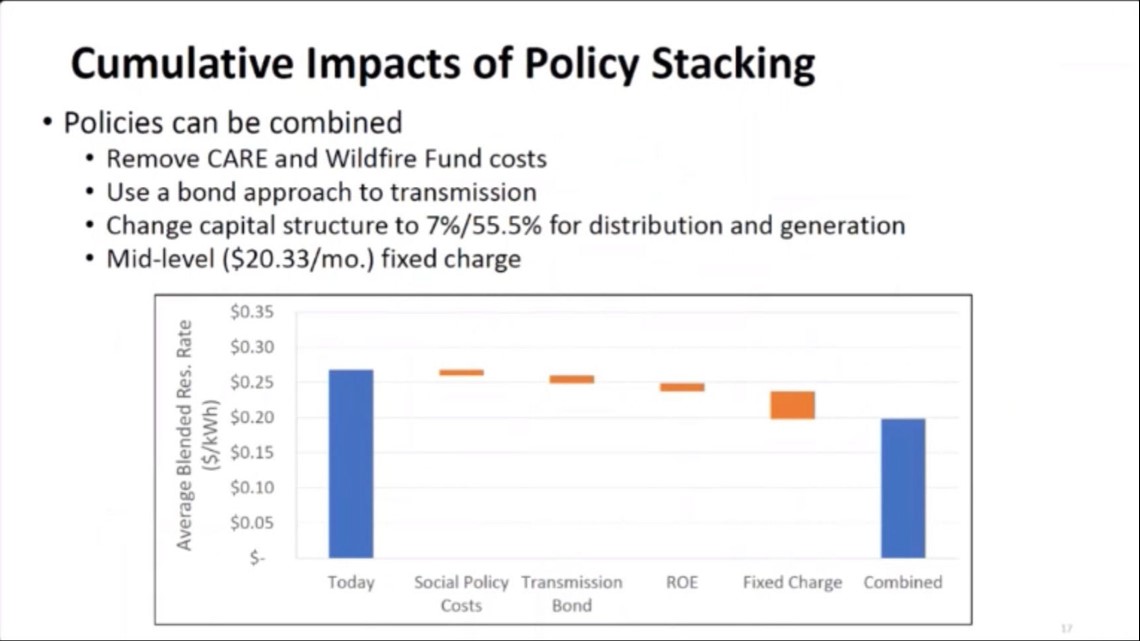 A vice president with SDG&E, Dan Skopec, said he supported a fixed charge for all customers in a staged approach.
"I think the commission should move forward with that $10 fixed charge as soon as possible, and we'll have to work on legislation to work on a fixed charge higher than $10," said Skopec.
Consumer advocate Gabriela Sandoval with The Utility Reform Network (TURN) said fixed charges should not be imposed on the lowest income customers.
"We continue to oppose a flat fixed charge. If it were a $10 fixed charge for customers who can afford it, then that's a different story," Sandoval said.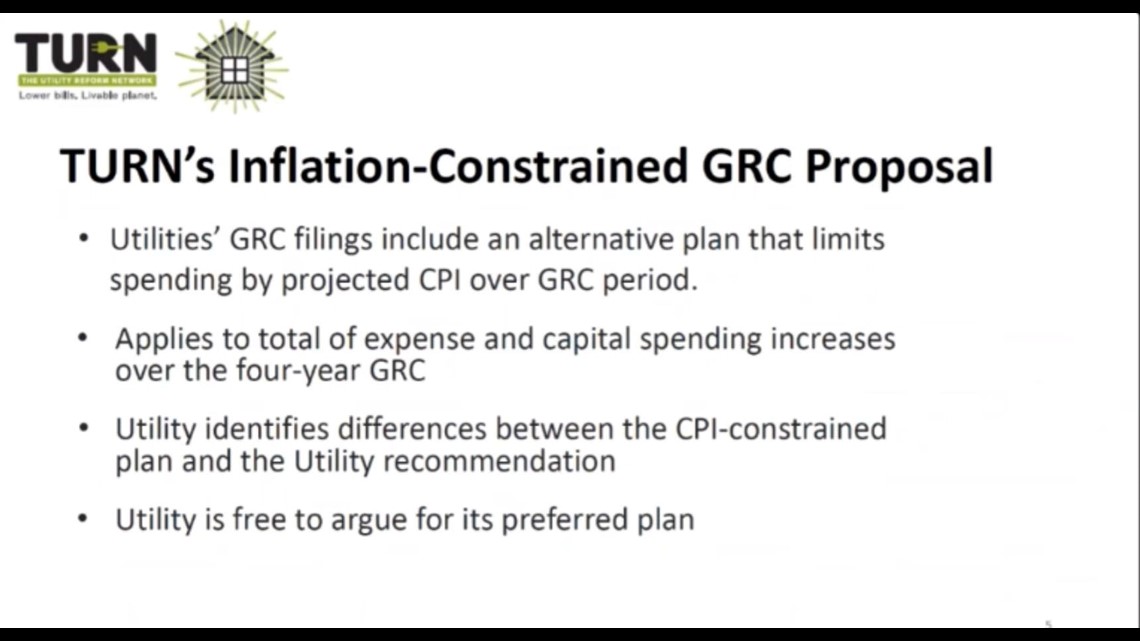 The most controversial proposal would require utilities to include an inflation-constrained alternative proposal as part of its rate application (General Rate Case) every four years.
"I think it would be beneficial if we created a linkage between consumer budgets and utility rate requests," said Jennifer Dowdell with TURN.
The three utilities in attendance said they were opposed to TURN's inflation constrained GRC proposal.
"This proposal is, quite frankly, dangerous. And, it doesn't make a lot of sense. First, it is completely divorced from work needed for safe and reliable service," said Rachel Koss, a counsel with the Coalition of California Utility Employees.
Some of the rate-reduction proposals on the table would require legislative action before customers would see benefits on their bills.
WATCH RELATED: SDG&E faces off with consumer advocates on rate affordability (March 2022)