SAN DIEGO —
THANK YOU SAN DIEGO
Thank you San Diego for making the first-ever 2-Day "Celebration of Heroes Blood Drive" a smashing success.
Because of you, CBS 8 was able to help the Red Cross of San Diego collect 239 units of blood. That blood will help save the lives of over 700 people in our community.
In addition to organizing this life-saving event, CBS 8's own Kyle Kraska was recognized by the Red Cross for leading the charge for blood donations in San Diego over the years.
"Kyle has been a passionate advocate for blood donation and a force for good in our community", says American Red Cross Blood Services District Manager Dharma Nichols.
"His Celebration of Heroes Blood Drives (from 2019 through February 2021) have helped collect 1,561 units of blood with the potential to impact up to 4,683 lives!"
"Thank you Kyle and CBS 8 for making a difference in our community and for helping patients depending on lifesaving blood transfusions!"
Stay connected to CBS8.com/Community for info on the next "Celebration of Heroes Blood Drive" and other CBS 8 community events.
REGISTER TO DONATE BLOOD
The American Red Cross is testing all blood, platelet and plasma donations for COVID-19 antibodies. This testing may provide critical insight into whether donors may have possibly been exposed to this coronavirus.
WHY DONATE?
"Time and time again, San Diego has answered the call when our blood supply becomes critically low," said Kyle Kraska, sports director, NEWS 8.
"Now, COVID-19 has also presented challenges for our San Diego Food Bank as it is distributing more than twice the monthly meals to San Diegans in need. These concurrent drives will go a long way to satisfying two of our most urgent needs."
About the American Red Cross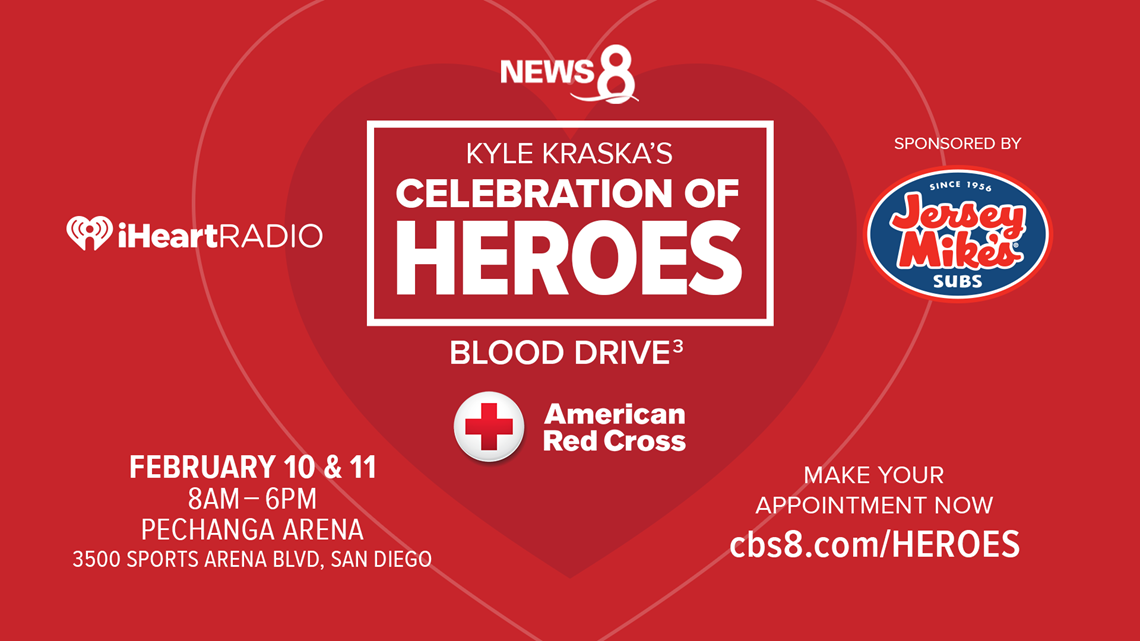 CELEBRATION OF HEROES OCT 2020 RECAP
News 8 wants to thank everyone who donated blood at the latest "Celebration of Heroes" Blood Drive in October 2020.
This was our 8th drive of 2020 and by far our most successful. 145 units of blood were collected, directly impacting the lives of over 435 people in our Community. More good news… for 44 of those donors, this was their first time giving blood!
Watch the recap of the Oct 2020 Celebration of Heroes Blood Drive:
DAY OF DOUBLE GIVING AUG 2020 RECAP
Thank you for joining News 8, The American Red Cross and Jacobs & Cushman San Diego Food Bank, Jersey Mike's Subs and iHeart Media for our Day of Double Giving on August 18, 2020.
The American Red Cross collected 133 units of blood at the event which will help positively impact 399 lives!