Newly homeless in San Diego face the stark reality of no shelter beds
CBS 8 obtained records that show only a handful of shelter beds are available each day, leaving thousands without an option.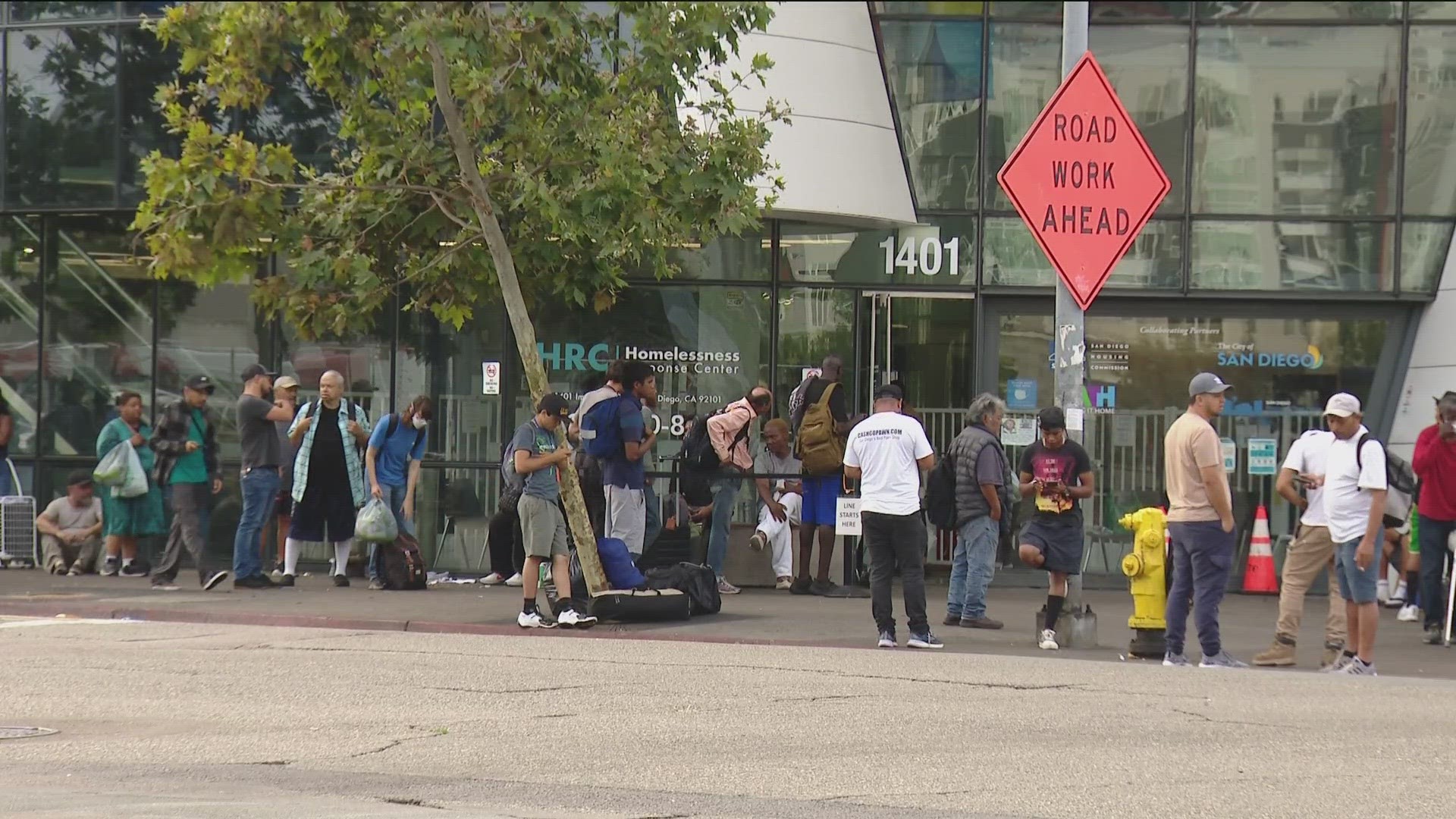 Facing his first day without shelter, 62-year-old, 'Scott' arrived at San Diego's Homelessness Response Center just after 4:30 in the morning on September 14.
A homeless resource worker told him to go the response center for a shelter bed and to get there early.
When Scott, who wished not to use his real name, arrived at 1401 Imperial Avenue he was stunned.
Tents were set up near the front door.
A handful of people wearing backpacks, some in wheelchairs, others in hospital gowns, formed a line along the east side of the Homelessness Response Center's front door.
Scott took his spot in line and waited.
Like so many, Scott never expected to have to stand in line for a warm bed to sleep in.
Like so many, Scott never imagined just how difficult it is to get that warm bed.
Minutes after 8:00 a.m. nearly four hours after arriving, staff inside the Homelessness Response Center informed Scott, as well as the dozens of others in line, that no shelter beds were available.
And while Scott says that the lack of beds was one part startling and another part frightening, for the thousands of San Diego's homeless population, advocates, as well as others, say it is no surprise.
In a public records request, CBS 8 obtained the daily number of shelter beds available in San Diego since the beginning of the year and found that on average there were only 25 beds a day for men, women, unaccompanied minors, and transition-age youth.
The Journey to Homelessness
:
"It's a little scary," said Scott. "You know, I haven't been down here before. I'm nervous because I don't really know what's going to happen."
Scott says he feared that one day he would wind up on the streets.
For the former restaurant manager and church employee, the trouble began in 2015 when Scott's mother died at 96 years old.
The bank took possession of Scott's mother's home in a reverse mortgage agreement, leaving Scott without a home.
Scott tells CBS 8 that he moved to Tijuana and commuted to his job in Clairemont Mesa.
That's when the pandemic hit, shuttering the restaurant that he worked at and leaving him without income. And then came the medical issues, blood clots in his leg and a hiatal hernia.
Since 2021, Scott has relied on members of his church for shelter and his meager $1,100 a month in Social Security payments. However, last week, Scott was told he had to leave and has been staying at a hotel since, biding his time in hopes of finding shelter.
After waiting for nearly four hours in line to find there are no beds, and seeing the despair and the need, Scott says he is doing his best to keep a positive mindset.
"I have to keep up," said Scott. "I don't want to go into despair or anything. So far, it just doesn't look so good. And I have no place to turn."
Scott says that he has followed San Diego's growing homeless crisis but did not expect that it would be this difficult.
"It's disturbing, the scene out here. I have been watching it on the news for years and I never thought I would be here. But, seeing it up close, it's awful."
Scott says he did everything that the case worker told him and still nothing.
"I've talked to so many people. I called them all and they told me where they wanted me to go and did what they wanted me to do. And so far, nothing has come of it."
The Lack of Beds
:
A look at the numbers
Mandy Lien has volunteered for nearly three years, working with unhoused individuals. Lien says Scott's situation is one of many.
"This is nothing new. There are no other options, plain and simple."
The numbers, as far as this year goes, appear to confirm that.
CBS 8 logged the daily shelter bed count sent from the San Diego Housing Commission to homeless providers citywide.
For the 224 days, from January 1, 2023, through August 25, the number of beds for men ranged from a low of zero to a high daily number of 20. The average number of beds available for men since January 1 was 10.
For adult women, the number of open beds was only slightly better ranging from zero to a high of 21, an average of 11 beds since the beginning of the year.
Since the Safe Sleeping Site opened, the average number of beds for adult males rose to 11 per day while the number of beds for adult women increased to just under 13 a day.
"While not surprising, these numbers show that the city has been completely inept at dealing with this crisis," said homeless advocate, Lien. "It's always half-measures and blaming it on the unhoused people when in reality there is just not enough help to go around."
The City's Response
:
In a statement, a city spokesperson tells CBS 8 that shelters remain at 98% occupied, meaning the city is successful in placing those in need in shelters. The spokesperson also said that the San Diego Housing Commission intake numbers do not reflect the total number of beds.
Reads the city's response, "It's important to note that looking solely at the San Diego Housing Commission's daily Coordinated Intake Shelter numbers does not provide a holistic view of the City's shelter system. There are several shelter options that are not accessible as emergency shelter beds through the SDHC intake process due to criteria required for placement, however, outreach workers are aware of the process for how to place someone into those beds and frequently take advantage of those beds.
Community Harm Reduction Safe Haven Shelter – 44 beds – 41 Currently Occupied
Seniors Landing Bridge Shelter – 34 rooms – 28 Currently Occupied
The Alliance Shelter at Old Central Library (currently offline) – 36 beds total – 0 Currently Occupied
Safe Sleeping Program – 147 current occupants in 121 tents – Approximately 10 spaces available
Concluded the city's response, "The City's Homelessness Strategies and Solutions Department has a Comprehensive Shelter Strategy that lays out short, medium, and long-term shelter plans to increase shelter, safe sleeping, and safe parking options for people experiencing homelessness. This was presented to the City Council in June and can be found here: https://www.sandiego.gov/homelessness-strategies-and-solutions/about/shelter-strategy. In August, the City opened the new interim family shelter in Barrio Logan and now, HSSD teams are working to establish the "O" Lot Safe Sleeping site, which will provide a safe place for approximately 400 people experiencing homelessness to live while accessing supportive services. That site is anticipated to open later this fall.
The Unsafe Camping Ordinance allows for enforcement in certain areas when the City has no shelter beds available – i.e., in parks and canyons, as well as near schools. SDPD uses a Progressive Enforcement Model, where an offer of shelter is given to individuals found in violation of the Unsafe Camping Ordinance. The City has non-law enforcement outreach teams working daily to encourage people experiencing homelessness to accept offers of shelter or reunite them with family and loved ones in order to end their homelessness."
Meanwhile, Scott who will once again head to the corner of Imperial Avenue and 14th Street at 4:30 a.m., hopes that a bed will open up.
"Without my faith, this could be very scary. It's all I have left. So, it's rough."
When asked what he will do if there are no beds again tomorrow, he replied, "I don't know."
https://youtu.be/oRiYEJFez64