LIVERMORE, Calif. — "I just remember him laying on top of me, covering my whole body. He was so big that he covered me. I couldn't see."
Denise, whose full name will remain confidential, was 15 years old that night when she says former heavyweight champion of the world, George Foreman took her virginity.
It was just a few hours after Foreman knocked out John Dino Denis during a heavyweight fight in Hollywood, Florida on October 15, 1976.
Denise says she was asleep in her mom and dad's suite at the hotel - her dad was Foreman's close friend and sparring partner - when the phone rang.
"I was asleep and my mother woke me up and told me that he wanted to see me," Denise told CBS 8. "I remember thinking that maybe he wanted me to pack his clothes or fix his suitcases because we were leaving the next day."
But Denise said the famous heavyweight boxer had other ideas.
"He asked me if I had boyfriends before and I told him no. He asked if I had ever had sex before. I told him no. He then told me to come into the bedroom with him and to lie down with him. He told me to take off my clothes and that's when he had sex with me."
Now, more than 46 years later, Denise is one of three women who are suing Mr. Foreman as a way to get justice for the sexual abuse that they suffered as young girls. In their lawsuits, all three women - all of whom say their fathers were close friends with Mr. Foreman - say the famous boxer used his celebrity to groom them as young girls in the years following his defeat to Muhammad Ali in 1974.
For Denise, Mr. Foreman began paying her more attention when she was eight years old.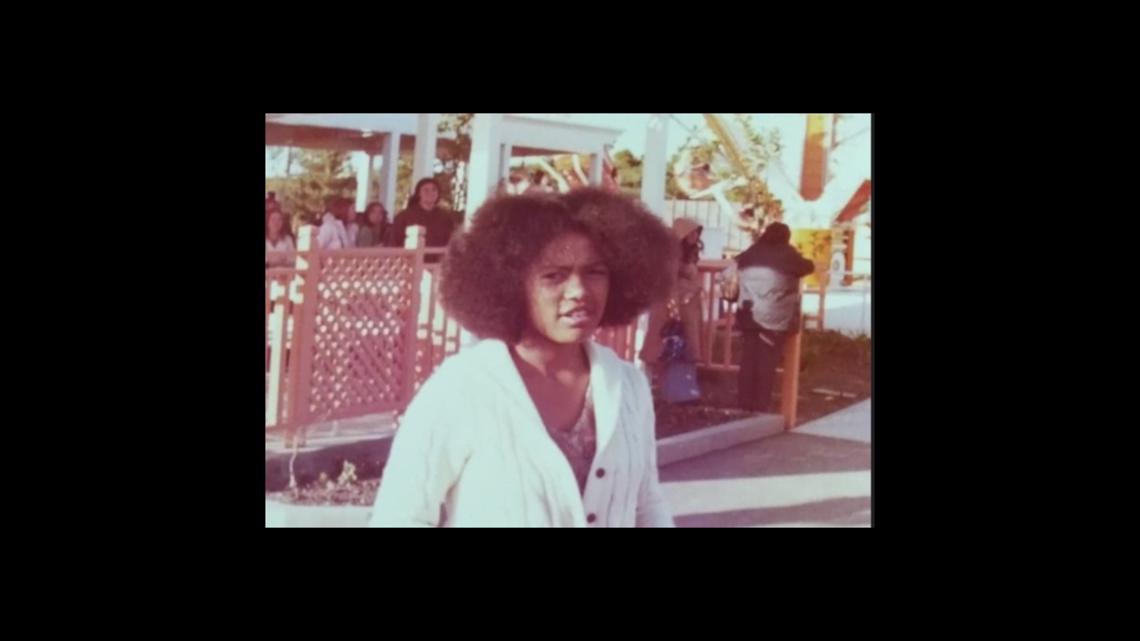 "In the beginning, he was like a big brother," said Denise. "He would take me for rides in his Corvette, and have me sit on his lap. He would call my dad and ask to speak to me. 'Hey, Denise, how you doing"' he would ask. 'I'll be back in town, can I come see you."
As she grew older, Denise said Mr. Foreman's interest in her intensified.
"He would make a big scene when he saw me," said Denise. "He would say, 'Oh, look at this girl, me and Denise is gonna get married one day. I'm gonna marry that girl.' He told me that he was going to buy me a huge diamond when he did."
Denise says she was around 12 or 13 years old when Mr. Foreman called her. He started asking her if she had ever masturbated. She told him that she hadn't. She says that he then told her how to do it and asked her to do it for him while they were on the phone."
"I remember thinking that I was gonna be in trouble. I didn't know what he was asking me to do but he explained it to me in detail.," recalls Denise.
Denise says the abuse ended by the time she turned 16 years old. After that, she bottled the abuse up and told only a few people in her life, until recently when she decided to contact an attorney.
"It is a terrible thing what he did to us," said Denise. "He shouldn't be allowed to just get away with it, just walk off smooth and easy with that big, false bravado that he's some great guy, some all-American hero, a devout man."
Denise is not the only woman who is now ready to go toe-to-toe with the former fighter.
Another woman, identified as "Gwen" in her lawsuit, says her dad managed Mr. Foreman and when she was fifteen Mr. Foreman said that he would fire her dad if she did not have sex with him.
Attorney Samuel Dordulian represents the two women, who according to Dordulian, did not know each other prior to hiring them for representation.
Dordulian says that even before he filed the lawsuit, Mr. Foreman's attorneys asked to hire a mediator in hopes of settling.
When the sides were unable to settle, prior to the women filing their lawsuits, Mr. Foreman went to TMZ with allegations that the women were extorting the former fighter for financial gain.
"Why did he wait? Why did he go through several months of private conversations to try to settle this case before you start calling them extortion artists?" Asked Dordulian.
Dordulian says that in response, Denise took and passed a lie detector test to prove that she wasn't extorting Mr. Foreman for his money.
"We used the same person that Mr. Foreman's defense attorney uses on a regular basis and trusts. She sat down with that individual, and she passed a lie detector test. And now we're asking Mr. Foreman, if this is a lie, why don't you sit down for a lie detector test with the same expert? Let's see if you pass. There's been silence."
Since filing the lawsuits and taking the lie-detector tests, a third woman has come forward with similar allegations.
The woman, represented by the firm founded by the late Johnnie Cochran, who says she was related to Mr. Foreman through marriage, claims that Mr. Foreman molested her when she was 15 years old as well.
Mr. Foreman's attorney, Shawn Holley, says the former champ's reputation speaks for itself.
"Mr. Foreman, who has spent the last 50 years in the public eye, vehemently and unequivocally denies all allegations of sexual abuse or assault leveled against him. Throughout his entire adult life, he has maintained a reputation beyond reproach, with not a single woman ever accusing him of any improper sexual conduct until last year. Mr. Foreman's commitment to defending his innocence is unwavering, and he will tenaciously fight these false and fraudulent allegations in court—he is fully prepared to confront and refute these baseless accusations and clear his name of any wrongdoing."
However, Denise feels strongly that Mr. Foreman needs to own up to what he did and how he hurt her and the other two women.
"I just wish he would stop calling us extortion artists and calling us liars," Denise said. "Just step up. Just admit to what he did. Nobody makes up this at my age. Why would I do that for the money? I never want to be the person that goes in and runs through somebody's life with all of this, you know, but I have to, I have to because it was a terrible thing that he did to us."