SAN DIEGO COUNTY, Calif. — The FBI said a man from Coronado accused of taking part in the attack on the U.S. Capitol was arrested Wednesday morning, according to Suzanne Turner, Special Agent in Charge of FBI's San Diego Field Office.
Coronado resident Jeffrey Alexander Smith (aka) Alex Smith was arrested by FBI San Diego and their Joint Terrorism Task Force (JTTF) partners for his alleged role in the riot and breach of the Capitol Building in Washington, D.C. on Jan. 6, 2021, according to FBI San Diego.
Following the events on Jan. 6, the FBI said they received tips from individuals who reported that they identified Smith as being involved in the riot at the Capitol. On Jan. 7, an individual who FBI said knew Smith for "an extended period of time", discovered a photo of Smith inside the Capitol on social media which was posted to Instagram. The photo below shows Smith wearing a black jacket and a Trump hat with a red cell phone in his right hand which is raised in the air.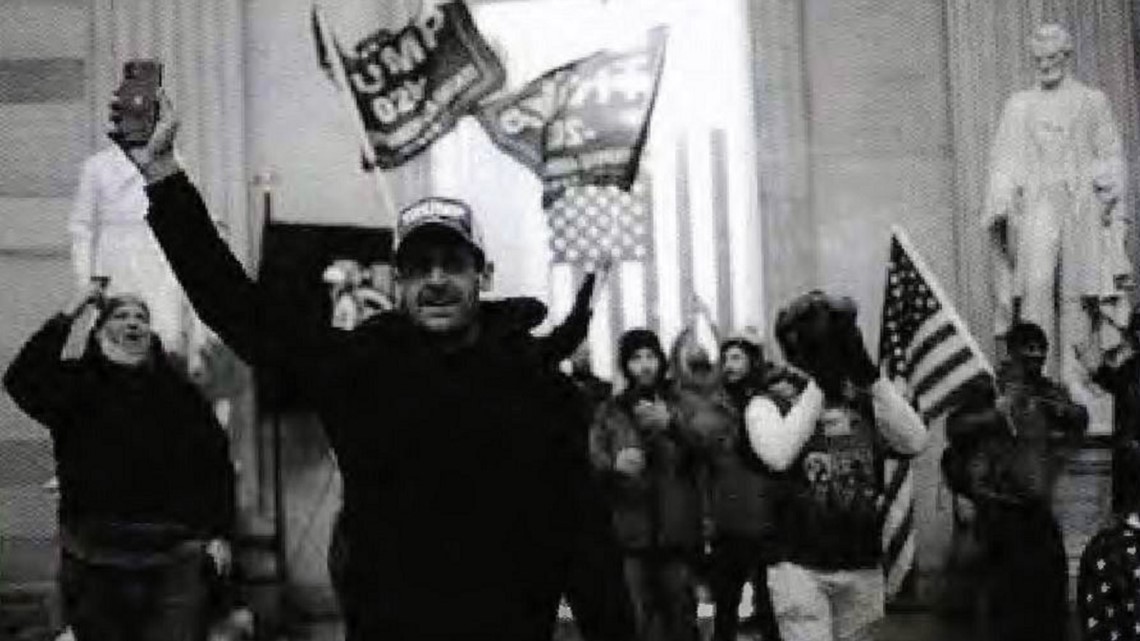 The FBI said the 33-year-old was charged with violent entry and disorderly conduct on Capitol grounds and entering a restricted building.
Smith appeared in federal court Thursday afternoon before U.S. Magistrate Judge Bernard Skomal.
His sister and mother attended the hearing, but did not talk to reporters.
"He's a decorated war veteran he served honorably in the Army, he was honorably discharged," said his attorney John Rice.
Rice told reporters Smith went to Washington DC to see President Trump speak.
"Mr. Smith went there to attend what he anticipated to be a very peaceful rally with other supporters of President Trump, and had absolutely no intention of anything happening, of entering any buildings," said Rice.
However, court paperwork paints a different picture. A witness gave the feds Instagram messages he says he received from Smith after the riots. The messages said things like: 'I'm a patriot,' and 'I stormed the Capitol.'
The feds say Smith wrote his purpose was to 'send a message that Americans aren't going to take a fraudulent election.'
They say Smith also wrote "There is no way in hell I was going to drive 38 hours from San Diego and not walk right through the front of the Capitol building."
According to the criminal complaint, Smith was interviewed by the FBI, and admits he went inside the capitol for 30 minutes. They say he told them he deleted his Instagram account after getting death threats for his involvement in Capitol events.
"I think many of the people who were there will tell you they were kind of swept up in the moment," said Rice. "It was it was a large crowd, there was a lot of excitement."
According to court records, in 2018 Smith's now ex-wife filed a restraining order against him. She now lives in Colorado with their two children.
Rice says Smith's mother and sister stand behind him.
"They firmly believe in Alex. They wish he hadn't gone into the Capitol, like everyone does," he said.
The FBI continues to encourage the public to contact them with any information regarding the Capitol case by calling 1-800-CALL-FBI or you can go to tips.fbi.gov. The Capitol investigation is ongoing.