SAN DIEGO — Editor's Note: This story has been revised from its original version to update the number of parents charged.
SAN DIEGO (NEWS 8) — Federal authorities this week revealed what they call the biggest college admissions scam ever prosecuted by the U.S. Justice Department. Wealthy parents – including two from San Diego – are accused of paying an estimated $25 million in bribes to get their children into some of the country's most elite schools.
Prosecutors say parents paid admissions consultant William "Rick" Singer from 2011 through last month to bribe coaches and administrators to falsely make their children look like star athletes to boost their chances of getting into college. They also say Singer took so-called donations from clients through The Key Foundation – which he registered as a charity in 2013 - to help their kids get enrollment through cheating.
Fifty people, including two from San Diego, were charged March 12 in the scheme. One of those with local ties is Elisabeth Kimmel who owned KFMB Stations for decades until it was sold to TEGNA, Inc. in 2018.
Elisabeth Kimmel operated the stations (a CBS and CW affiliate as well as an AM and FM radio station) under the Midwest Television Inc. name which was founded by her grandfather August C. Meyer in 1952 in Champaign, Illinois. The stations were previously run by Kimmel's father Christopher Meyer as well.
According to records, Kimmel's mansion in La Jolla is worth $7 million. Kimmel also owns an 8,000 square foot penthouse in Las Vegas. Real estate records show Kimmel and her husband purchased the penthouse in August 2018 for $5.5 million. Nevada is one of several states where residents do not have to pay for personal income tax.
According to the criminal complaint, Kimmel participated in the scheme using bribery to get her daughter into Georgetown as a tennis recruit and her son into USC as a track recruit.
According to federal authorities, Kimmel paid a $275,000 bribe through her charity, Meyer Charitable Foundation to get her daughter into Georgetown under a fake tennis profile. Her daughter was never on the team.
Authorities also say Kimmel paid a $250,000 bribe to get her son into USC and falsely claimed he was a pole vaulter. They say her son's fake profile included an image (seen below) someone else pole vaulting.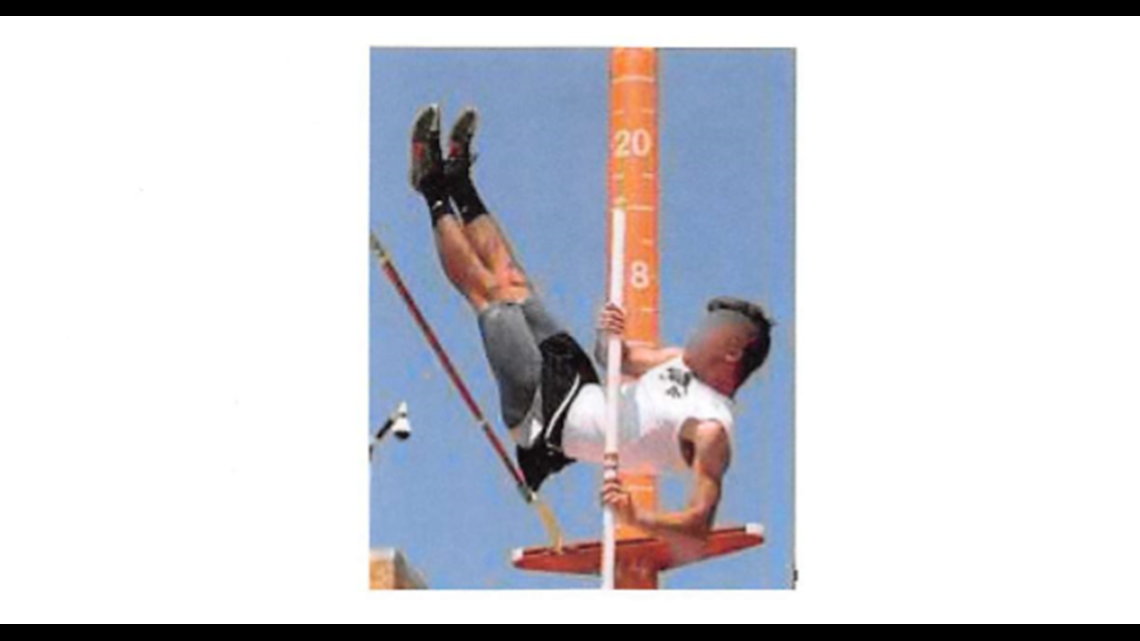 "[USC ex-assistant soccer coach Laura] Janke prepared an athletic profile falsely describing Kimmel's son as an elite high school pole vaulter and including the following photograph purporting to be of Kimmel's son, but which, in fact, depicts another individual," according to the criminal complaint filed by prosecutors.
Inside Edition discovered the identity of the actual pole vaulter shown in the image. According to their reports, the photo really shows Jancen Power, who is a pole vaulter attending Abilene Christian University in Texas.
Power's mom, Lois, told Inside Edition she was shocked and upset to learn his image had been falsely used.
Authorities say the application submitted to USC falsely described Kimmel's son as "one of the top pole vaulters in the state of California."
The charges Kimmel faces are conspiracy to commit mail fraud and honest services mail fraud. It is unclear how much time she faces.
The portion of the complaint pertaining to Elisabeth Kimmel appears below and outlines payments allegedly made by her and the Meyer Charitable Foundation, a family foundation on which Kimmel and her husband serve as officers.
Editor's note: A previous version of this story stated that Elisabeth Kimmel had allegedly submitted an athletic profile in which her son's picture had been photoshopped with that of a pole vaulter. This story has been corrected to indicate that another person's photo was allegedly used, but there hasn't been any indication it was photoshopped.