SAN DIEGO — Hundreds of thousands of people will descend upon the Gaslamp District for Comic-Con and so will scooter riders.
Riders will not be able to end their ride or park in the Comic-Con event zone, which is part of the geofencing regulations during the convention.
City of San Diego's geofencing requirement has e-scooter companies dropping the speed limit down to three miles-per-hour in the Comic-Con event zone.
Riders for Lime scooters have even received alerts on their app.
"Any operator that is found not operating within regulations, they may be subject to a permanent revocation, which means they may not be able to operate the city," said San Diego Police Department's Lt. Shawn Takeuchi.
Rules of the road for e-scooters during Comic-Con:
Scooters will not be allowed on Harbor Drive from early hours to the end of the night.
The Comic-Con event zone is between 3rd and 7th and Tony Gwynn Drive and Island.
Anyone under the age 16 are not allowed on scooters.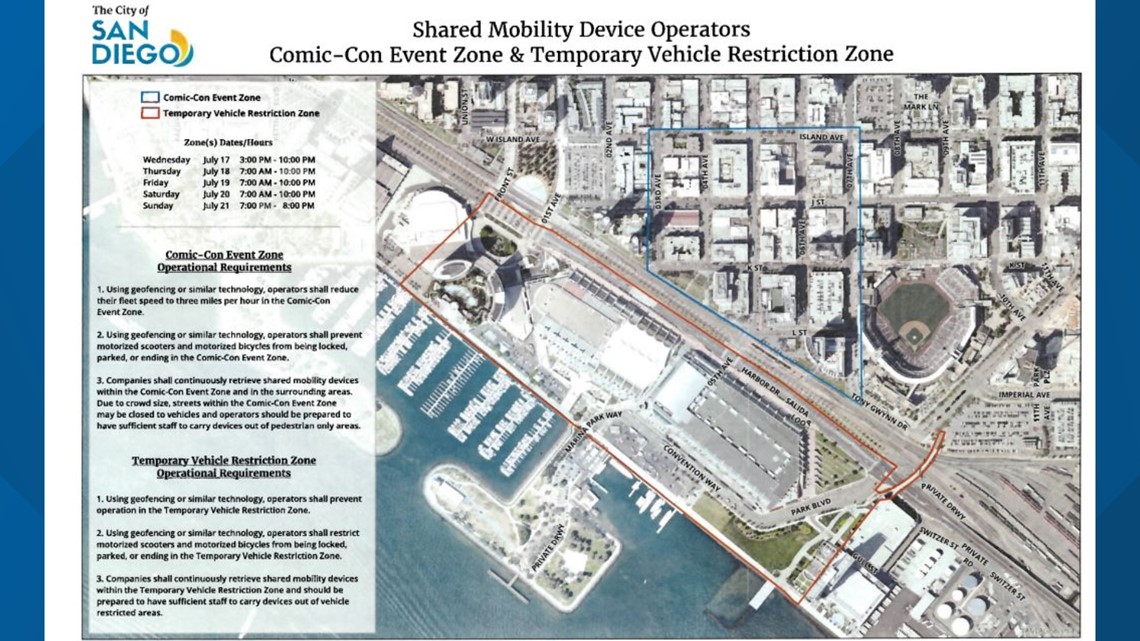 For safety reasons, San Diego police said they have dedicated officers for scooter violations.
"The violations we see the most is riding on a sidewalk, double riding and kids," Lt. Shawn Takeuchi.
Scooter violations could result in up to a $250 fine.
"There will be 250,000 people here, and we don't need people getting hit by scooters," said one scooter rider.
Learn about the City of San Diego's rules and regulations for scooters.
Lyft has partnered with Amazon Prime Video Experience to provide scooters and scooter parking at each corner of the exhibition, located on Island and First Avenue. Lyft representatives will hand out free helmets to riders and show attendees how to book a Lyft Scooter.
A Bird spokesperson said:
"We are aware of the city's expectations for the big weekend and plan to be in compliance. We are planning to adjust our operations to prepare for the influx of people in the area by offering additional on-the-ground resources. Each day of Comic-Con Bird Watchers will be re-parking vehicles around the conference grounds to help keep our fleet well-maintained, and Brand Ambassadors will also be in the area offering educational materials to riders about how to park and ride responsibly. Attached is an example of some of the materials those Brand Ambassadors will be sharing with folks in and around the conference. You'll see the postcard includes safety tips we created as part of our s.h.a.r.e. Safe Streets Tour.
Bird will also be communicating directly with all of our San Diego riders about how to plan for road closures around Comic-Con. We'll be sending road closure information via email to our riders, and any person with the Bird app can view the no-ride and no-park zones in our map.
Because car traffic may increase around the conference, we hope conference go-ers make use of our environmentally friendly alternative.
To help them soar past traffic, we're offering the promo code FIRSTBIRD for new riders to take $5 off their first ride."
A Lime scooter ride safety tips:
"Riders should walk around the scooter and do a visual inspection before starting their trip. Don't use that vehicle if something isn't right and report it to our customer service team. Once you start your Lime trip, give the brake a tight squeeze to ensure it's working properly. Comply with any scooter audible or visual warnings to slow or adjust your speed. Ride defensively: wear a helmet and reflective or bright clothing, respect the right of way, and don't ever ride under the influence of alcohol or drugs, and always ride in bike lanes when available.
Ride smart: follow the rules of the road, keep both hands on the handle bars, don't use your mobile device while riding and avoid wearing headphones."