SAN DIEGO COUNTY, Calif. — The city and county of San Diego declared public health emergencies Thursday, and announced five new presumptive positive coronavirus cases in the last 24 hours.
Those five cases include a woman in her 70s who was aboard the Grand Princess cruise ship and is in home isolation; a man in his 50s with a travel history to Colorado; a man in his 40s with a possible travel history to Colorado who is under investigation; a woman in her 70s -- also a passenger on the ship -- who was quarantined in Miramar and is now in hospital isolation; and a man in his 50s who is in the hospital in isolation and who public health officials believe may be a community transmission.
This last case is especially concerning for city and county health, as it means the respiratory illness known as COVID-19 is "very likely" spreading among the community at large.
Mass gatherings of 250 or more people were also banned by officials.
"We are issuing a public health order in the county of San Diego, effective midnight tonight, that any gathering of 250 or more people is banned in effect through the end of March," said San Diego County Supervisor Nathan Fletcher.
The City of San Diego's representative immediately followed Fletcher's remarks at a news conference, with Mayor Kevin Faulconer declaring a public health emergency in the city.
"This local declaration of emergency is out of an abundance of caution, and gives us the opportunity to respond without unnecessary restrictions and access resources as this situation evolves," Mayor Faulconer said.
"San Diegans should continue to remain calm, practice proper hygiene, stay home if you feel ill, and listen to the guidance of our County public health professionals."
Mayor Faulconer joined Morning Extra to talk about the city's response to the virus.
Dr. Wilma Wooten, the county's health officer, was clear about the implications of the community-transferred case.

"We will have deaths," Wooten said. "I am issuing a health officer order to ban mass gathering as defined by the state of California."

What all three health orders and declarations of emergency mean is that gatherings larger than 250 people are canceled and violators can face legal repercussions.

Despite the hard 250-person ceiling, Superintendent of San Diego Unified School District Cindy Marten -- who was recently granted emergency powers to address the virus by the school board -- was cagey on what that meant for schools.

"It's important to be prepared. We have plans to support our most vulnerable students," she said. "All decisions are made in concert with our public health agencies."

Dr. Nick Yphantides, the county's chief medical officer, put an immediate restriction on visitations to assisted-living homes, and enacted a public health order that employees of those facilities feeling ill must remain home in quarantine.

He said that with 4,200 total hospital beds in the county, cases would be triaged as they arrive. Those over the age of 65 with underlying health conditions or with suppressed immune systems would be treated first. Wooten said those with symptoms similar to a bad cold or influenza would be sent home to self-quarantine.
Fletcher said the task force has reserved 90 motel rooms so far for people who need to self-isolate, but may not have a place to stay.

Gov. Gavin Newsom spoke Thursday on the disembarkation process of Grand Princess cruise ship and its potential cases of COVID-19.

"We are aware of a number of people who have tested positive that have come off ship in addition to the 21 who were originally tested," Gov. Newsom said. "Two that were passengers, 19 that were crew members, one in Canada and one down in Miramar, but that information is coming in real time. That's all I know about those individuals at this stage."
According to Yphantides, San Diego's chief nursing officer is looking into drive-through testing facilities - something that is already being done in Denver.
"We will not be able to test everyone," said Wooten. "The testing is reserved for those who need it most."
You can watch the entire conference here:
The City of San Diego has also taken steps to ensure prevention in the homeless population, which represents some of the region's most vulnerable from a health perspective.
Last week, the City began installing 66 additional handwashing stations in Downtown San Diego.
National and local health experts have confirmed the best way to protect against the virus is through proper hygiene and handwashing.
At Mayor Faulconer's request, county nurses will be available on-site at shelters to help train staff and provide professional screening for anyone exhibiting symptoms of illness. Other actions being taken to protect individuals experiencing homelessness include:
Increased sanitization of shelter facilities.
Resources to improve hygiene practices for staff and clients.
Meeting with providers to discuss supplies, staffing and other matters needed to prevent the spread of infectious diseases including COVID-19.
Coordinated with the Regional Task Force on the Homeless, who, in partnership with the U.S. Department of Housing and Urban Development hosted a meeting to share specific advice to shelter providers as well as the City's unsheltered homeless population.
Coronavirus / COVID-19 concerns have caused many San Diego institutions to postpone or cancel events altogether. You can find a full, updated list here.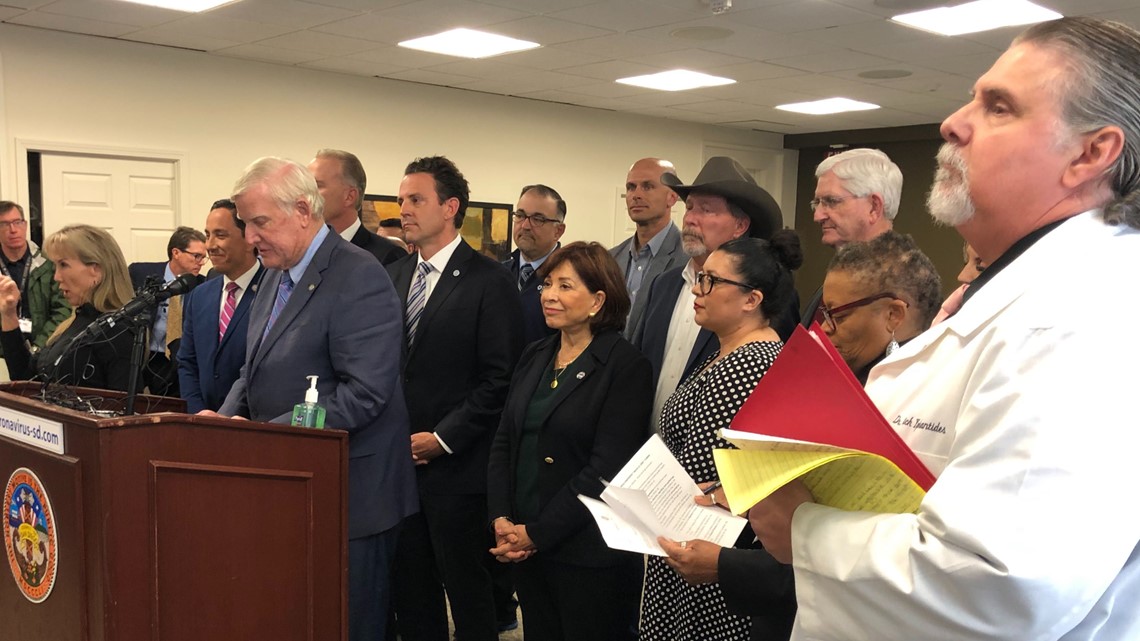 BACKGROUND:
According to the CDC, coronavirus (COVID-19) is a family of viruses that is spreadable from person to person. Coronavirus is believed to have been first detected in a seafood market in Wuhan, China in December 2019. If someone is sick with coronavirus, the symptoms they may show include mild to severe respiratory illness, cough, and difficulty breathing.
Avoid close contact with people who are sick.
Avoid touching your eyes, nose, and mouth.
Stay home when you are sick.
Cover your cough or sneeze with a tissue, then throw the tissue in the trash.
Clean and disinfect frequently touched objects and surfaces using a regular household cleaning spray or wipe.
Wash your hands with soap and water for a minimum of 20 seconds.
The CDC also says facemasks should only be used by people who show symptoms of the virus. If you're not sick, you do not have to wear a facemask. The CDC says the immediate risk to the U.S. public is low.