Excited Delirium | A medical condition or a defense for in-custody deaths?
The Medical Community has denounced the syndrome but it remains a key legal defense in high-profile police custody deaths.
San Diego County Sheriff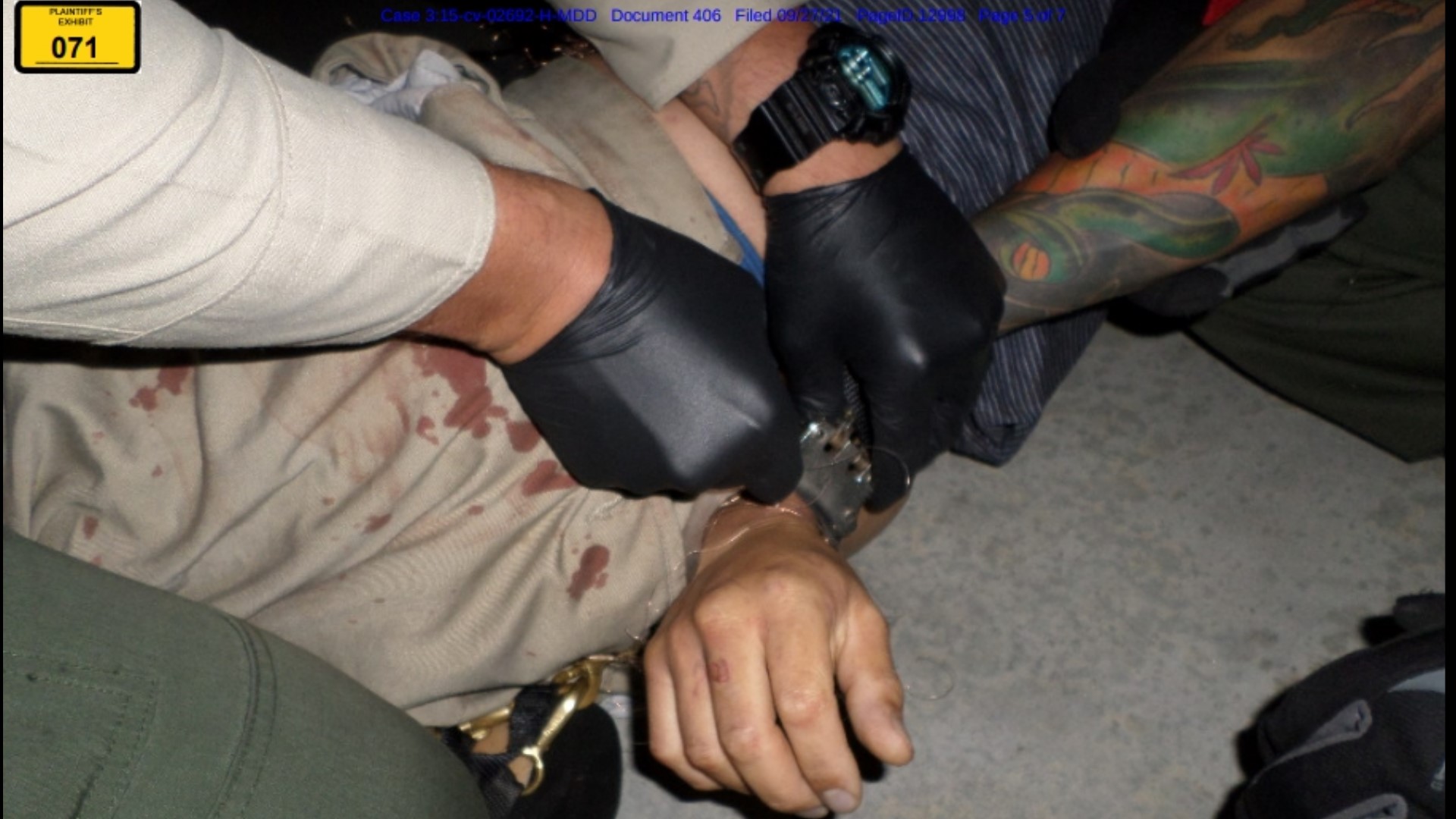 Loan Ngyuen tries her best to steer her nine-year-old son from logging on to Google and typing in his last name.
She knows what he will find. He will find articles about his dad, a lot of them.
The boy will see photos of his dad, Lucky Phounsy, before he died after a violent altercation with a handful of deputies inside his grandparents' Santee home in 2015.
He will read statements that his dad was high on drugs and mentally deranged.
He will read that his dad was in a state of delirium high on illegal drugs with deputies for 20 minutes inside the hallway of their home, on the other side of the bedroom door as the boy's mother held him and his baby sister.
So much of that narrative, Nguyen says, is untrue.
So much, she says, was concocted by Sheriff's Deputies, and attorneys for San Diego County in order to dodge legal liability for her husband's death that day.
During the more than seven years of litigation that followed Phounsy's death, the county pushed hard to convince a jury that Lucky Phounsy did not die from maximum restraints or several taser chargers fired into him, but was treated under the "Excited Delirium" protocol, a medical theory claimed to exist in drug addicts and schizophrenics.
The theory states that when people with a history of drug abuse and mental health conditions are placed in high-intensity situations, for example, maximum police restraints, can grow severely agitated and display feats of superhuman strength prior to their heart giving out and dying.
In recent years, Excited Delirium has been the main legal defense in high-profile excessive force trials throughout the country including George Floyd, Elijah McClain, Daniel Prude, as well as dozens of others.
It is a syndrome backed by a small group of medical experts, few more so than UCSD Doctor of Emergency Medicine, Dr. Gary Vilke, who has received thousands of dollars to testify in cases of in-custody deaths nationwide and tens of thousands of dollars to train local law enforcement officers.
In Lucky Phounsy's case, the defense painted a picture of a drug-addled man in the grips of psychosis who threatened to hurt police officers that April day in 2015, not a hard-working, 32-year-old husband and father of two.
By doing so, widows and family members such as Loan Nguyen, are left with the daunting task of teaching her children who their father was and convincing them that he was not what the county and their expert witness painted him as.
Now, on the heels of a $12 million settlement in the wrongful death lawsuit she filed over her husband's death, Nguyen, says she is ready to talk about the real Lucky Phounsy and what happened that day.
"We used to say he was the peanut butter to my jelly," said Nguyen. "He was my soulmate, my best friend, the father to my kids. He was someone that I thought I would have for the rest of my life."
"Lucky was a hard worker. He was a father of two little ones. He was a husband. He was a son. He was an uncle. Those deputies knew nothing about him. And they came in and just treated him like he was a monster. That night, changed the course of my life forever."
A 911 Call for Help Turns Deadly
:
Lucky Phounsy's Final Day Alive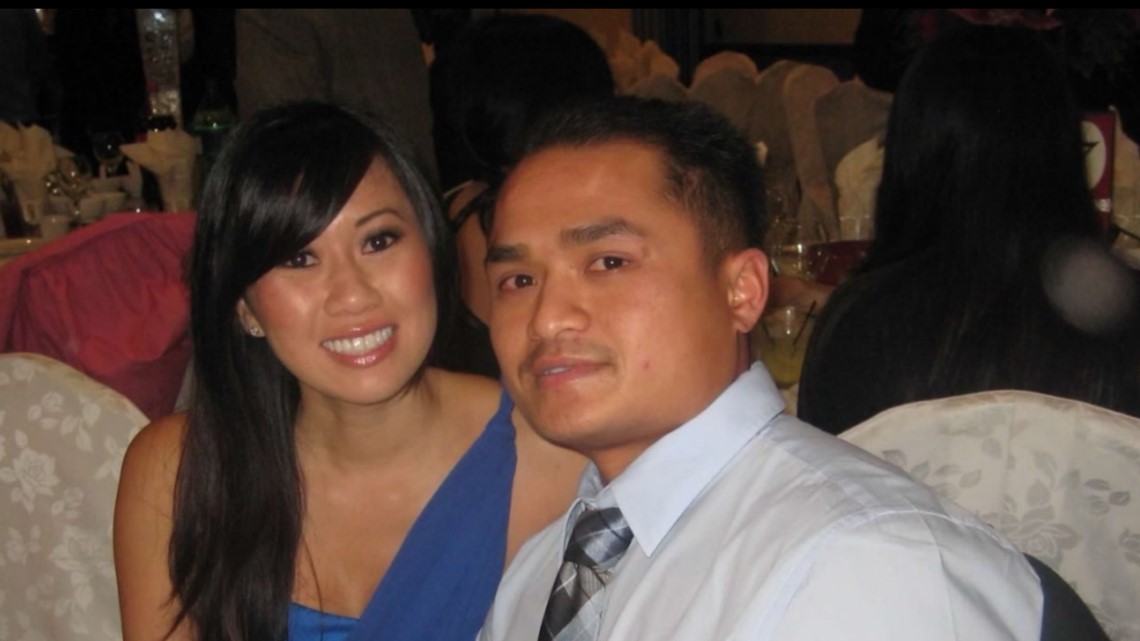 A few days prior to April 13, 2015, Lucky Phounsy had returned from a multi-day trip to Indio and the Coachella Music Festival and was having difficulty sleeping.
Phounsy and his wife, Nguyen, had tried over-the-counter medications. They only worsened his insomnia and increased his paranoia.
April 13, the day of his two-year-old son's birthday party, Phounsy's paranoia escalated.
He peered outside of the window of his parent's Santee home. He feared people had gathered to hurt his young family.
Nguyen's attempts to calm him were fruitless. His mother and stepfather also tried but failed.
But they did make some progress. They convinced him to check himself into a hospital for help.
"I had never seen him like that before and I have known him since he was 14," said Nguyen, remembering that day.
As Nguyen got her young children ready to take Phounsy to the hospital, he became startled. His paranoia grew.
Unsure of what to do, Phounsy called 9-1-1 for help.
Nguyen says she took the phone from Phounsy and handed it to Phounsy's stepfather so that he could talk to dispatchers.
Phounsy's stepfather told them that Phounsy was fine and no one was in danger but that he needed help.
Nguyen says Phounsy's stepfather went outside to wait for deputies. Meanwhile, she continued to get ready.
She remembers seeing what looked like relief on Phounsy's face.
"I remember telling him that help was coming. I saw his shoulders kind of dropped," said Nguyen.
However, Nguyen said tensions heightened the moment deputies arrived.
Nguyen says a deputy appeared agitated. She says he ordered Phounsy, who was standing in the garage doorway leading into the house, to put his arms up in order to check for weapons.
"Lucky was like, 'I'm the one that called you,'" Nguyen said. "That's when the deputy just started getting angry, he started using profanity. He told Lucky to 'put his hands behind his f***ing back,' and then he said, 'I'm gonna f***ing tase you.'"
Nguyen said her husband let the other deputy pat him down. Seconds later she saw taser barbs fly past her face, into Phounsy's body, knocking him down onto the hallway floor.
"There was a point where Lucky and the officer were separated. I walked to where he was standing. I put my hand on his chest. And he's just breathing, catching his breath. And then I go, be calm, calm down, calm down. They're here to help you calm down," Nguyen said before seeing more taser barbs fly passed her.
Nguyen says she ran to the bedroom to keep her children safe. She heard more footsteps enter the house.
Nguyen says she heard one deputy tell others to, "knock him out."
After what she said was several minutes, Nguyen peeked out of the door and saw deputies carrying Phounsy out of the house, his hands and feet hogtied behind his back.
Nguyen says she saw Phounsy placed on the driveway before deputies ordered her back into the house.
It was not until months later, that Nguyen says she learned that deputies strapped Phounsy to a gurney and placed him inside an ambulance. Once inside, former Deputy Richard Fischer, used force, cramming Phounsy's head into the gurney in order to place what is known as a "spit sock" over his head.
Moments later, according to court documents, Phounsy went into cardiac arrest inside the ambulance.
Nguyen says she and her family did not know the extent of her husband's condition. When she and her family arrived at the hospital she was not allowed to see her husband.
As she sat in the waiting room she began hearing something about her husband being on drugs.
"They wouldn't let us see him for hours after we got to the hospital. I remember seeing a group of sheriffs leaving and all I heard was drugs this and drugs that."
Nguyen says not long after nurses at the hospital told her that Phounsy went nearly eight minutes without oxygen before they resuscitated him and that he was on life-support.
Nguyen says she could tell deputies had already settled on a story that they planned to use when answering about what happened to her husband that day.
"They had already painted this narrative of what happened," said Nguyen. "It was the drugs, drugs, drugs, you know, and, you know that he fought with an officer. As soon as we got to the hospital Lucky already had this image to him, that he was this bad drug person. that, you know, fought with an officer and it just wasn't the truth."
In fact, according to a toxicology report obtained by CBS 8, the San Diego County Medical Examiner found a trace amount of MDMA in Phounsy's system from his time at Coachella three days prior to his arrest. The toxicology report also indicated that Phounsy was a "presumed positive" for cannabinoids. Nothing else was in his system.
Phounsy died three days later after Nguyen and her family chose to take him off of life support.
Nguyen says losing her husband was hard enough but she was not prepared and still finds it reprehensible having to defend her husband's honor.
"They can go and smear my husband, and it's okay. They can tarnish his life, not once thinking about what it's going to do to his family, and his children. You know, no matter what happened, Lucky is gonna be always their father no matter what happened. It didn't matter, they went they made up this whole thing about him being a drug addict, with no facts."
Excited Delirium
:
The County's defense
In December 2015, eight months after Phounsy's death, Nguyen filed a wrongful death lawsuit against San Diego County Sheriff's Department as well as an excessive force claim against now-former deputy Richard Fischer for the excessive force inside the ambulance.
The lawsuit triggered more than seven years of litigation, two civil jury trials, an $85 million dollar verdict, which the judge later said was excessive, and hundreds of thousands of dollars that the county spent on experts and legal fees.
The Defense
For its defense, the county hired UC San Diego Dr. Gary Vilke as an expert witness to testify on what he believed was the reason for Phounsy's death; drug use and a rapid heartbeat.
Vilke was no stranger to the witness box, nor was he ill-informed on excited delirium. It is an issue that Vilke has championed for decades. In addition to excited delirium, Vilke researched the impacts of maximum restraints, the medical impacts of certain positions used by police, as well as harm from tasers.
Vilke's research includes a 1995 study that was funded by San Diego County, which showed that hogtying suspects and placing weight on them while laying flat on their stomach did not pose any medical issues. Reads the study, "[hogtying or the hobble restrain] position resulted in a restrictive pulmonary function pattern but did not result in clinically relevant changes in oxygenation or ventilation."
Since conducting the 1995 study, according to court transcripts obtained by CBS 8, Vilke has traveled the country to testify on behalf of law enforcement agencies in civil rights cases and in lawsuits over in-custody deaths. Vilke has testified more than 100 times on behalf of police officers and municipalities on excited delirium.
In those cases, Vilke, a professor of Emergency Medicine at UC San Diego, has testified on the theory of excited delirium, a theory that drug use and psychosis can lead to severe agitation in people resulting in feats of superhuman strength. If allowed to intensify, the delirium can put so much strain on the heart that those suffering from it could die.
The doctor has been paid hundreds of thousands of dollars to train officers in San Diego and to testify in court cases that police restraints and tasers don't kill people, drugs and mental health conditions weaken their hearts and cause them to become agitated, leading them to death.
At Lucky Phounsy's first trial, Vilke testified that Phounsy's use of MDMA, also known as Ecstasy, during a trip to Coachella three days prior played a major factor in his death. This is despite toxicology reports showing a trace amount of the drug in his system.
"The MDMA led to a number of things, not sleeping for a couple of days, which can create a little psychosis," testified Vilke at Phounsy's first trial in 2021. "The MDMA itself can create some agitation or delirium. So it's the combination of that effect but not strictly the drug itself. So that his circumstances led up to this, involving the MDMA."
Vilke also said that Phounsy being placed on his stomach, his hands and feet positioned at his waist with the weight of numerous officers did not present any medical warning signs.
Vilke said that because Phounsy was still breathing after deputies carried him out of the house means that nothing in the hallway mattered in regards to Phounsy's ability to breathe.
"You bring him out and the guy's still agitated, any weight on that head, any impact on him ventilatory wise, say there is 400 pounds on him and they got off and brought him out there. He's moving. He's breathing. He would re-correct any ventilatory issues that would have happened from that weight. So the amount of weight in that room doesn't really matter in that hallway," testified Vilke.
The Verdict
In August 2021, a first trial was held. Jurors, however, were unable to reach a verdict and the judge ordered a new trial.
In March 2022, a second trial was held. Over the course of the 11-day trial, the county, which was not allowed to bring up excited delirium as a defense due to a legal motion preventing it, sought to paint Phounsy as a deranged drug user who acted like an animal when deputies confronted him that day in April 2015.
Attorneys for the county also pushed the notion that the positioning and restraints used on Phounsy had nothing to do with his death.
The jury, however, did not agree.
Instead, they ruled against the county and ordered the county to pay Nguyen and the couple's two young children a total of $85 million dollars.
The jury awarded Nguyen $5 million for Phounsy's "mental, physical, and emotional pain and suffering" that he experienced in the hallway of his parents' home and the anguish he suffered during the ambulance ride with former deputy Richard Fischer.
The jury awarded Nguyen and her children $80 million for their loss of love, companionship, comfort" and other losses. Fischer was ordered to pay $10,000 for the force that he used inside the ambulance.
The county objected to the verdict. The judge in the case agreed, stating the $80 million in non-economic damages was, according to a recent court document filed in the case, "so excessive that they likely reflected a desire to punish Defendants or to compensate Plaintiffs for their emotional pain."
In January, in hopes of avoiding a third trial, the two sides settled the case for $12 million dollars.
Nguyen says the settlement should serve as a reminder that families of those who have died in custody should not give up hope, nor should they forget the importance to fight for justice for their loved ones.
"What will it take for the whole country to realize that they can't treat people this way," said Nguyen. "They think paying a settlement is gonna make it go away. It won't. It's not fair. It's not right. They need to realize that they can't treat people this way."
Excited Delirium Training
:
San Diego County's Use of Excited Delirium
The theory of excited delirium is not only a tool that county attorneys use as a legal defense for use of force or in-custody deaths but police officers throughout the country are trained on it as well.
According to records obtained by CBS 8, San Diego Police Officers as well as Sheriff's Deputies are trained on using it in the field.
Records obtained by CBS 8 show that the San Diego County Medical Examiner's Officer has also listed "excited delirium" as a contributing factor in the deaths of at least two individuals in San Diego County. One of them died in an all-too-familiar fashion.
'C'mon, man...dude, it's not like that, man,' | The Death of Buddy Nichols
On June 11, 2019, San Diego Police Officers responded to a call from a homeowner that said a man had broken into their home high on meth.
When officers arrived they found 46-year-old Buddy Nichols running out of the home.
Nichols kneeled on a patch of grass as officers told him to get on his stomach. Nichols complied.
Police body cam footage from the incident shows two additional officers arriving at the scene. As Nichols lays on his stomach, the officer struggles to get him to release his left hand and place it behind his back.
"C'mon, man...dude, it's not like that, man," Nichols says seconds before an officer drives his flashlight into Nichols' shoulder to get him to relax his left arm. When that doesn't work the officer places his right hand on Nichols' head and thrusts it into the grass. Nichols begins to whimper. His whimpering turn to gasps. His body goes lifeless.
"Can you get medics for us, we are going to have to go excited delirium with soft restraints and a gurney," says the officer to dispatch.
A District Attorney investigation found that the officers acted within policy. In its report, the District Attorney said Nichols went into "sudden cardiac arrest arrhythmia due to excited delirium while intoxicated on methamphetamine."
CBS 8 reached out to the Medical Examiner's Office with questions about why the office uses what the AMA has denounced and a theory that other groups such as the Physicians for Human Rights said, "cannot be disentangled from its racist and unscientific origins."
A spokesperson for the San Diego County Medical Examiner told CBS 8, "As an independent governmental agency, the Medical Examiner's Office considers the science and evidence before it, as it considers all factors that resulted in death to make objective, unbiased determinations."
Local Law Enforcement Training on Excited Delirium
Meanwhile, police departments across the region continue to train their officers on the signs of excited delirium.
"All of our deputies are trained to recognize the signs and symptoms a person may show if they're suffering from excited delirium," says a spokesperson for the Sheriff's Department. "It is included in the regional law enforcement academy, during field training, and also interwoven throughout other training courses we provide to our deputies."
The signs that deputies are told to look out for in case of sudden death cases and excited delirium include:
Sudden Death Syndrome (SDS):
After physical confrontation, some subjects may be at risk of sudden death. Such prisoners may be suffering from a drug-induced psychosis, genetic psychosis or excited delirium. These prisoners may exhibit some of the following symptoms:
• Tremors
• Convulsions
• Seizures
• Delirium
• Hallucinations - visual (seeing things), tactile (feeling bugs on the skin), auditory (hearing voices).
• Assaultive behavior
• "Superhuman" strength
• Dilated pupils
• Paranoia
• Non-purposeful behavior, meaningless acts (e.g. licking windows)
• Rapid, slow or irregular pulse rate
• Hyperthermia - high body temperature, sweating
• Confusion
• Yelling or screaming incoherently
• Thrashing after being restrained
A subject who exhibits symptoms of drug-induced psychosis or excited delirium should be immediately evaluated
Meanwhile, public records obtained from the San Diego Police Department also show that officers are trained on Excited Delirium and that the department has paid UC San Diego Professor Dr. Vilke tens of thousands of dollars to help write the training procedures on the syndrome.
San Diego Police Department did not respond to numerous requests from CBS 8 for comment on this story.
CBS 8 also reached out to Dr. Gary Vilke on numerous occasions for a statement. Dr. Vilke did not respond to any of those attempts.
Closing a Painful Chapter
:
Moving Forward
For Phounsy's widow, she knows she will have to tell her young son and daughter about what happened that day, on her son's second birthday. She plans to do so but first says she has to get the pain that county attorneys and deputies inflicted on her and her young family before she is able to do that.
"At the end of the day, they didn't know who Lucky was," said Nguyen. "They came in and treated him as if he was someone that was doing harm and was a drug addict. They didn't treat him like a person who was having a mental emergency. I am positive that there will be other people that are similar to Lucky that are experiencing a medical emergency, not a drug binge. I just wish the county would take accountability and fix what they've done wrong so that no other family has to go through what we went through, what we continue to go through, and what we will always go through."
Added Nguyen, "No matter what happened, Lucky is gonna be always my children's father no matter what. They can make up this whole thing about him being a drug addict, with no facts to support it, that's okay because we know the truth."